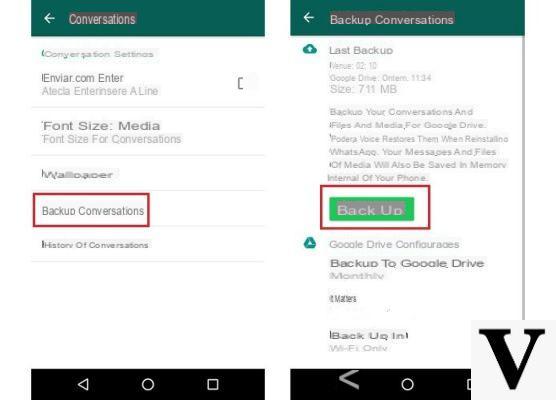 WhatsApp Recovery per PC o Mac
WhatsApp Recovery is an application participation also called message recovery, as it allows you to get your deleted conversations back, without the need for backup. It is among the few that recover deleted messages even when you have already uninstalled WhatsApp, by decrypting crypt, crypt7 o crypt8.
Regardless of whether you have an Android or Apple phone, WhatsApp Data Recovery needs only 20mb of memory, running on both operating systems Microsoft and macOS. After downloading it, just install WhatsApp Recovery on your computer and perform the following steps:
Click on Data recovery and immediately plug the phone off USB al PC
Whatsapp Recovery will detect your device
Press on the item Recovery (from iOS or Android device) to start searching for messages in the memory of your phone
You will be shown the list of all exchanged WhatsApp messages in the memory, highlighting those erased with red color
Once you have located the deleted messages you want to recover, click Recover
Select the destination of the files to be saved and the format wanted
This method is extremely efficient if there is no backup of conversations, making it an excellent ally also for recovering files from iTunes or iCloud.
Among the various reviews of this program that we have had the opportunity to analyze, the most common question is: it works? The simple answer is Yes! You can recover your WhatsApp conversations, deciding if save them directly to your PC or phone.
Being a program that
must connect to your computer
, we remind you that it is clearly not efficient if the phone is destroyed or does not even turn on anymore!
Being completely free and compatible with the most used computers and phones, it is certainly the best way to quickly recover conversations that you have deleted by mistake.
For you: how to recover messages from a blocked contact on WhatsApp
EaseUS Mobisaver for mobile or PC recovery
Among the best software, free and perfectly compatible with Windows and macOS, there is also EaseUS Mobisaver. The latter scan the internal memory of your device, also taking advantage of the memory available on iCloud or iTunes.
The first thing to do is download and install the application by going to the official website of EaseUS Mobisaver Free or by downloading the application from the Google Play Store. As stated above, you won't have to pay anything unless you want to do a bulk recovery of multiple files at a time. In that case we recommend her complete version, of 70 dollars.
The procedure to follow for the recovery is very simple, intuitive and takes a few minutes to recover the WhatsApp chats. After downloading, installing and running it, choose the recovery mode: whether from iOS or Android phone (click on Recover from Device), from iTunes (choose Recover from iTunes) or from the iCloud memory (click on Recover from iCloud).
Press on Scan and wait for the program to execute and finish the scan. Now all you have to do is select the desired files for recovery from the left bar and click on Recover to get them back.
Finally, you must know that in addition to WhatsApp chats, this program also allows you to recover music, pictures and even videos da iPhone o tablet Android.
ES File Manager - the best application
The best application on the market today, perfect for recovering lost files, is the ES File Manager. If you have deleted your WhatsApp chats, you have not made any backups and you do not know how to recover them, this little app could be your salvation!
Feature-rich, versatile and extremely useful, it enables you to browse through folders saved to your device, just like you would from any desktop computer. If you have performed saves on other devices, it is perfect for managing multiple accounts at the same time, transferring files between Google Drive, Dropbox, OneDrive and many other cloud services.
After downloading and installing it, to recover your conversations, all you have to do is:
Click on the top left on the three horizontal lines and choose the item Home
Press on the item WhatsApp, and then on Databases to locate older files that can restore conversations to you
The most recent will have the name: db.crypt12, so if you need a conversation first, all you have to do is rename the previous files
As you may have guessed, ES File Manager brings back the WhatsApp chats actually saved in the internal memory of your device. If your phone is new and you do not have any previous conversation, we recommend that you take advantage of the application to transfer files, following the path: Home – WhatsApp – Databases, click on backup and choose Other and then Share.
You will see how, by reinstalling WhatsApp and choosing the shared file, you will get back the much desired chats and considered lost.