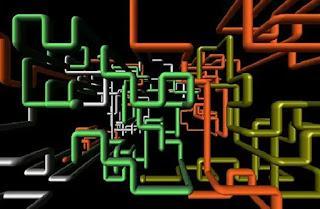 Screensavers or "screensaver"
are those animations that keep the computer screen in motion, avoiding that, when you leave the PC stationary, the static image of the desktop remains imprinted in the pixels of the monitor.
Today's monitors do not have this problem and, indeed, on laptops the screensavers unnecessarily consume battery, but still remain among the graphically best functions of Windows, especially if you put a quality 3D animation as a screensaver.
A screensaver is also useful for protecting the privacy of the PC so, when you get up from your chair, it will hide what you see on the screen.
Searching for free screensavers may, however, not be easy because many sites where to download them often hide deceptions in the form of viruses or paid programs. In this article, we have collected the ones who are today
best free screensavers for Windows 10, Windows 7 and 8
, to download and install on your computer.
Each screensaver must be downloaded, extracted with a program like 7Zip and installed.
After installation, right-click on the screen, go to the customization properties and select the installed one from the list of screensavers.
In Windows 10
la
configuring the screensaver
it can be found by going to Settings> Personalization> Lock screen.
For some screensavers, you can press the Settings button to choose some customization options.
For all you can see the preview before applying it.
1)
Earth Screensaver HD
is an awesome screensaver that shows
the Earth taken from the satellite
. The screensaver uses the internet connection to represent day and night in real time. From time to time a point is zoomed in and the name of the framed city is marked. At the bottom there is the clock while at the top there is information updated in real time regarding the population, pollution, deforestation and many other environmental data. In my opinion this is the best screensaver ever but it is not the only one that shows the Earth turning.
2) Another terrestrial screensaver is
GeocodEarth
which uses the internet connection to show images and updates from Twitter, Flickr and other sources. You can customize the source stream from the screensaver options and, at the top right, you can click to register an account.
3)
Rogue
is a screensaver for lovers of
Lego
. It is a 3D animation where the lego bricks fall from the top and create a tower that grows upwards. The screensaver is also interactive and, by pressing the arrows on the keyboard, you can play as if it were a Tetris.
4)
WikiQoute Screensaver
is a screensaveravailable in your language where famous phrases are displayed on the screen.
5)
Cubicleflood
is a free screensaver for Windows PC and Mac where one appears
office room
, as if it were filmed by a camera, completely flooded, filled with moving water. The effect is really top-notch and it's worth a try.
6) Among the best screensavers there are hypnotic ones like
Zoomquit
, a
continuous zoom
which shows different images and artistic paintings, without ever stopping and with an effect that always looks the same. This screensaver can be tried without downloading and installing anything.
Others
Hypnotic screensavers and wallpapers for an animated desktop and hallucinogenic effects
I'm in another article.
7)
IMAX Hubble 3D
is a screensaver with images of space flowing one after the other.
Another screensaver with space images, this time from NASA, is
this
.
8)
Electric sheep
reported in the post on screensavers for research projects, it is one of the best hypnotic screensavers in terms of graphics.
9)
The Endless Forest
(infinite forest) is a
multiplayer game that installs as a screensaver
. In a magical forest drawn in 3D, a mouse moves around exploring the environment, without precise objectives but with the possibility of meeting other people who are using the screensaver.
10 )
UsefulSaver
is the useful screensaver that shows on the screen the percentage of CPU usage, memory and other customizable information.
11 )
Sun Village – NVIDIA Edition
is a highly graphic impact screensaver, which almost looks like a 3D video game, which combines images and sounds in an absolutely satisfying way. During the installation process, however, be careful not to install 3Planesoft Screensaver Manager as it is useless.
12 )
Lost-watch-2 Nvidia
is another screensaver created by Nvidia with a beautiful antique clock, soothing sights and sounds.
13 )
Solar System - Uranus 3D
depicts a 3D image of the planet Uranus in motion.
14 )
Maze 3D
is the remake of one of the older Windows screensavers, what looks like a first person shooter game, with a run through a maze with strange shapes floating around.
15 )
3D tubes
is another historic Windows screensaver, downloadable now for Windows 10 with tubes that stretch in a 3D movement.
16 )
YoWindow shows the weather forecast in real time
, with one with animated wallpaper for PC and Mac.
17 )
Aerial Screensaver
is a Mac screensaver that can also be downloaded on a Windows PC, showing a live aerial shot of the Apple headquarters.
18) what
blue screen of error
, a screensaver that makes your computer look like it has crashed, perfect for use in the office.
19 )
NES Screen Saver
plays one of the playable Nintendo games.
20 )
Helios
generates smooth purple bubbles that move against each other, bouncing and rotating on the screen. The colors are a nice neon hue and various tweaks can be made such as changing the number of bubbles on the screen and adding motion blur effect.
21) Autumn Wonderland 3D is an autumn scene with a beautiful range of colors in motion, with small woodland creatures walking across the screen, adding to that relaxing and enveloping effect. There is also a stylish analog clock in the lower left corner.
22 )
Plane9
is a 3D screensaver viewer with over 250 animations to choose from, which also animate according to the music you listen to.
23 )
System 47
is one of the best screensavers in Windows 10, with eight animation sequences that appear randomly: it can be the Milky Way galaxy, a sector scan or the star system.
24 )
Vehicle Screen Savers
is a screensaver only for Windows 10, to be downloaded from the Microsoft Store, with wallpapers of planes and other vehicles.
25 )
Starfied Simulator
is a simple screensaver that simulates a star field that is continuously approaching. You can customize the density of the stars and the speed.
26 )
HAL 9000 Basic
is a reconstruction of the eight-screen HAL 9000 console from the film 2001: A Space Odyssey.
.
Best free screensavers for Windows 10, 7 and 8 pc