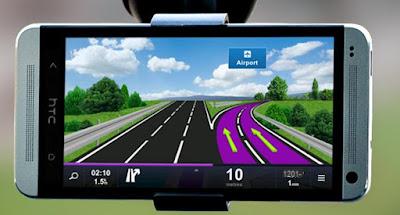 All smartphones include a satellite navigator inside, which detects the position via GPS connection, allows you to explore road maps from all over the world and also have a guide function with voice directions in real time.
On Android smartphones (Samsung Galaxy, Huawei, Honor, Xiaomi, LG etc.) you will find Google Maps, which works well via internet connection, but which can also be used offline, without an active data connection. Google Maps is a really powerful app, a navigator that almost never fails, complete with all the most advanced search functions, with the ability to give precise directions to take as little time as possible to get to a place, also based on traffic. and at the time.
As seen in another guide, it is possible to download a part of the world map to the phone memory (perhaps of the place where you live or where you go on vacation) in order to use
Google Maps Offline
also as a real-time navigator.
In addition to Google Maps
, if you don't like it or if you want a second one
alternative
to use, it is possible
use other apps that work as satellite navigators for Android smartphones, with offline maps
, real-time navigation.
In this guide we see the
best GPS satellite navigators for android with offline maps
that I am
free to download and use
(although sometimes with some limitations).
1)
Here WeGo
is the former Nokia Maps, which has now become a very lively independent project with continuous updates. The application allows you to receive directions in real time, with voice guidance, even offline. There are numerous options for finding the best routes by car, bicycle and even on foot. Here WeGo allows you to download maps and use them without the need for an internet connection.
2)
MapFactor
is one of the most popular navigation apps of the Google Play store, because it is an excellent free alternative to Google Maps, with basic navigation and GPS functions. It uses the OpenStreetMap maps as maps, which are updated monthly. There are also additional map options, although some are paid. MapFactor includes voice directions, 2D and 3D modes, day and night themes and the ability to search for addresses and places even without being connected to the internet.
3)
Mapquest
is a historical navigator for Android that despite the many changes over the years has nevertheless remained a very valid alternative to follow step-by-step directions even with real-time traffic updates and reporting of the cheapest petrol stations. The maps are not perfect in street names, but it depends a lot on where you use it.
4)
Maps.me
is a completely free app that allows you to download the maps of every state in the world in order to consult them offline, and to take advantage of the turn-by-turn GPS satellite navigator without the need for an internet connection. This always uses OpenStreetMap data but is an application that only serves to save the map of an area on the phone to be able to consult it offline. Maps.me is an excellent application because it stores the map data without taking up too much space on the SD card and because it is easy to select the entire map of the city or another country or just one of its regions.
5)
Polaris Navigation
it is not an app to use in place of Google Maps, but it allows you to have precise directions using land coordinates, ideal for hiking, fishing, camping and walking in places without roads.
6)
Sygic
is a very popular navigation app, much appreciated by everyone, which can be downloaded in a partially free version, with some unlockable paid features (for 7 days you can try the full version for free). The downloaded maps can be used offline and are those of TomTom. The turn-by-turn navigator has the function of voice instructions which include street names, the search for alternative routes and also the indication of the speed limit.
7)
TomTom Go Mobile per Android
is the official TomTom app, free within certain limits as explained in the article.
8)
Copilot GPS
is an application specialized in car driving, free without limitations for only seven days, with the option to keep it with limited options or to pay to buy the whole package. The free version still includes real-time navigation and offline maps for a country, even if only in 2D and not in 3D.
9)
The Waze GPS navigator
is a navigation app owned by Google very convenient as an alternative to Google Maps above all for its fun social functions and for the ability to always find the route that takes less time. Real-time traffic information comes from people actually driving in traffic. In addition, checkpoints, speed cameras, accidents, jobs and lots of useful information are also indicated. Waze is completely free, with the only flaw that it only works with an internet connection.
10 )
Offline GPS
provides everything you need to navigate maps when your smartphone is offline, including detailed voice directions. It's also one of the most useful GPS apps, with speed camera alerts, real-time traffic information, and smart lane guidance.
11 )
Osmand
is an Android app that allows you to download maps from all over the world to be able to consult it even without connecting your mobile phone to the internet. To download the maps, from the application go to Settings> Data Management> Download button. The app allows you to download a maximum of 10 maps for free. The navigation function is also integrated into the application, useful for using the app as an offline GPS navigator.
12 )
locus
is an app that I had already reported in the past to save maps on Android mobiles on the phone. It no longer supports Google Maps as it did in the past but allows you to select the
Mapquest maps
, another alternative source to use in case Open Street Maps is not updated in a particular area of ​​the world.
13 )
2GIS: directory & navigator
is a complete free application with real-time navigator and all the functions to find roads to travel, except that it only has maps of some cities.
14 )
Magic Earth Navigation & Maps
is one of the most privacy oriented Android GPS apps. The maps are provided by OpenStreetMaps, available for all countries. If your device has enough storage space, you can even use the app as a dash camera to record road video while driving.
15 )
Google Maps Go
is the light and limited version of Google Maps, useful for quickly knowing the traffic situation and for finding directions without all the other functions of normal Google Maps.
15 GPS navigators with free offline maps for Android, alternatives to Google Maps