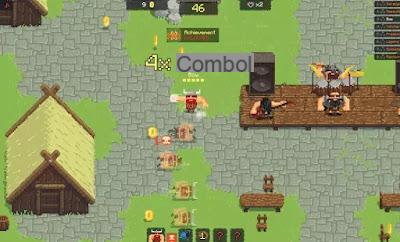 We are so attached to the smartphone screen that we forget how much fun you can have playing on the PC even without downloading anything and without spending a single euro with the
online games or browser games
. In this article, therefore, we make a list of
best free online games of this year
, mostly action, completely free or otherwise free to play, optimized
per Chrome, Firefox, Safari, Edge
or any other browser.
These are definitely the funniest games you can find on the internet with
adventures and action
,
multiplayer
, where you play immediately even without signing up or registering an account and where, in some cases, you have to develop your character or the army to fight in a team or against other players to be better than them in tactics, strategy and planning.
1)
Vikings Village
is a super fun multiplayer game, where you fight relentlessly in a deadly batrtaglia with a view from above.
You can then beat anyone you meet as much as possible, throw objects at them and unlock skills that can set objects on fire.
The beers that are around increase health for greater health, then you just have to hit as much as possible.
2)
Wanderers.io
is a strategy game in which you manage a small tribe of settlers in a sandbox world where you gather resources, cut trees, hunt animals and even create settlements. The game is played against other players, who must be kept an eye on and you can also play with friends and form alliances or play against each other.
3)
The .IO game series
, including:
- Laser Sharks (where fish are guided)
- Agario (where you drive circles)
- Slitherio (where to drive a snake)
- Powerline.io (where a line is used)
- Hexario similar to Agario
They are games similar to each other as a multiplayer concept, which are played together with many other players to try to become the biggest and eat the others, while avoiding being eaten by the opponents.
These are all perfect online games for quick play, which if all goes well can also get long and addicting.
4)
AirMech
is a free action game where you drive a robot that can transform into a spaceship. With 3D graphics and a top view, this is a fast-paced online game of strategy, attack and defense.
5)
War Brokers
is a 3D action multiplayer game that is played all online without downloading anything, of the Battle Royale genre, like Fortnite. You can then immediately jump into action and fight against other players, punching and shooting with the weapons that are around. The game has cubed graphics, light to load and also nice to Minecraft. The game controls are extremely essential, only with the mouse, with the character that moves by itself and is only to be turned. War Brokers has many different weapons and machines to unlock and use: guns, shotguns and even helicopters and tanks can be found on the map.
6)
transformice
is an online game where you have to guide a mouse to the cheese and bring it back to the den. It is a
multiplayer game
where to play
all together
connected to the internet that mixes strategy with arcade skill and where the winner is whoever takes the least time to reach the goal. The more you become good and fast, accumulating points, the more you gain experience that is rewarded by transforming the player into a shaman, the real protagonist of the game.
The Shaman
in fact it is what it should
create the way for others
, building the path that will lead the other players to the cheese and then to the lair (a bit like in Lemmings). The goal of the shaman and therefore to make all the mice eat and, therefore, to complete the picture for as many players as possible.
7)
Isleward
is a game with very retro 8-bit graphics, where you choose which character to use to explore the city of Strathford and face monsters that can be found around. Eventually you will also be able to meet the other players, with whom you can explore the virtual world of IsleWard together.
8)
Wilds.io
is a top view hack and slash game where you kill people and find loot scattered across the map by exploring an area as a member of one of three teams. There are several other modes, some with shorter times and easier goals, including the soccer match.
9)
Realm Of The Mad God
is a really nice and fun online browser game, with very basic graphics, where players have to shoot enemies and where you can play as a team with other people. The 8-bit top view graphics make this shooter the fastest and most frenetic MMO browser game you can find. There can be as many as 100 players together in the same game.
10 )
Pongee
is a one-on-one football game with a top view, very fun and stimulating, where you have to push the ball into the net of the opponent, who is a real player like us. As a game it's simple, only the controls are quite erratic and make for a more complex challenge that takes some getting used to.
11 )
Squadd.io
, an isometric shooter where you can fight with friends against an opposing team, or fight in a free-for-all. The upgrade stations located in the arena grant different weapons. The main objective of the game is simply to stay alive and earn enough points to reach the top of the leaderboard.
12 )
No Brakes
is a car racing game, where you have to finish first.
The top view, multiplayer game is very reminiscent of old arcade games, with winning races following the best trajectory and not being pushed out of the way by others.
13 )
Mini Giants
is a multiplayer game where you fight by driving some thugs to punches, very fun that releases the tension.
14 )
Everybody Edits
is a multiplayer platformer, where the levels are changed by the other players which can make us lose at any moment.
For example, you could run a long line of safe green bricks and suddenly, if someone in front of the level takes the green key, we will be back at the starting point; frustrating but brilliant.
15 )
Snowfight.io
it's a free-for-all snowball fight with lots of players online.
16 )
Kings road
is a more action game, where a warrior walks in the fantasy world and fights enemies using his sword.
You can choose to play as a Knight, Archer and Mage and you have to develop the character to make him become stronger and more powerful.
Always with 3D graphics from above, the game is free and immediately playable without downloading anything.
17 )
Chiland online
is another top view game where you shoot opponents who are around, trying not to get caught.
18 )
ArcMaze
is an RPG with a subjective view of exploration and combat, very elaborate, even if with graphics that remind of the old Doom.
19 )
Foes.io
is a top view Battle Roayale game that is very fun, fast paced and full of free-for-all combat.
20 )
Drakensang online
is the most played free browser action game of the last two years (already described in a dedicated review), with top view graphics where warriors and wizards advance and team up to battle enemies.
Top 20 Online Games: Free, Action, Multiplayer