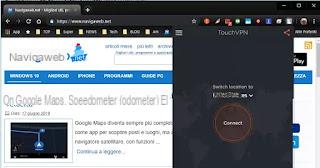 VPNs serve many purposes. One is to create a tunnel to visit each site without geographic restrictions and to maintain online privacy and anonymity about what is done on the internet. We have seen, in another article, i
best free programs to install a VPN on Windows
.
In this article, for those who want something less invasive, which can be used quickly only to visit certain websites so as not to be tracked and without blocks of various types, we see some
Chrome extensions capable of passing the internet connection over a VPN
. The extensions route the packets to the server of the company that manages the VPN and from that server the connection to the Internet is established. Internet traffic then passes through this remote server so that online services and websites will think that the connection comes only from there, without having any reference to our computer.
If you browse with Google Chrome, you can get a free VPN
to route traffic and overcome any limitations of the internet world
with some extensions
.
In addition to the security benefits you get such as anonymous browsing and tracking protection, VPN extensions for Chrome also offer additional benefits over classic VPN programs. Compared to a full-fledged VPN app, a Chrome extension offers easy access to the service, with a one-button press in the top right extension bar.
The best free VPNs for Chrome are
1)
TouchVPN
is one of the most deserving Chrome VPN extensions, completely free, easy to configure and that is activated as soon as you install the extension, without the need to create an account. You can choose up to seven server locations or you can use automatic selection. Once connected, TouchVPN shows some information such as the connection speed, the status of the blocked items and a button to stop the connection. It also comes with an ad blocker, cookie blocker, malware blocker, WebRTC blocker, and tracker blocker, for advanced protection (although some sites may not display properly).
2)
VeeVPN
is an unlimited and free VPN that is very minimalist. Once this extension is installed, accessing the VPN is just a click away, with no customization options other than the choice of server location.
3)
Windscribe VPN
is a very simple free VPN for Chrome, where you can choose from many server locations, but without any additional functionality.
4)
ZenMate
requires you to register an email address on the welcome page after installing the extension. The password is automatically generated on the next screen and can be changed. The extension activates automatically and is ready to use. The status of the VPN is visible from the shield icon in the address bar. From here, you can also change the location of the VPN server to make the connection appear to be from New York / United States, Frankfurt / Germany, London / UK, Zurich / Switzerland or Kowloon / Hong Kong. Zenmate is free and, for now, offers unlimited traffic. ZenMate is a German company.
5)
DotVPN
is a great extension to use a free unlimited VPN that allows you to anonymize the connection to websites, encrypted, secure and with the possibility to choose between 12 countries to fake the location and make it appear that we are connecting to the internet from another place. With DotVPN, one of Chrome's best VPNs, you can open all websites, videos and streaming services without geographic restrictions, with traffic compression, encryption, total privacy of identity and IP address, ability to browse onion sites TOR network, integrated firewall. A click on the icon in the extension bar will help you find out more about the selected remote server and its location. You can use a menu to switch to another server and simulate an internet connection from the US, Germany, UK, France, Japan and Russia.
6)
Hello Better Internet
is a service that I had already talked about in another article, talking about how the plugin works to speed up and browse the internet faster. Hola uses a slightly different system than other VPNs and leverages the connection of the same users to feed traffic. With no need to create an account, you can use Hola right away after installing on CHorme and browse all websites, including those that are blocked or blacked out in the city. Hola is an Israeli company.
7)
Tunnelbear per Chrome
makes it easy and automatic to access the internet via VPN to surf safely with an encrypted connection (very useful if you are connected by public wifi) and to visit sites that are blocked or inaccessible in our country. The connection can be simulated from different European countries including the city, from Spain, USA, England, France, Germany and others. The free account limits the ability to keep the VPN active for 500MB of traffic per month.
8)
Browsec
is the most advanced free Chrome VPN extension you can find, with a number of features usually found only in premium versions. The only limitation is in the number of servers available, otherwise speed, bandwidth and security are never limited.
9)
Betternet
, which I already talked about in an article, offers one of the smoothest and fastest VPN experiences, ad-free, always free. The free version allows you to connect to only four server locations, but does not limit the bandwidth and the connection remains fast without slowing down.
Best VPNs for Chrome (Free Extensions)