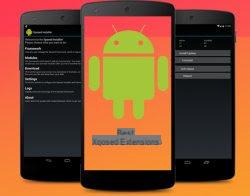 In addition to the usual customization that can be done on Android by installing different widgets or launchers, geek users can install Custom Android ROMs by radically changing the operating system.
Finding a middle ground, you can unlock Android with root and then install a special app called Xposed Framework.
XPosed Framework is a simple modular app to modify the operating system internally and add real features to the previously absent mobile phone. Xposed Framework has become very popular among Android enthusiasts and also among normal users because it is easy to use and not dangerous for the stability of the system.
In practice it can
modify and customize Android without having to install a ROM from scratch
.
Xposed Framework (you have to download the apk from the XDA Developer forum) is therefore a great way to improve Android, whose only difficulty is finding the various modules and changes that are worth applying and installing using the application installer itself or by installing them from Google Play.
In this article we see
12 of the best Xposed Framework modules to modify Android internally, in every aspect
1) XPrivacy, to prevent applications from sharing sensitive data. This is done by sending fake data to applications that request it.
2) Tinted Status Bar is a nice visual tweak to make the status bar have a different color depending on the application you are currently using.
3) Gravitybox is a bit like the mother of all Xposed Framwork modules with lots of visual adjustments and features.
Gravitybox allows you to change the appearance and functionality of the lock screen, the status bar, the navigation bar, the power, the phone, the Launcher and much more. All the various changes are options to activate or deactivate, so in a really simple way.
4) Xposed Additions is an app for remapping buttons and changing other internal system configurations.
5) Wanam kit, only for Android 4.4 and Nexus smartphone, to change status bars, sound, lock screen, system options, security and more.
6) BootManager to prevent some apps from starting automatically with your mobile.
7) XuiMod, many changes and options taken from other ROMs.
8) Android Phone Vibrator to make your phone vibrate when starting and hanging up a call.
9) XBLAST Tools has many functions to customize Android in any way you want, with a very simplified and quick interface.
10) App Settings is a module that allows you to change application behavior settings such as DPI, rotation, app behavior, full screen, etc.
11 )
Immerse Me
, to have all the apps in immersive mode, in full screen.
Best Xposed Framework modules to modify Android in every aspect