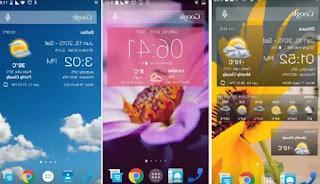 One of the best features of an Android mobile is that of
widget
for the main screen, so you always have interactive information or quick buttons under control. Widgets are
applications that are embedded on the phone screen
and allow a
quick access to its features
. You can then hold a photo frame showing a slideshow of photos, music player controls, a weather clock, a button that enables the flashlight, or a news aggregator that updates automatically.
Many Android apps also include their own widgets which can be quickly added to the screen by tapping and holding on an empty spot. The option that allows you to browse the widgets available and installed on your phone should then appear, to be added just by touching them and dragging them to the part of the screen where you want to see them. Widgets do not open like normal general menu applications, they are activated by pressing the home screen button and do not open new windows, they immediately activate the function.
In this article we see what they are
the best free download widgets for Huawei, Motorola, Samsung, LG mobile phones
e
all Android phones
.
Before starting with the list it must be said that Android Widgets should always be used without exaggerating, since they take up memory and can slow down the performance of older or less powerful smartphones. It should also be noted that widgets take up space on the phone's desktop and that generally
applications with widgets cannot be moved to the SD card
.
Best free widgets to download and install on Android
1)
volume control
to manage all volumes, including that of the ringtone and that of the music, quickly.
2)
Battery HD
to always have an eye on the status of
battery charge
in a drawing and activate the quick settings or battery usage view.
For the battery there is also
Battery Widget
, the lightest and most minimal.
3)
Widget with ON / OFF switches and control buttons
to quickly activate, with a touch, wifi, GPS, bluetooth, to adjust the brightness, to synchronize data, to activate the airplane mode and to mute or vibrate. Many Android smartphones include the
energy saving control
which is similar, but not customizable.
4)
ColorNote Notepad Notes
is a widget to attack
colorful post-its to be displayed on the Android screen
with notes and to-do lists.
5)
Evernote
e
Google Keep
, the best clipboard apps, comes with a widget for data synchronization, instant access to notes, searches, voice memos and more.
6) The
Stats Monitor Widget
to see the status of the phone: memory, CPU usage, network usage and other statistics.
7)
Calendar Widget
is the widget to have a customizable calendar that can also be synchronized with Facebook or Google Calendar.
Another
program
to put on your phone screen and interactive is
Event Flow Calendar
, highly customizable, is a very nice widget to see the calendar and events.
Obviously also
Google Calendar
has its own screen widget.
8)
Speed ​​Dial Widget
it is used to set up some contacts and call them with a touch or send them messages.
Another Widget with favorite contacts is
Contacts widget
.
9)
Google messages
includes the widget to quickly read SMS messages from the Android phone screen.
10 )
Flashlight
is the best application to have different types of flashlights on android phone which also has widget for
activate the flashlight with a touch
.
11 )
Transparent MEteo
is a widget with digital clock, weather and other information, with nice and clean graphics.
Very elegant it is also
Another Widget
which updates the weather forecast automatically and displays the clock for quick access to the alarm.
12 )
Moon Widget
show
the Moon and the phases of the moon
on the phone screen.
13 )
Weather Forecast
is one of the best widgets to always have the weather forecast on your mobile phone, always in view, with indications on the weather and temperature, if there is sun or rain.
SEE ALSO:
Best weather app for android with temperatures and weather forecast
14 )
Simple Weather Widget
is a widget with tomorrow's weather forecast and temperatures for every city in the world, clean, clear and without ads.
15 )
schedule
show
notifications and data about the last calls
made or lost, new SMS, and calendar events.
16 )
Google News
is the best feed reader with
widget to read news
directly on the screen of your Android phone.
Those who used Google Reader can use the widget instead
Feedly
to be placed directly in full screen.
17 )
Plume
is the best widget for Android that can show the latest news and updates from your contacts on Twitter and Facebook.
18 )
DEvice info
is the widget that indicates le on a screen
system information
with percentages and amounts on available RAM memory, processor usage, internal memory and SD space, battery, system cache and more.
19) In another article, Widgets for
check the remaining credit and internet thresholds
of a rechargeable one.
Data Usage
is a widget to always have under control the traffic thresholds of the data connection.
20 )
Chronus
is a super customizable widget that allows you to see a lot of information on the home and lock screen, from notifications to the time, weather and news and much more.
21 )
dimmer
is a widget that allows you to change the brightness of the screen, to an extent even higher than the minimum provided by Android. Ideal for reading your mobile at night in bed.
22 )
WiFi Manager
is the Android screen control for managing WiFi networks with many options to search and select the network to connect or disconnect to.
23 )
With UCCW you can transform your Android screen in the most diverse ways
24 )
Dialer Widget
is a widget with numeric keypad and address book to make phone calls quickly from the main screen.
25 )
Elixir
is a collection of customizable buttons that can be added to the screen to do things like turn wifi, bluetooth, cellular data, location, airplane mode, sync, and more on and off.
26 )
Data Enabler
to activate and deactivate the data connection with a touch (does not work on lollipop)
27 )
T
, as a widget to mark appointments and to-dos.
28 )
EAS: Easy App Switcher
is a widget to create a fast application launcher.
29) Among the most popular apps with Widgets we remember
Netflix
, to see the movies in a box on the screen, then also
Shazam
, to recognize a song on the fly with the quick button, then the
Google translator
,
VLC
for video controls,
Whatsapp
for received messages and quickly write to selected contacts.
30 )
Hotspot Toggle
to quickly activate and deactivate the hotspot function
31 )
Sofascore
, the app to follow the results of football leagues, has its own widget to always keep an eye on the results in real time.
32) Don't forget that all Android phones include
Widgets in Gmail
to see emails,
of Google
for Google Assistant information, di
Google Maps
, to quickly start driving to a specific destination (such as at home),
Play Music
to start playing music.
34) Finally, in another article, the
best apps to create custom widgets on android
of any kind, as you wish.
Not for the widget, but if you like this article you can install
l'app Android bestresourcesnow
Best Android widgets for smartphone screen