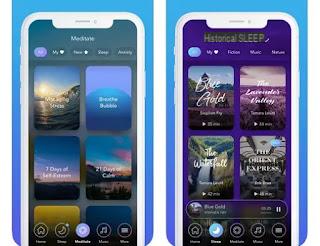 Meditation and the care of one's mental state has become, in these years of stressful and fast life, something much sought after by everyone.
Meditation exercises seek to improve concentration, promote relaxation, forget anxieties and fears, find the mental energy to face life problems that seem impossible.
Meditation apps for smartphones have grown a lot in recent years, not only in popularity but also in their quality, becoming really effective tools and not just games or experiments. These are often apps that create soothing sounds, with videos to follow, with tutorials and guides written by doctors and experts in the field. Most of the best meditation apps can be downloaded and used for free with limitations often requiring subscriptions to unlock the most important features or to keep using them.
Privileging free solutions, let's see then
the best apps for meditation.
1)
Oak
(Android and iPhone) is a great free meditation app, with sessions for meditating, breathing and sleeping. Unlike other apps, it won't generate hundreds of sessions for the user. Instead, the app urges users to try small sessions, and only after completing one goal does it unlock the next session.
2)
Calm
(Android and iPhone) is a free meditation app in the basic version that may be sufficient for low-level use, but one of the most expensive if you want to unlock extra content. Through the app it is possible to do meditation sessions between three and 25 minutes and follow a 10-minute daily program, a seven-day program, a three-week program.
Calm's goal is to decrease anxiety, improve self-esteem and focus, and promote more restful sleep.
3)
Headspace
(Android and iPhone) is one of the most popular meditation apps, for beginners and experts. The app offers exercises to train your mind to meditate, to breathe, calm down when stressed, relieve stress and sleep better at night. There are hundreds of programs to choose from, many for free.
4)
Let's Meditate: Guided Meditation
(Android) is one of the few truly free meditation apps, with 30 guided meditations and a simple interface.
Curiously, the lack of special or advanced features makes this app simpler than the others and therefore even better for not getting stressed and immediately finding relaxation. It also contains no in-app purchases or advertising, so absolutely clean.
5)
Pacifica - Stress & Anxiety
(Android and iPhone) is a very special application, not only for meditation but for mental health care. Meditation, therefore, is just one of many tools designed by psychologists to combat anxiety, stress and depression. There are also cognitive behavioral therapies, relaxation techniques, mood monitoring, and physical health monitoring. Many of the features are free, so it's worth a try.
6)
Prana Breath: Meditation and Breath
(Android) allows you to practice various meditation techniques, also customizable breathing patterns, reminders and even a program to quit smoking. You can use the app for free or buy the premium version for additional features such as health tests, other breathing methods and graphics. Recommended for beginners, less for advanced users.
7)
Simple Habit Meditation
(Android and iPhone) is a massive meditation app, with over 1.000 guided meditations, 50 of which are free. The app aims to improve concentration, decrease performance anxiety, make you sleep better and fight insomnia, find easier breathing and live happier with exercises of as little as 5 minutes a day, for those in a hurry. .
8)
Stop, Breathe & Think
(Android and iPhone) is a meditation app that specifically focuses on counteracting stress and anxiety. It includes guided meditation, timer, activity tracking, mood tracking and several other functions. You can download the app for free for the basic functions, with a subscription for the premium features.
9)
La Mindfulness App
(Android and iPhone) is a guided meditation app that starts with a 5-day mini course, with many free sessions.
10 )
Insight Timer
(Android and iPhone) offers many meditations led by real teachers. You can also listen to relaxing music for meditation without paying and there are even meditation programs for children.
11 )
Zen
(Android and iPhone) is a mostly premium app, but it has very interesting free features. Instead of offering just one course, Zen offers a type of meditation lesson for nine different emotions and problems: Tranquility, Insomnia, Sadness, Anxiety, Discouragement, Irritation, Worry, Feeling and Happiness and can be used anytime you want.
12 )
Ten Percent Happier
(Android and iPhone) The app asks what problems we are facing, what to meditate on and the goal to achieve with meditation. Once that information is entered, the app creates a unique meditation plan with new lessons unlocked as you progress. Fortunately, aside from a seven-day free trial, there is no free version here.
13 )
Balance: Meditation
, for iPhone, it's a really nice app, with a personalized meditation program that other apps don't have. Balance will ask questions every day, changing the experience along the way, depending on the mood.
14 )
Aware Meditation
(Android) is one of the most used meditation services in the world, which teaches you how to meditate step-by-step, day by day, at any time. It starts with things like counting your breaths and works your way up to more complex exercises. Any exercise can be done at any time. Unfortunately the app is only free for 7 days, then you will have to pay the monthly subscription of about $ 4.
15 )
I meditate
, for Android and iPhone, it is completely free and even if in English, it allows you to follow breathing exercises, guided meditations, awareness practices and to listen to relaxing sounds, all for free. Certainly one of the best on this list, Medito was also awarded as one of the most innovative apps of 2020.
Best apps to do Meditation at home