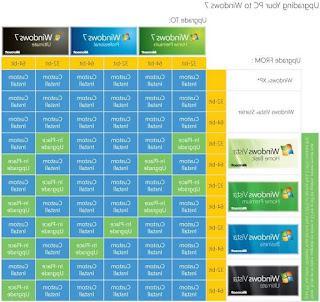 If to install Windows 7 from Windows XP, you need to proceed with a real reinstallation from scratch, for those who own it
Windows Vista
on your computer the work is easier because
this is an update
or "upgrade".
READ NOW:
How to download Windows 7 for free
Depending on your computer and the current edition of Windows Vista, you may be able to use the upgrade option contained in Windows 7.
For as I see it,
updating is much cheaper than doing a reinstall from scratch
because this keeps Windows Vista files, settings and programs in place. Purists may say that it is better to redo from scratch in order to have an efficient and fast pc supper but, personally, I disagree and I think it's just a waste of time.
There are 2 ways to
upgrade Windows Vista to Windows 7
and we see them both:
1)
Installing the update
2)
Custom installation
Before seeing the two options and before doing anything, I can only force everyone to
make a backup of the hard disk
to save all your important files, documents, photos, music and everything you intend to keep so, if something goes wrong, you don't risk losing anything important.
To facilitate this, you can also avoid a professional backup program and use the tool
Windows Easy Transfer for Vista
which is inside Vista or, if not found, which can be downloaded from the Microsoft website. Definitely recommended to bring a
external hard disk
to save all settings and files.
Another preliminary step is to understand
what version of Windows 7 can you install
. On
figure above
and taking a look at the page on the versions of Windows 7, we understand that the upgrade of Vista is only possible starting with the equivalent of the Seven version, that is, from Vista Home you can switch to Windows 7 Home, from Vista Professional to Seven Professional while all versions can switch between
Windows Ultimate 7
which is the best.
Regarding the choice of installing the 32-bit or 64-bit version, it depends on the processor of the computer and can be easily understood by using a program that checks the system hardware or by going to the system properties.
The difference between 32-bit and 64-bit
bigger is that 64-bit operating systems are capable of handling large amounts of memory, even 8 gigabytes (GB) of RAM while 32-bit systems are limited to 4 GB.
As regards the
hardware and software requirements
there should be no problem because if Vista runs, Windows 7 also runs.
Whatever the case may be, on Windows 7 there is the XP Mode that allows you to run all the old programs.
The only problem can be, for me, with old modem drivers that may not work on WIndows 7; in this case either you buy a new modem or you must first check if there are updated drivers on the manufacturer's website.
However it is recommended to use the tool
7 Windows Upgrade Advisor
to make sure everything is fine and to get advice on where to find any patches or updates.
Now we are finally going to perform the
upgrade procedure to upgrade to Windows 7 from Vista
.
When you upgrade to Windows 7, it is possible
keep files, settings and programs from Windows Vista
.
1) Turn on the PC (then don't say I'm not complete ...)
2) Whether it was purchased or just
downloaded Windows 7
online, start Vista and then open the installation file as if you were installing a normal program.
If you have a
installation disc
of Windows 7 then you insert the disk in the cd rom, always from Vista.
The installation program should start automatically; if it doesn't, click the Start button, Computer, DVD disc then double click the setup.exe file.
3) On the Windows Setup page, click Install Now.
4) When asked whether to download important updates immediately, it is advisable to say yes and get the most recent updates to be sure of a correct installation, and to protect your computer from any problems.
In this case it is clear that the computer will need to be connected to the Internet.
5) Accept, without reading, the license terms.
6a) Choose the
type of installation
by clicking on the "Update" button.
7) Continuing to follow the instructions and the wizard, you go to complete the installation of Windows 7 without any difficulty.
In step 6 there was also the option of
choose custom installation
so let's see what happens in this case.
6b) Choosing a custom installation of Windows 7.
7) Choose the partition containing Windows Vista (this is often the computer drive with the letter C), and then click Next (be careful not to select the USB external hard drive).
8) In the dialog box where Windows.old appears, click OK.
9) Continue to follow the instructions to complete the Windows 7 installation, including those of naming the computer and creating an initial user account.
You can use the same names that were previously used in Windows Vista, or choose new ones.
At this point Windows 7 is installed, and the only problem is the
Windows 7 license that must be purchased original
, maybe on Amazon.
Upgrade from Vista to Windows 7 update and installation guide