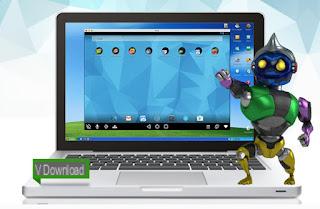 Thanks to an Android emulator it is possible, in fact, to use the same Android system that is found in all smartphones and tablets (not Apple), on your computer.
In this way it is possible, in a really simple way and without making special configurations, to enjoy the applications and games developed for Android even on PC. Several Android emulators for Windows have come out over the years, more and more optimized to work on computers, some better for playing, others more generic for all applications such as Whatsapp, Instagram and Tinder.
Below, we discover the
best 10 Android emulators for Windows
which they all are
free to download
and easy to install on any computer, which allow you to
install and use smartphone applications together with normal PC programs
.
1)
BlueStacks
BlueStacks is the most popular Android emulation program which has been most successful due to its simplicity. This type of emulator, in fact, makes it possible to install Android applications on Windows PCs and Macs using APK files that can be downloaded from the internet. Bluestacks works very well, opens apps like computer programs.
On this program we have written a dedicated article in the guide to install Android applications on Windows PC with Bluestacks.
2)
Android Studio
This emulator is the official google emulator that allows you to run the latest version of the Android system on your PC and try it on a virtual smartphone identical to the Google Pixel. There is also support for the Google Play Store.
3)
MemuPlay
Memu is a program optimized for playing Android games on PC, so you can easily control them even without a touchscreen. Games and applications can be downloaded and installed directly from the program's website and you can play games like PUBG for free on PC with the mouse or joypad.
4)
LDPlayer
is a game-optimized alternative to Bluestacks released in 2020. LDPlayer quickly gained popularity due to its great performance and ease of installation. The emulator works on any PC and allows you to play games from the Google Play Store on PC as well as those from the dedicated store.
5)
Nox Player App
Nox is another emulator that I had already talked about in a special article, describing how to play Android games on PC with optimized controls. Nox App Player is an Android emulation environment dedicated above all to games, making it possible to control them using a mouse and keyboard.
6)
Gameloop
is Tencent's Android emulator, optimized for video games, which allows you to play Android games such as Call Of Duty Mobile or PUBG for free on PC.
7)
Andy OS
Andyroid is an emulation environment that opens on the PC in a window and allows you to use a system (Android) in the system (Windows). With Andyroid you can install applications (all those available, even those that require root access) and use them as you would on a tablet or smartphone, receiving notifications and updates in real time. In particular, it is possible to play on the PC by controlling the game from the phone, which becomes like a wireless joypad.
8)
Windroy
Windroy is a no longer developed and updated emulator, which nevertheless works very well on older computers due to its speed of execution.
9)
Droid 4X
This Android emulator for Windows allows you to use any application on your PC, even using the Google Play Store or by downloading APK files. As a virtual desktop, Droid4X relies on VirtualBox to create an environment that emulates the ARM processor of tablets and smartphones. Droid 4X works well for gaming and also has the feature of falsifying the detection of the GPS position, deceiving the apps about the country of origin.
10 )
KO Player
KO Player is an independent project based on Android x86, the version for laptops. This completely free emulator is very light and stable, excellent above all for playing games and with different accesses such as video recording.
11 )
ARC per Chrome
ARC stands for App Runtime for Chrome and is an environment that allows you to install and run Android applications in Chrome on PC. In fact, it is a very simple extension to use that allows you to load APK files to open it on a PC without any particular configuration, immediately and quickly.
12 )
Phoenix OS
This is not an emulator, but a special version of Android that can be installed on any computer as the main operating system.
As explained, Phoenix OS can also be installed on a USB stick for separate boot or on Virtualbox as a virtual operating system.
13 )
Genymotion
This emulator allows you to virtualize Android on a PC in a simple way and with a simple installation of the program. This software is mainly oriented towards application developers who can therefore have a test environment capable of emulating all the best-selling devices, including smartphones and tablets.
Best 10 Android Emulators for Windows