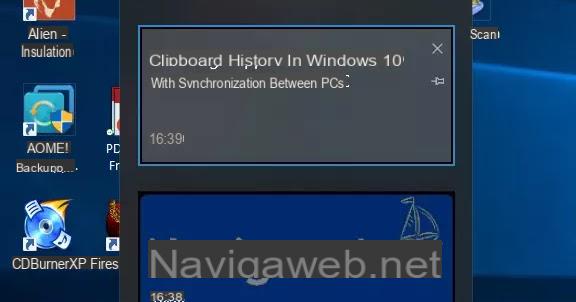 Have you ever wondered where the data ends up when doing the "Copy" on Windows? Did you know that there is a tool called Microsoft ClipBook Viewer among the Windows XP utilities?
Probably, not out of mistrust, but not everyone knows it, because it is about
a hidden utility
which is not present in the Start menu or Start menu.
Additionally, XP's ClipBook Viewer has been removed in Windows 10 and Windows 7. Basically, when you do cut or copy operations in Windows, the information is stored on the clipboard and remains there until you cut or copy a other information, or until the PC is turned off.
Well, from the ClipBook Viewer tool window you can see the contents of the clipboard and the stored notes.
UPDATE:
In Windows 10
, since October 2018, the function of the
Clipboard history with synchronization between devices
, to keep and retrieve the copy and paste data, so that they can also be reused on other computers.
Different is the Microsoft Office Clipboard Viewer, which comes from the Office Clip.exe file and shows each piece of data that is copied for later pasting. The Word and Office clipboard viewers are visible to everyone and keep multiple copied or cut data in memory for later use.
There are limitations
in the Clipbook included in Windows XP and absent in Windows 7 and Windows 10 because images cannot be captured and the contents of the Windows clipboard do not store clipboard data for a long period of time. When you turn off your computer or just when you copy some other text, the data is lost (unlike that of Office).
How many times has it happened that you need data copied half an hour or an hour earlier but replaced with something else?
Or, simply, there may be a need to remember what was being done on the computer a month or a year ago without writing diaries.
In short,
the clipbard viewer in Windows does not exist
and the goal of this article is to find a
software free
that that offers this function. A good software clipboard manager must be small in memory since it will be running all the time to capture all the data in the clipboard. It should have customizable shortcut keys for pasting and using clipboard data easily and quickly. Finally, it would be the case that it also records the date / time / place where the data was copied or cut.
These are the best "Clipboard Manager" programs to manage clipboard copy and paste
.
1)
Save.me keeps the Copy and Paste clipboard forever
allowing you to retrieve them, search for them, modify them, protect them and reuse them whenever you want.
2)
Ditto
is an extension to the standard Windows clipboard.
It saves any item placed on the clipboard and allows access to any of these items at a later time. Ditto allows you to save any type of information: texts, images, html, and custom formats and whatever you want.
3)
Copyq
is a Windows clipboard manager that resides in the system tray and allows you to quickly paste copied things from the right-click context menu. CopyQ is a new 2014 program that works on all versions of Windows including Windows 8.1, free and open source, with a tabbed interface to manipulate and view the copy and paste clipboard.
4)
ClipX
is a small tool to manage the history of the clipboard that can be called up through a hotkey and supports both images in bitmap format and text.
It works in the background and takes up only 0.6MB of memory. You have to press CTRL + SHIFT + V to see the history of the clipboard on the screen and just press the corresponding number to paste it wherever you want. Clipx is perhaps the best of these programs also because it supports the use of keyboard shortcuts and is very light.
5)
Free Clipboard Manager
is a simple portable utility for Windows clipboard management. It automatically saves every piece of text and image you copy to the clipboard and all copied notes are displayed on a window that remains visible in the lower right corner of the screen. To paste a previously copied item, just select it, copy it back to the clipboard using the right click menu and paste. Clipboard manager saves the images taken with the Stamp key, the screenshots, directly on the hard disk. Any copied text is also saved to disk in individual TXT files.
6)
Clipboard Caching Tool
(CLCL) is a clipboard program that works as a system cache and automatically stores all items that have been copied to the Windows clipboard. Later it allows you to easily go back and recover images, text or other objects. You can also keep a permanent item list (template), which can be used to quickly enter frequently used data or text. The functionality can be further expanded with different plugins, which include text processing, some options like case conversion, adding tags, removing quotes and other things.
A more complex and more expert program.
7)
Yankee Clipper 3
is a powerful Windows clipboard capable of storing all formats of text images, of any size, in its archive. It also has the function of printing, drag and drop and optional permanent storage of clippings. The graphic interface is very familiar and looks like "Outlook"
8)
Clipjump
is a free portable clipboard manager for Windows that improves the copy and paste function by showing the preview of the clipboard copied even a long time ago. Lightweight program, has option to cancel pastes, store multiple entries in the clipboard with a history that remains even after the computer is restarted.
9)
ClipboardFusion
is a more powerful program than the others that not only manages the copy and paste notes, but also replaces the text and allows you to create macros, that is, automatisms for repetitive actions (when you always copy and paste the same thing).
10 )
Clippy
is a portable clipboard manager that opens to the taskbar to display more items that have recently been copied to the clipboard window. Any text that is copied will become visible and usable later for pasting. The portable version takes up 46 KB of disk space, the interface is easy and nice to use as well as customizable.
11 )
QClip
is an enhancement of the standard Windows clipboard that allows users to paste text that has been copied or cut previously. QClip is in the background and if you need to paste some copied text some time before, instead of pressing CTRL-V and pasting the last copied thing, just press CTRL-ALT-V and QClip will show up with all the old clips . You can use the arrow keys to select the desired item, then press "Enter", or use the mouse and click the "Paste" button. QClip only works with plain text and the history is cleared when you restart your pc or if you terminate the QClip application. If you find that QClip is no longer storing anything, you have to right click the scissors icon in the system taskbar and select "Reset".
In another post it is written how to remove text formatting when copying and pasting from a poorly formatted web page or document.
Finally, remember that the best free Notepad for Windows is called
Notepad ++
.
Programs to manage the copy, cut and paste clipboard in Windows