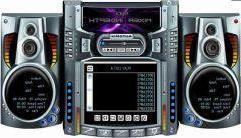 Everyone, and this time everyone in the world, uses the computer to listen to music using mp3 files that can so easily be purchased or downloaded from the internet for free. The most used program for hearing music is certainly
Windows Media Player
for the sole fact that it is the only player pre-installed on the pc when you buy a new one or after installing Windows. Many use instead
iTunes
, for the sole fact that it is the iPod and iPhone management program (today this is no longer the case, see point 19).
Neither can be considered the best program for listening to music on your computer, though, so it's worth seeing which ones they are
the best programs to listen to music and manage mp3 files on your computer
.
Di
programs to listen to music on the PC
there are really many, many
alternative a WMP
and almost all video playback software also works for listening to music.
1)
Foobar 2000
it is certainly one of the best audio players for listening to music on Windows PCs. It supports practically all audio formats including FLAC, APE, MPC and many other rarer and less used ones. The graphical interface is very basic and not too beautiful but this allows the Foobar to be absolutely
the lightest music player available
. Among the versions the best is the special because in this case, the base one is perhaps too light and thin. As for the management of tags, it is equipped with an advanced editor with which to organize mp3 files and a tool for creating automatic playlists.
2)
AIMP
is a great audio player because
takes the best features of Winamp and Foobar2000
and fonse them together in one software. The graphical interface is very nice and the Winamp plugin support is complete. With AIMP you can start playing many types of audio and music files: mp3, ogg, wma, aac, wav, ape, mpc, ac3, flac and many others including .cue, single track and playlists such as the m3u format. Among other things, it can also convert audio files from one format to another and create playlists.
3)
MusicBee Player
is a great program of which I wrote a dedicated article, with a thousand functions including autoDj and integration with LastFM to listen to music online.
4)
Voltra
is a program for Windows, Mac and Linux PCs with a very minimalist interface with a white background and black lettering, beautiful to look at and easy to use. The program is able to manage list of songs and do searches by artists and musical genres, it also supports free listening to streaming music with a Voltra account.
5)
Harmony
it's like a lightweight version of iTunes, with the same interface, but without all the Apple stuff in it. Harmony also includes a number of plugins for streaming music from Spotify, Deezer, Google Play Music, YouTube, Reddit, and others.
6)
Winamp
,
most famous music player ever
used, at least once by everyone who has used a computer for a few years.
Winamp is beautiful, useful, full of different graphic themes to customize it, full of plugins to add, complete with many features for both audio and video, full support for high quality audio and for reading music CDs and also some possibility to manipulate the audio by modifying the quality of the mp3s. The Lite version, very light, allows you to play and listen to music on your PC without cluttering.
7)
Plexamp
is an independent music player inspired by the old Winampo, also similar in graphics. Supports rhythm-following figure viewers, volume leveling and gapless playback.
9)
MediaMonkey
and the
best audio player
, in my humble opinion, you can use it on a Windows pc today. Virtually everything is there and does everything well: complete management of tags with reception of missing information from the internet, full support for output plugins to improve the sound perceived by the ear, ability to manage IPods and mp3 players of any brand, extraction audio tracks from a cd and conversion to mp3, easy to use and very nice looking graphical interface, conversion between audio file formats.
10 )
iTunes becomes just a music program
in the latest version released in 2017, 12.7, where all iPhone and iPad and app management functions are removed.
11 )
XMPlay
is an excellent program for listening to music, very similar to the old Winamp, with a compact interface that takes the appearance of a portable stereo. XMPlay, which is one of my favorite programs, also supports extensions and skins to change its graphics.
12 )
C
it is a special program mainly because it allows you to listen to music in streaming via the internet, from various free sites. As a music program it is well organized, it takes up a bit the interface of MusicBee and MediaMonkey, it allows you to organize playlists and folders.
13 )
Wynil
is a newer program for Windows, with a dark and elegant interface, customizable in colors. It allows you to sort music on your PC by artists, albums and genres, listen to online radio, read song lyrics, get information about each song online on Last.fm and listen to tracks using the file explorer. Winyl has few interface options and can be minimized and hidden in the Windows taskbar, with buttons to control music playback. The program also has an equalizer and a built-in ID3 tag editor.
14 )
Dopamine
is a Windows PC program released in 2016 that makes mp3 file management its most important feature. It is also worth a try for its playlist creation features, the ability to play MP3 and FLAC files, and the equalizer
The graphical interface looks like that of an application for Windows 10, with very large lettering and buttons and colors that can be customized.
15 )
cherryplay is
is a great program for listening to music on your PC, not only locally, but also via the internet. The program is really nice to use, full of unique features for organizing tracks, managing files, creating playlists and searching for songs or music videos. The program integrates with Twitch, Last.fm, VK.com and other sites where you can discover new songs, charts and videos of the moment.
16 )
Jaangle
(formerly Teen Spirit) is a music player whose strong point is online integration (automatically downloads and displays artist and album information from the network).
Perhaps it is also the best of these programs for editing audio tags for all file formats. In a crowded field of free music players, the factor that makes Jaangle stand out is the way in which
Automatically integrates music library information by automatically downloading it from the Internet
(use the Last.fm site).
The online integration concerns, for example, album covers and images representing the band or singer you are listening to. It will also be possible to download information and view artist biographies, reviews, song lyrics and so on.
Also excellent is the advanced search function that allows you to search for music, as well as by title, author and category also for the words of the lyrics and for news and comments written on the net. Editing tags is very powerful as mentioned. Press the right mouse button to perform all the main editing operations. To search for information on the song, you can access online with the right mouse button by connecting to sites such as AllMusic, Amazon, Discogs.
Unfortunately it has no function to pass music on an MP £ player, on an IPod and lacks support for audio output plugins which results in less than the best sound quality.
17 )
Jajuk Jukebox
is described in another post, is open source, free for Windows, Mac, Linux and absolutely among the best programs to listen to music, manage tags and albums.
18 )
OpenMediaPlayer
is a program for Windows PC, free and open source that allows you to listen to music with a really good interface
OpenMediaPlayer supports many multimedia formats, including MP3, OGG, SPX, TTA, FLAC, AAC, WAV, WMA, APE audio formats and MP4, MPEG and AVI videos. The playback controls are at the top, while in the center of the application are the song titles.
In the lower area you can see the album art, while on the left there are the buttons of the music player, the lyrics, the CD player, the radio and the video player. You can manage the tags of mp3 files, create playlists, set an equalizer. This program is among the lightest, with a low consumption of resources and CPU, also ideal for older computers.
19 )
Gom Audio
is from the same authors of the celebrated video program, Gom Player and deserves the same awards. GOM Audio is a lightweight program, with a compact design and some really impressive features such as Internet radio streaming, different playback speeds, plug-in support and a full equalizer.
20 )
JSound
is a program to hear music on the PC at its best, optimizing the sound through a powerful 31-band equalizer. With JSound you can improve the audio output of your songs using a rich variety of filters and effects and you can also record audio from external and internal sources, convert files between different formats, listen to online radio, liven up music using the equalization software and more.
21 )
Ubiquitous Player
is a free media player for Windows 8 and 7 which also works as an image viewer, calculator, clipboard manager and other stuff. Ubiquitous Player allows you to watch videos and listen to music and audio files mp3, ape, mp4 and many more. In addition to being a lightweight open source program, it is also portable and does not require installation.
22 )
Stoffi Music Player
is the most particular player that has a graphical interface that looks perfectly identical to a Windows 7 window.
23 )
Spotify is a similar and better mp3 player than iTunes
also capable of playing any song streaming via the internet.
24 )
VUPlayer
is a program to listen to open source music also with the function of audio format converter. You can organize songs into playlists, list tracks into categories by artists, albums, genres and years, see the properties of each track and select album art. Also very good is the graphic equalizer, the oscilloscope viewer or wave analyzer and the fade effect when changing tracks,
Best programs to listen to music on your PC (Windows)