This time we at Fordatarecovery.com give you the information on how to recover deleted Instagram chats. Maybe those messages with some user were important or you just want to recover photos or videos? Well, we show you how to do it.

Some time ago, you used Instagram Direct Messages to exchange photos with an acquaintance and now you don't remember whether or not you downloaded them to your phone's memory. As a result, you immediately opened the app to search for the conversation containing the photos in question but, unfortunately, you couldn't find it. So, without hesitation, you immediately opened Google in search of a guide that would show you how to recover Instagramchats and, for this reason, you ended up here, on my website.
If the situation you find yourself in is exactly what I have described, you should know that you are in the right place, at the right time. In the course of this tutorial, in fact, I will provide you with some useful "tips" to recover items from Instagram chats, intervening directly in the phone's memory.
However, before doing anything, I invite you to read very carefully the preliminary information chapter, in which I explained in detail the terms under which you can complete the recovery, also providing you with valuable tips to protect your privacy. Please make sure you understand everything before proceeding.
Preliminary information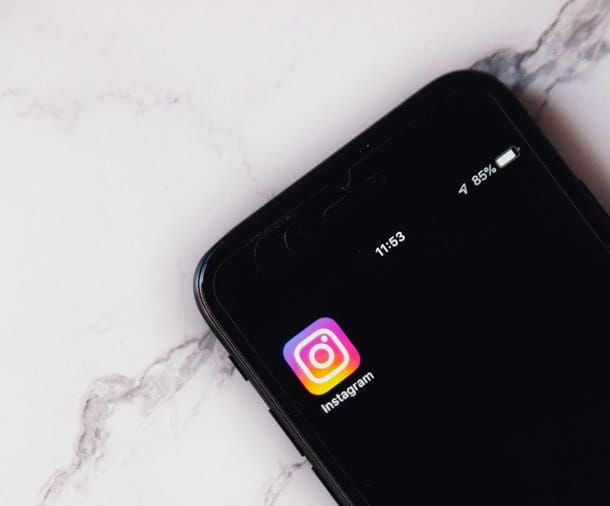 Before we get into the heart of this guide and show you the techniques that can be used to recover some Instagram chat items, it's good for you to know the limitations of similar procedures.
To begin with, Direct (that is, the area of Instagram dedicated to chats) is not a real messaging app: for this reason, the messages received are not downloaded to the memory of the device in use, but are only available on Instagram's servers.
This means that once you request the deletion of a message through the app, it will be simultaneously deleted from the servers of the social network. Since there is no local copy (i.e. saved in the device's memory) of the message in question, the message cannot be recovered in any way, unless, of course, you do not explicitly request a copy from your recipient!
Be wary also of online services that promise to complete this operation: in almost all cases, they will ask you to enter your Instagram account credentials to continue. The use of such tools, in addition to being useless, could be particularly harmful to your privacy: the released login data could end up in the hands of anyone, even cybercriminals, who could do almost anything with them.
The thing changes when it comes to images, videos and files downloaded from direct chats (which you can do by holding down their thumbnail and pressing Save in the menu that appears): they are still available in the device memory even after deleting the chat message.
In addition, it is possible to recover files downloaded from Direct and then deleted from the device memory using a number of apps and programs dedicated to this purpose. Everything is explained in detail in the following chapters of this guide.
How to recover Instagram chats on Android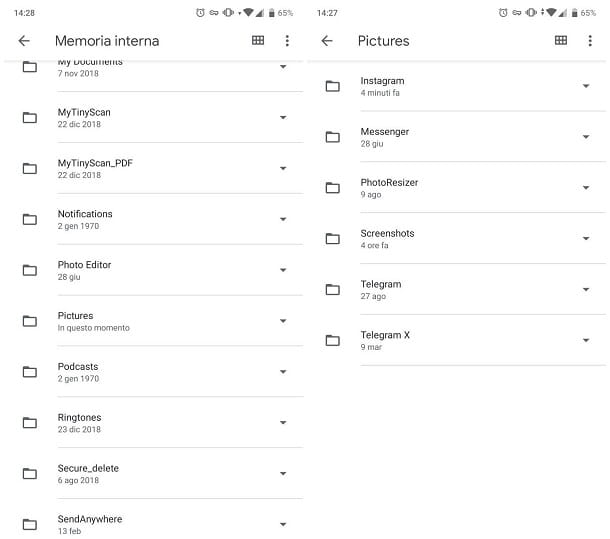 Having made the necessary assumptions of the case, it's time to move on to action and explain how to recover media content from Instagram chats on Android.
Don't worry, it's much easier than you think. Photos and videos downloaded from the Direct section of Instagram are automatically saved in the Instagram folder on your device, where they remain even after deleting the chats.
To retrieve them, launch the Photos app (or whatever app you use to manage your Android's gallery), tap the ☰ icon in the upper left corner and tap on Device Folders in the menu that appears. Finally, locate the folder named Instagram and tap on it: the photos and videos you were looking for are there, ready to be viewed.
If the Instagram folder is not visible in the Android Photo Gallery app, you can access it using a file manager app, such as Google Files.
Once you've launched the app, tap the Browse tab at the bottom of the screen and navigate to Internal Storage > Images > Instagram, where you'll find all the files you've downloaded through the app, including those from Direct.
If the files in question are no longer in the aforementioned folder because, for example, you deleted them manually, you can try to recover them with software specifically designed to recover images, videos and, in general, deleted files from Android memory. I told you about it in detail in my how-to guides.
How to recover and read deleted messages from instagram for me
Deleting chats from messaging apps is an operation practiced by almost all users, both to free up space and to create some order and keep only the important chats. What happens when the deleted chats are chats that you absolutely wanted to keep? Most messaging apps today come with a backup system that can restore chats to your smartphone. The problem arises when trying to recover Instagram direct chats! Why? The answer is simple: Instagram is not a real messaging app, so it is not possible to recover Direct conversations . Very often it is recommended to recover Instagram chats with the online recovery system , but be careful because the advice offered on the network is not always reliable ! When it comes to entering personal data, you should always be vigilant. Simply put, there is no way to recover your conversations.
However, although it is not possible to recover direct conversations from Instagram , it is possible, however, if you need it, to recover lost media files (photos, videos) by deleting Instagram chats.How to recover deleted messages from instagram iPhone?
Step 1 Explore the Instagram message recovery site and enter your Instagram username.
Step 2 After logging into your Instagram, click on Recover Messages.
Step 3 Complete the human verification and then you can recover deleted Instagram messages.