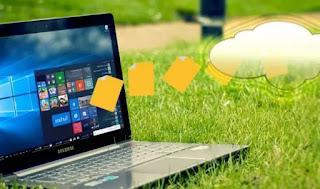 Backup
is one of the most boring activities that can be done on the computer and it is that long operation of saving the important data that are in the PC (such as vacation photos or work documents) so as not to lose them in case the computer breaks.
An innovative backup solution is that of
save important data on the internet
so as not to waste discs, hard drives and media and have the security that nothing will ever be lost and that all important documents are accessible from anywhere.
With this system you get the ability to restore the backup files to any computer we are using and not have to worry about the backup media, as it is managed by an external company.
In recent times i
online backup sites
that allow the uploading of data on the internet, are much improved, faster, more reliable and recommended according to the needs.
On this page we see which are the best available for free or even with advantageous payment plans ..
The main goal is not to share files with other people but
save the files on the internet for ourselves
, so if they are lost it will always be possible to recover them.
1)
Google Drive
In July 2017, Google released a backup and synchronization program on Google Drive and Photos that allows you to easily choose which folders on your PC should be saved online in the Google cloud space.
This program is an evolution compared to the previous client which allowed you to save online only the files included in the Google Drive folder.
The free plan is limited to 15GB, which should be enough for most people, bearing in mind that only important files should be included in the backup and that photos are saved unlimited from Google Photos.
If you need more space, you can buy 100GB of cloud for $ 2 a month, 1TB for $ 10 a month, or 10TB for $ 100 a month.
2)
Microsoft Onedrive
, of which I have already spoken often, was for a long time the
best site to upload files to the internet for free
.
The advantage of Onedrive is that it is already installed on the Windows 10 PC and is immediately at hand.
OneDrive, unlike Google Driver, creates a special "OneDrive" folder and only syncs the contents of that folder to cloud servers.
The basic plan is free with a limit of 5 GB, you can then buy 50 GB for 2 Euros per month or you can expand the cloud to 1 TB with a personal Office 365 plan for 7 Euros per month.
Reliability is guaranteed by Microsoft which, for sure, will never close and never leave a lost file.
Like OneDrive and Google Drive, there are many others
free Cloud services
which you can use the same way as Dropbox.
3)
Carbonite
is one of the most celebrated online backup services and allows you to
also save all the folders on your computer, online
.
There are no space limits because Carbonite saves on connection speed, so uploading and downloading is quite slow.
Unlimited storage is offered for a price of $ 59 per year, and there are no free plans.
The good is that
Carbonite does it all by itself
, once you have chosen the folders to archive, it does the online backup in the background, slowly but silently and you can safely continue browsing the internet or working on your computer, without too much interference.
The archiving process is easy, and Carbonite's utility works well, for both backup and restore.
Carbonite Server Backup manages data with a 128-bit AES encryption key.
Carbonite provides unlimited computer recovery.
4)
BlackBlaze
is the true heir and alternative of CrashPlan (which until recently was the best site on this list, but which today no longer provides a backup service for individuals) and is an exceptional service that works with both Macs and PCs Windows.
You can ask to save only specific paths or even only specific files inside the computer.
The backup program offers unlimited cloud to save your entire PC disk online, without limitations, for $ 50 a year or $ 5 a month.
Backblaze offers 128-bit encryption for data that remains encrypted at all times, even at the company's data centers, and is only decrypted when downloaded.
With Backblaze it is also possible to achieve two-factor authentication and there is also an application for Android and iOS that you can use to access files from any location.
5)
iDrive
is an online PC backup service that offers a free 5GB trial plan and fairly inexpensive subscription plans that go up to 500GB of online space at your disposal.
Alternatively, you can use one of the
best free backup programs
to save the data to another disk internal or external to the PC or to a network NAS drive.
Of course, it is always possible to save all Windows on a global recovery DVD.
I don't know whether to consider online backup as an alternative to the normal one, as I see it,
it is better to use them only to permanently archive important files
, the ones that really can't be lost such as family or vacation photos, school or university term papers and work documents.
The limits are related to the available space, the price and, above all, the data loading speed which, in some conditions, can last several days!
Best online backup sites to save files on the internet