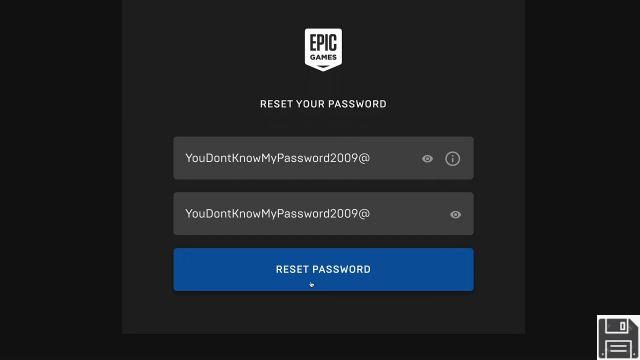 ---
From ForDataRecovery, we want to explain how to recover your Epic Games password. If you do not remember your email or your password, in this post we will explain the steps you must follow to access from your website. In addition, we explain different cases that may occur to you.
Who doesn't play any Epic Games game nowadays? Fortnite, Grand Theft Auto V, Unreal Tournament... For this you must have an Epic Games account, because it is the brand that hosts great games today, and if you are here it is because you do not remember your password, and do not worry, because this is completely normal.
The gaming world is growing at stratospheric levels, for example every day there are more and more people who decide to get into the Battle Royale of Fortnite, launch themselves from their hang glider into the arena and try to be the last one standing. Fortnite is undoubtedly the star game of EpicGame, and from which it gets more profitability, because its internationality was reached in a very short time, now the difficult thing will be to stay at the top!
If as we have said you have some kind of problem with your EpicGames account, no doubt you have come to the best place there can be, because in ForDataRecovery.com we take care to help you solve any problem you encounter in the great world that is the Internet.
It is normal not to remember your password, you have to take into account that we live surrounded by thousands of different accounts and passwords (unless you use the same one everywhere, which is not very safe). So all this about users and passwords often becomes a real headache for many, so read on and learn in this post how to recover your Epic Games password . For this process we will only need to remember the email with which we registered at the time, which we hope will not be very difficult, unless you are a person with an infinite number of emails.
The gaming world must not stop, so let's recover your password!
Why should I have an EpicGames account?
Over the last few months, EpicGames has grown in a huge way, buying numerous multinationals and acquiring more and more games at its disposal. In this way, it has achieved a kind of huge universe of its own, which is updated daily. Fortnite remains the headliner of this company, and its updates are almost daily as well, creating virtual international concerts, for example Marshmello, Travis Scott, or Ariana Grande. Of course, to enjoy all this content, you must have an account.

Creating it is totally free, and even the Fortnite game available on PlayStation, Xbox, Nintendo Switch, and PC, is too. Yes, how you are reading it, the game is totally free, although clearly you will have to pay to have a better aesthetic in it, change your character, his clothes, his pickaxe, backpack....
The Fortnite thing is a miracle, because most of the video games that you can find in EpicGames are paid, although to have all of them, you must also have an account here. And you don't lose anything in creating one, and be aware of the latest news about the world of gaming in EpicGames.

How to recover your EpicGames password
If you already have an account on this service, but you can't access it because you can't remember your password, here we will help you to recover it step by step, because ForDataRecovery.com will always be here to solve all the doubts about the Internet that you may have!

Step 1: First of all, you will have to access the official EpicGames website, which we leave you below: epicgames.com
Step 2: Click on ''Login'' and click on ''Forgot your password''. We also need to remind you that it doesn't matter from which platform you access EpicGames games, because the account will always be the same.
Step 3: Then you will be asked to enter your email address, remember that this is essential if you want to recover your password, because the password reset link will be sent only there, as they must verify that you are the person who created the account.
Step 4: Check your inbox, the ''other'' folder or the spam folder, as the email sent to your email should be in one of the three options. Once found, click on the link that EpicGames will provide you with.
Step 5: Type your password twice. Yes, twice because EpicGames will make sure you are typing it correctly.
Change Epic Games Password
To change your Epic Games password, you will need to follow these steps:
Go to Account Information and open the Password and Security section.
Enter your current password and enter your new password (it must be different from the ones you used before) in the corresponding field.
Re-enter the new password and click save changes.
Won't Let Me / Can't Log In
When you get a message in Epic Games saying this, check the following:
Check for updates in settings (if it says restart and update).
Check Epic Games server status on their official website.
Check the system requirements (that your PC meets all the requirements to run it).
Remove the full screen optimization (in the properties of the executable, inside the compatibility section, remove the corresponding checkbox).
Clear the cache by clicking Windows + R, type %localappdata%, hit enter and inside the Epic Games Launcher > Saved folder, clear the webcache folder. On Mac, type ~/Library/Caches/com.epicgames.EpicGamesLauncher in the Finder and delete webcache as well.
Run the launcher as administrator by right-clicking on it.
Update the graphics card drivers.
Reinstall the launcher.
How to know which is my Epic Games Account
When you log in, click on your account and you will see the ID above under Personal Data.
Locked Epic Games Account
To unlock your account, click on Forgot your password, go through the process below with your registered account information, reset your password and set a new password. You can enable two-factor authentication to better protect your account. If it hasn't solved the problem, contact Epic Games.
You're done! Thanks to ForDataRecovery.com you have more than recovered your EpicGames account. Keep reading all the posts we have outlining all the little problems we have on the Internet, they can help you!
Let's play!