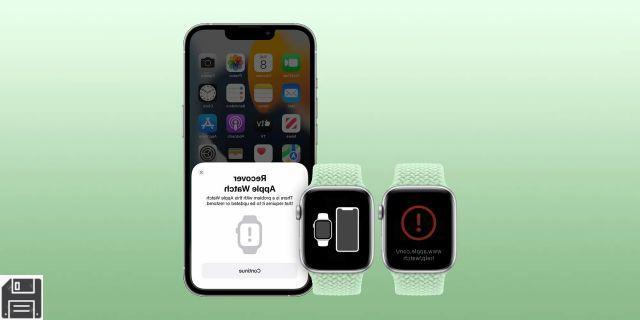 To restore the Apple Watch firmware in case of errors the only way was to resort to a warranty intervention. Thanks to the new iOS 15.4 and watchOS 8.5, this finally changes!
A new tool included in the new updates officially released yesterday is able to restore the Apple Watch firmware through the iPhone in a totally wireless way.
Immediately after the official release of the new firmware, Apple has finally updated the Apple Watch support page. Specifically, Apple Watch happened to show a error message which, in fact, made it impossible to use the device. The only way to fix it was to go to an Apple Store or request warranty service to get a replacement or repair.
Apple Watch, in case of operating system corruption, needed to be restored through the service port not accessible by users.
From Watch 8.5, in combination with iOS 15.4, all this will no longer be necessary in many cases. The Apple Watch in error, to be restored, will simply need to be put back in charge, placed next to an iPhone that will ask to restore the device. The only precaution will be to remember to activate the Wi-Fi network on your iPhone.
By double pressing the Digital Crown and following the steps proposed by the iPhone, the recovery mode will start which will repair all the errors of the device.
In case the Apple Watch shows a red exclamation point, it will not be possible to restore it in this way. In this case, you will need to contact Apple's official support.