With the'Apple Watch which is now almost totally independent from the iPhone, even as regards apps and storage space, it is essential to think about the backup of your data to avoid unpleasant surprises in case of problems.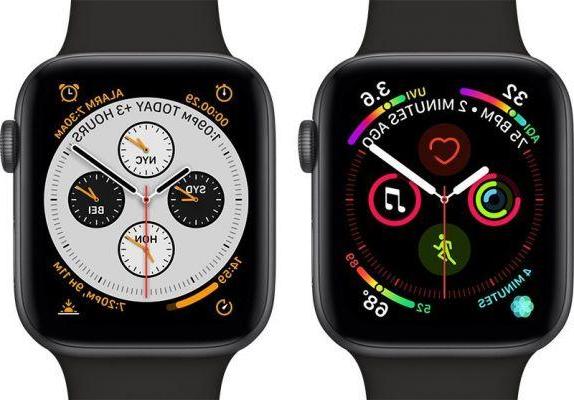 You are probably wondering right now if you've ever backed up your Apple Watch. The good news is that this device make automatic backups without you having to do anything, but there are some cases where it can be important to do this manually.
Automatic backup
Generally speaking, apps, settings, photos and all data like music or other vthey are automatically copied to your iPhone, as well as the choice of watch face and even the location of all icons on the Apple Watch Home screen. Apple doesn't say how often it makes these backups, but it's probably a matter of minutes.
Automatic Apple Watch backup to iPhone includes:
Data for built-in apps and settings for built-in and third-party apps
Arrangement of apps on the Home screen
Watch face settings, with related customizations
Dock-related settings, such as the order of favorites
General system settings, such as brightness, sound and haptic feedback
Health and Fitness data
Notification settings
Music app playlists and albums and mixes
Siri Voice Feedback setting for Apple Watch Series 3 or later
Synchronized photo album
Time zone
The exceptions to automatic backup
Compared to what has been written so far, however, there are exceptions.
Watch contains health and fitness data and, to perform the backup, you need to perform some operations via iPhone. In particular, you have to backup your iPhone to iCloud or, if you're using iTunes on your PC or Mac, you need to use a encrypted iTunes backup. Otherwise, your health and fitness data will not be part of the Apple Watch's automated backup.
READ ALSO: How to make an iPhone backup
Regardless of how you backup your iPhone, there is Apple Watch data that will not be saved in any backup. Notably, they are not part of the Apple Watch backup Bluetooth pairings, credit or debit cards used for Apple Pay on the Apple Watch and the codice per l'Apple Watch.
Watch 6
Also, starting with Watch 6, is can install standalone apps on Apple Watch. This means that such apps may only be available for the smartwatch and therefore do not have an iPhone counterpart. Apple did not explain what happens with these apps downloaded directly from the Apple Watch, but in case of reset for the moment you can only re-download them from the App Store on watchOS.
The problem, however, arises when these apps downloaded from the smartwatch also contain gods give, such as the Just Press Record app which saves audio files directly to Apple Watch. This data is only synced when you connect the Apple Watch to the iPhone again, otherwise you could risk losing it.
Force a backup
If you want to make sure your Apple Watch has been backed up with all its apps and data, you can force it. However, remember that this may take a long time.
Make sure your Apple Watch is fully charged, then wear it on your wrist. From your iPhone:
Apri l'app Watch
Go to the Apple Watch tab
Select your smartwatch name at the top
Click on the "i" on the right
Click Unpair Apple Watch
Confirm your choice
Once confirmed, the system will ask you if you want preserve or remove the backup. Since your purpose is to backup, select the first item. At this point, the iPhone will perform a new backup with all the Apple Watch data.
If you pair Apple Watch with the same iPhone again or have a new Apple Watch, from the same screen you can choose "Restore from Backup" and select a backup stored on iPhone.