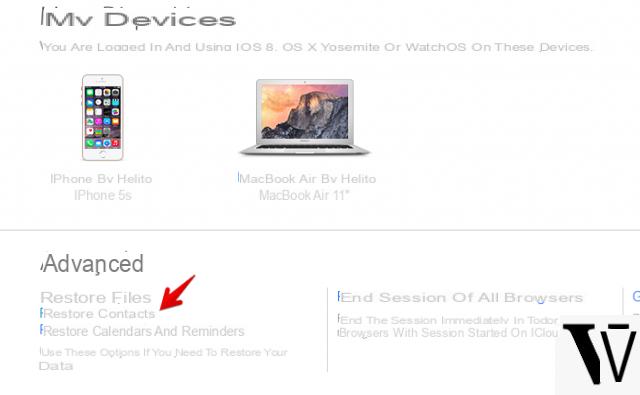 How to recover deleted contacts using iCloud
You need to know that iPhone phones have the automatic synchronization of contacts on the Cloud and everything is done through yours iCloud address book. So unless you've turned it off, there should be an automatic backup file to import your contacts from.
You can use it to restore the address book to a previous day, or even decide to start a manual backup to transfer the data from an older phone to a newer one.
To do this you will need to:
Log into the main iCloud page and connect with yours Apple ID.
By clicking on top right on Settings, select Reset contacts At the bottom of the page.
From the list that appears, choose the file with a recent date, but prior to the erroneous deletion and start the operation by clicking on Restore.
And here's how to recover a deleted number, or even the entire iPhone address book!
Restoring iPhone contacts from your Gmail
If you used a Gmail account for synchronization, be it directly from the iPhone or because you previously had an Android, you can go back in time your contact list! It will be enough to access the service Google contacts from PC and log in using the data Google account set on the relevant Android or iOS phone.
The bad news is that if you've crossed out some numbers you have to hope you're still
within 30 days
provided for recovery from Gmail (which are then automatically deleted).
So, to import contacts from iCloud to iPhone using Gmail you will need to:
Click on up arrow on the left next to Gmail.
Press on the item Contacts.
Click on other and choose the item: Reset contacts.
Select a save made before the scheduled 30 days and press on "Restore".
And voila! Your address book should sync with the iCloud, returning the contacts you mistakenly removed to your phone.
Retrieve iPhone address book from a VCF file
The VCFs are backup of your address book made on computer. You can then use them to restore your data, which you accidentally deleted. First you need to transfer the file from your computer to your smartphone, preferably using the email that you used to send them to your PC.
To recover deleted contacts on your iPhone:
After the download you will have to go to the application of mail from Apple and open the VCF that you have submitted.
Doing so will automatically open the contacts to which you can add all the missing names and numbers.
Simply click on: Add all (nr) contacts.
Simple, isn't it? Perhaps in advance you should send your contacts by email now.
How to extract contacts from iTunes backup
If the methods listed above didn't work, you just need to try the backup directly from iTunes. Before you even connect your phone though, you need to configurare iTunes so that the latter does not sync automatically.
The recovery mode is very simple and fast, all you need is:
Connect the iPhone to the Mac or PC and in the application.
Right click on "Restore from backup".
Now that you know how to recover contacts from iTunes backup as well, we hope you were able to get your deleted phone numbers back!