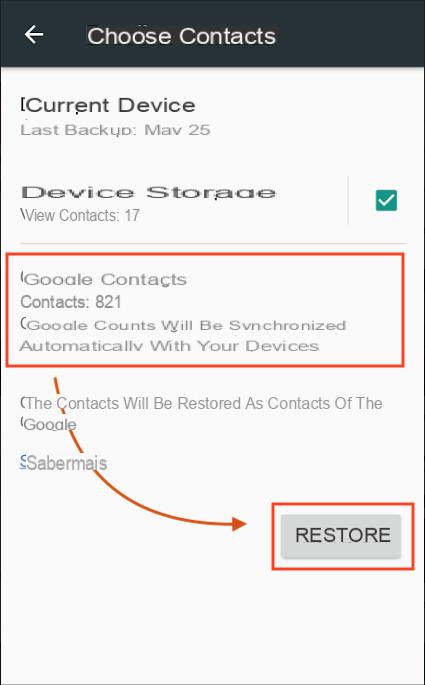 Restoring contacts deleted via Gmail
One of the simplest ways to recover deleted numbers is through the Gmail sync. It could be that the contacts were lost during the transfer of the SIM between one device and another. In this case, what we recommend you do is turn on Gmail on both and thus facilitate the recovery of the numbers. It will be enough:
Access the Android settings and press on Account
Enter the address gmail in the entry Google and activate the contacts option
If this is your first time adding your profile, you can still do it synchronization following the path: Settings - Android account - Add account. Now that the devices are connected to each other, to recover the phone numbers you thought were lost forever you will need to:
Follow the path:
Settings - Android Account -
check that it is
activate the Contacts option
These options are extremely important in case you actually delete some of your most important numbers. For recovery you will need to access the entry Google contacts, press on the left and choose the option cancel the changes. If you need to recover deleted emails, take a look at our full tutorial.
Gmail also allows you to restore the status of the address book to how it was long ago by choosing between temporary cadences different such as: 10 min, 1 hour, 1 day or a week ago. You can even go back to one date set manually, but no more than a month ago, by saving it and pressing on Confirmation.
Retrieve Android address book from VCF file
An alternative method to digital restore with Gmail or Drive is through manual work, which exports the numbers from the old phone, transferring them to the new one. To create your very first VCF file, you will have to press on three dots at the top right within the contacts application.
That's where you will see, perhaps for the first time, the voice Import / Export, which by pressing will allow you to export the entire list of contacts to a .vcf file. If you are using a Samsung device, you may be asked one more step, which is necessary to locate the destination folder or SD card for the rescue.
Now that you have your VCF file, you can decide whether to transfer it to common storage spaces such as Dropbox or Gmail or to keep it directly on your PC. What is certain is that if you had to delete any number, just import them following the same path and choosing Import instead of Export.
This process can even be applied to iPhone contact recovery, but to find out more, check out our article!
The best apps for recovering deleted contacts on Android
There are also several apps on the market that are perfectly suited to retrieve numbers from SIM or phone. So let's see how to make the most of them and which is the most suitable for your needs.
Recover deleted contacts
One of the main concerns that you may have when you download a new App to your smartphone is how it works.
Among the many programs, free or not, that are available on the market, "Recover deleted contact" is a tool that does its job effectively.
According to the opinion of many users who have used this application for recover valuable telephone contacts that they had lost, apart from a few pop-ups too many, it works brilliantly.
Its operation is simple and straightforward: from the main menu tap on the icon located at the top right corner of the smartphone and in a moment you can get back all the contacts that were previously deleted.
If, on the other hand, you have not yet had the misfortune of losing important contacts, you can use this App for create a backup, in order to always protect your telephone book.
Samsung Smart Switch
It is an official software that in addition to updating the operating system of Samsung devices, is even perfect for transferring data from iPhone, making backups or retrieve entire address books. It is perfectly capable of restore data from a backup, bringing back the deleted files.
To start the process, after downloading and installing the app, click on Recover and select the affected backup file. You can even manually select a single folder to recover from, deciding whether to include or exclude data.
To recap: Then press on
Select backup data
and then
Ok
after having identified it, still being able to change your mind and
Undo
the procedure.
Easy Backup
It is the best application to recover files such as messages, call log or clearly deleted contacts from your Android device. The only flaw with the software is that you must already have made a backup your files, being able to recover everything using Easy Backup.
Simple, free and without having to be rooted, the created archives can be transferred directly to Google Drive or Dropbox. From the main screen you can select the item Restore backup, making your address book take a leap of time.
Contacts Recovery
Among the most used and known, there is also the Deleted Contacts Recovery. It allows you to recover deleted phone numbers, boasting that it can restore contacts even on a new or reformatted phone.
The only flaw, if we want to call it that, is the need to access your own Facebook profile. once done, however, the steps to follow are as follows:
Press on Recover contacts
Select all or only the numbers you want to save to your device
Yes, it really is that simple! But remember that if you have a large number of contacts, you will almost certainly not be able to restore them in bulk. What you have to do, however, is to wait for the expiration of an hour and try again.
Deleted Contacts
Last but not least there is also the Deleted Contacts, literally translated as: contacts deleted. With over twenty thousand users, its simple interface, features and ease of use will make you regret not using it first.
Once installed, you will immediately find one list of contacts, divided between the totality and the previously deleted numbers. You can restore the entire address book, in bulk, by pressing the button from top right menu.
Now that you know how to recover deleted contacts, we are confident that you will no longer panic over simple deletion.
Recover deleted contacts from Android with the help of your PC
Loss of data on a mobile device is a recurring problem, and this not only affects multimedia files or text messages, but also the phone book.
It can happen to delete contacts by mistake, or it can happen to lose some numbers while transferring files from one Android to another. To recover what is lost there are different methods that you can rely on. Proceeding from your phone, for example, you can use the Gmail synchronization, the classic backup, or the manual export of the VCF file.
Using the help of your computer, however, there are several software you can use, among many, we recommend trying EaseUS MobiSaver per Android.
EaseUS MobiSaver: how it works
This is, without a doubt, the best program that allows you to recover deleted contacts from an Android phone. It is compatible with all versions of the aforementioned operating system and requires root permissions to work.
To be able to use it you must first of all download the software to your computer and then install it. We remind you that the free version allows you to retrieve only one contact at a time. If you want to avail all the benefits that EaseUS MobiSaver offers you have to purchase the license of the program.
The second step involves connect the smartphone to the pc via a USB cable and then proceed as follows:
Download the software.
Click "Start" to start the program.
If requested, enable USB debugging.
Click "Grant" to allow root access to the application.
Wait for EaseUS MobiSaver to find all recoverable files.
When scanning is complete, select "Contacts" to restore the lost numbers.
Proceed with "Restore" to save them on your PC.
Would you be interested in it…
How to recover deleted data from Android
How to recover call log on Android easily
Restore deleted videos or photos on Android
Recover data from a broken Android mobile
The guide for USB data recovery
The guide for recovering deleted photos from WhatsApp
I uninstalled the Play Store by accident
Recover deleted apps on Android