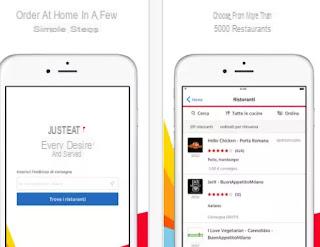 Until a few years ago there were few ways to get food at home, you could order pizza or perhaps Chinese, but little else. Today, while it is always possible to call local pizzerias to request home delivery, there is also the possibility of using some applications to order food and request practically any type of dish.
These are highly publicized applications which you only need to sign up for, consult the menu of the affiliated restaurants, place your order for what you want to eat, wait for the courier and pay in cash, as you would if you received take-away pizzas.
Below we see
best sites and applications to order food
, which can be used in most cities in the city, to get food delivered from various restaurants.
NOTE: Not having been able to try them all, I cannot give a complete judgment on the service offered, so you can then leave a comment on the various applications to share the impressions of the experience.
1)
Just Eat
, available for Android and iPhone, is the most popular app for ordering food using a smartphone, also for its TV advertising.
Just Eat allows you to order food in several restaurants, receive food at home and without commission (although there may be delivery costs from 2,50 euros). Orders can be paid directly on delivery to the courier, or you can pay online by credit card if you don't have cash at home. With Just Eat it is also possible to order food for a certain set time. The app requires free registration with name, surname, number, email address and, of course, delivery address. Even before creating an account, you can immediately browse the menus of the nearest restaurants, look at the prices and choose whether to order or not. For each order you will receive a tax receipt and a confirmation email. Just Eat, compared to the others, is the only one that works in many cities in the city and is certainly the most reliable service.
2)
Deliveroo
, available for Android and iPhone smartphones, allows you to order food from your mobile phone from the chosen restaurant. You will find dishes from many famous places, working very well in big cities like Rome and Milan. Delivery costs may be present depending on the menu chosen, but there is a minimum order of 15 Euros (for lower orders, two Euros must be paid). Deliveroo is a service still in the process of expansion and while with Just Eat you should find many restaurants available, with Deliveroo it is not certain that you will find one.
3)
Moovenda
is an app that works well in Rome and Naples, which allows you to order from many restaurants, pubs, Chinese, vegetarian, sushi and pizza with a shipping cost of 2,70 Euros.
4)
UberEATS
is an application for ordering food and food at home that works all over the world, but only in some cities. In the city, it is currently active only in Milan. Ordering with UberEats costs a whopping 5 Euros, which is not cheap.
5)
Glovo
is another application that you can try to order food at home, which works in some areas of Rome and Milan.
6)
FoodRacers
, of which there are obviously the apps for Android and iPhone, allows you to order food in different cities of the north city including Bergamo, Brescia, Como, Cremona, Mestre, Padua, Parma, Pavia, Piacenza, Pordenone, Ravenna, Trento, Treviso, Trieste, Udine, Varese, Vicenza. The peculiarity is in the delivery made by the racers, ie independent people who propose to work as delivery boys and earn on deliveries.
7)
Foorban
describes itself as the digital restaurant, which delivers at home, only in Milan.
8)
What I order
, a home delivery service active in some areas including Bologna, Ferrara, Lecco, Modena.
9)
Glovo
is another application that you can try to order food at home, which works in some areas of Rome and Milan.
Apps and sites to order food from home