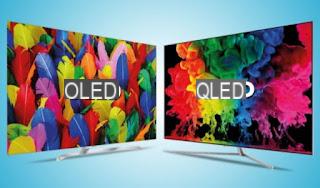 When we enter the electronics store to buy a new Smart TV in most cases we will find two abbreviations in the technical data sheets: OLED e QLED. Even if on paper they seem similar technologies, in reality these two acronyms identify two distinct and separate technologies for the panels that make up the visual part of the television (ie the one that reproduces the transmitted images).
If we too were left with some doubts about these acronyms, we came across the right guide: below we will illustrate, in simple words, what does OLED and QLED mean and what is currently the best technology when we talk about high-end or premium TVs (with costs almost always above 1000 €). Obviously for each technology covered we will also show you some models of Smart TVs that we can consider, so you can immediately proceed with the online purchase on Amazon (where there is always a saving compared to the physical store or the shopping center).
In the following chapters we will first show you what the differences between the two technologies mentioned in the introduction of the article and, like any good self-respecting guide, we will find our buying guide where it will be possible to view televisions for each technology mentioned, so that we can always choose the model that best suits our needs.
Differences between OLED and QLED
The differences between the two types of panels are structural and difficult to overlap, even if at first glance they seem to be similar in name.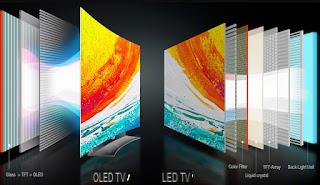 OLED panels are composed of organic type LED diodes (Oled stands for Organic Light Emitting Diode) capable of emitting its own light, without the need for a backlight panel: in fact, all the colors of the image (RGB) and white points are managed by the organic LEDs pixel by pixel. The first advantage is there for all to see: when an OLED pixel is off the black is really "black", since there is no light panel behind it to filter. It is no coincidence that OLEDs allow you to get really deep blacks and contrasts without using dynamic contrast software. On the other hand, however, the brightness of the OLEDs is not high and, on very lively scenes, they can suffer from an unpleasant wake effect (compensable via software).
QLED panels are very similar to LCD panels (QLED stands for Quantum dot led) sold so far, but with one substantial difference: the backlight panel is made up of many quantum dot LEDs (Quantum Dot). This technology allows you to obtain a wider range of colors than OLEDs and very high brightness (even double that of OLEDs), without distorting the contrast and black level too much (on some high-end models it is almost at the levels of OLEDs). . As defects we find a slightly higher current consumption, a high brightness that can annoy (but can always be adjusted), and a black that is not always perfect, especially if no local dimming or micro dimming system is applied by the manufacturer (i.e. those technologies that turn off unused LEDs when we reproduce black areas).
On balance there is no real winner: each technology has its pros and cons, so we will have to be good at choosing the one that best suits our living room and our lighting conditions, as also seen in the article How far to view TV or monitor based on screen size.
Migliori TV QLED o OLED
In this chapter we will try to show you the best TV models for both types of technology, so that you can compare the recommended models with those visible in a shop or mall (where the visual impact can be decisive for the purchase).
If we want to focus on an OLED TV that we advise you to view is theLG OLED TV AI ThinQ OLED55BX6LB, available on Amazon for € 1900.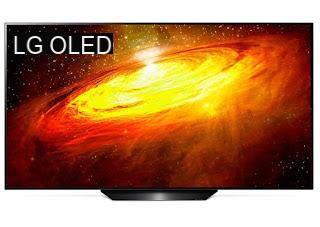 On this Smart TV we find a 65-inch OLED panel, 4K UHD resolution, HDR support, α7 Gen3 processor with Dolby Vision, audio with IQ / Dolby Atmos support, compatibility with the NVIDIA G-Sync video synchronization system, dedicated WebOS operating system ThingQ, Wi-Fi connection, Bluetooth, and support for Google Assistant and Alexa voice assistants.
Another good OLED TV we can focus on with our eyes closed is the Sony KD75XH8096PBAEP, available on Amazon for less than € 2000.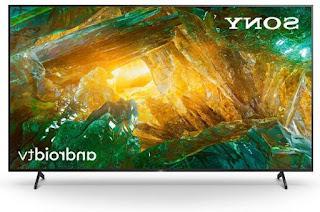 On this Smart TV we find a 75-inch OLED panel, 4K UHD resolution, HDR support, 4K X-Reality Pro processor, Android TV operating system, Wi-Fi connection, Bluetooth and support for the most famous voice assistants.
If instead we wanted to focus on QLED technology we advise you to consider the Samsung Q70T Series, available on Amazon for less than € 2000.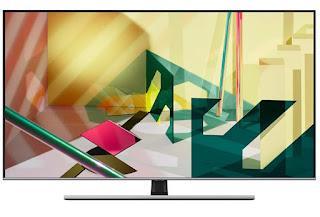 On this TV we find a 75-inch QLED panel, 4K UHD resolution, Quantum HDR support, Quantum Dot processor, local dimming system, Wi-Fi connection, Bluetooth and dedicated operating system (compatible with all the most famous apps).
If, on the other hand, we wanted a low-end QLED TV we can focus on the TV TCL 50C711, available on Amazon for less than € 600.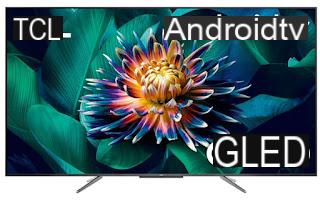 This amazing TV boasts a 50-inch QLED panel, 4K resolution, HDR 10+ system, Micro dimming lighting, Dolby Vision sound system, Dolby Atmos support, Hands-Free Voice control and Android operating system.
Conclusions
Obviously like all great technological comparisons there is no absolute winner: if we love to watch many movies and TV series in the evening or in the dark it is preferable to focus on OLEDs (with really beautiful and deep blacks), while if we watch TV in an environment bright, it is better to focus on high-end QLEDs, so as to be able to capture every color and every detail at the highest quality.
To be sure to always buy the best Smart TV for our needs and to buy in the right place and if it is better to buy the TV online or in a store.
If, on the other hand, we want to deepen the discussion on operating systems for Smart TV and choose the best system, we suggest you read the articles What does Smart TV mean, what are the advantages and disadvantages e Best Smart TV for app system from Samsung, Sony and LG.
OLED or QLED: what is the best technology for new TVs?