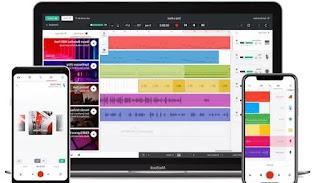 Playing with a smartphone or tablet may seem impossible, except that some applications have been released,
per iPhone e iPad e per Android
, really powerful that allow anyone to
making and creating music the easy way
and to those who are more experienced to have it available
professional quality mixer and tools
. In this article we see the
best apps for android, iphone and ipad to play
with your fingers on the touchscreen, trying to give priority to the free ones, without giving up on mentioning the best paid ones. Like
music making apps there are music generators, mixers and sampler and synthesizer apps
while to play there are
apps that function as virtual musical instruments
.
As you will notice, there are certainly more musical instruments for iPhone and iPad, although many of them are also available on Android.
Best apps to generate or manipulate and mix music
1)
Splash - Music & Beat Maker
it was a fantastic application completely free. Through a tiled sound sequencer that you just need to touch, you can play and create music of all kinds and record it directly from the app. Not only that, it is also possible to play live to be heard by other users of the application and enter a community in a mod or to compete with other musicians in a rating of appreciation. You can use it as a Beat Maker for fun or even in a serious way, with infinite composition possibilities, without needing to be an expert or have studied the musical notes.
2)
Auxy
is the best music production app on the iOS platform for iPhone and iPad. Auxy tries to simplify the music composition process with a keyboard for writing looping melodies, bass lines and complex drum patterns that can be set up using automatic instruments. Auxy is free to download, with a $ 5 monthly subscription to unlock additional instruments, thousands of samples, and the ability to import your own sounds.
3)
Bandlab
for Android and for iPhone it is among the best applications to record music. BandLab is a digital audio workstation that offers the ability to record up to twelve different tracks, with a hundred virtual instruments and a huge library of rhythms and loops to compose songs. In addition, you can record instruments and your own voice using the phone's microphone. The app is similar to Garageband, simple and easy to use.
4)
KORG Chaosilator
is an app that costs 20 Euros for iPhone and Android.
is a real musical instrument, which uses a touchpad to manipulate the built-in sounds and create weird and wonderful pieces of music. It provides five audio channels that you can activate at will, to create remixes and control loops in real time.
5)
Remixlive
(Android and iPhone) is a very innovative sampling tool for playing loops and tracks to mix with recordings as well. RemixLive is an amazingly capable app for mixing loops and effects into original compositions. The user interface is intelligently structured, giving users access to a variety of tools without confusion. The free version of the app gives you access to fifty free sample packs, while additional samples can be purchased.
6) As a free DJ Mixer, which shows the two turntables on the screen and allows you to mix music by switching from one track to another using a mixer you can install
Edjing console
on Android and on iPhone and iPad. The application is simple to use and allows you to mix thousands of songs thanks to the integration of the Deezer and Soundcloud online services.
7) The app
for Android
DJ Studio 5
is another turntable mixer, very similar to Edjing, which allows you to do DJs using your smartphone or tablet. Its ease of use makes it a good choice for beginners but can also be appreciated by more experienced DJs.
8)
figure
to
iPhone and iPad
it creates music automatically and allows you to create bass lines by playing with the tempo and sounds. There are predefined sounds and paid expansions to expand the samples you can use to create the melody.
9)
Music Maker Jam
by Magix for
Android e iPhone / iPad
is a free app to create music from scratch by combining various sounds of musical instruments and mixing them together. With a multitrack interface you can layer and combine different loops and chords so you can create a whole new and original music, to record or share.
10 )
Drummer per iPhone
e
DrumPads 24 per Android
are two similar applications for creating bass loops and rhythms using a grid of buttons to tap and play. In a very simple way, you can create a base to play on or a rhythm to dance to.
11 )
Caustic 3 per Android
is a free app that works like a real professional synthesizer, full of knobs for playing with sounds and music. It is a very complete and powerful program on which you can also load your own wav files. Caustic is also available for iPhone and iPad but it costs 11 Euros.
Caustic 3, on the other hand, is a true digital audio workstation geared for musicians looking to compose synth-based tracks. Caustic features fourteen different machines, including multiple synthesizers, drum machines and vocoders, multiple effects and samplers, parametric equalizer, and a sequencer. Mon is definitely a beginner's program.
12 )
Soundprism
, just for
iPhone
, is an app to create music through a padded control interface, perfect for creating melodies and ringtones.
13 )
Songify and AutoRap
are applications already described in the past, for
Android e iPhone / iPad
, For
turn words into music or a rap
14 )
FL Studio Mobile
, For
Android and iOS
is a relatively expensive application, 15 Euros, which works as a quasi-professional recording studio for creating music with multi-track. Ideally, it would be integrated with the FL Studio program for Windows PC, the most popular commercial music production software, also used by famous artists.
15 )
Drum Machine apps for playing drums on Android and iPhone
, in another article.
16 )
Ninja jam
, for Android and iPhone it's a bit more complex app to learn, but still it turns anyone into a musician. The application is based on pre-recorded samples (many of which have to be paid for) and once uploaded they can be manipulated.
17 )
SunVox
, for Android and iPhone is a professional app, a fully pattern-based sequencer not suitable for beginners. The app includes numerous modular synthesizers and effects processors, including an analog generator, a drum synthesizer with 120 built-in sounds, echo, distortion, reverb, vocal filter, and a module for creating synths and effects.
18 )
Loopy
only for iPhone and iPad is a brilliant and simple app for making music and recording audio. Loopy offers six, nine or twelve blank loops on which you can record and overlay sounds that can come from the iPhone microphone or from other apps that use AudioCopy and AudioBus or even from instrument recording. You can then manipulate and modify the sounds, change the tempo, merge the tracks together and overdub the recordings onto others. There is MIDI control for using Loopy with a pedal, making it an ideal instrument for live musicians and street performers.
19 )
GarageBand for iPhone and iPad is free
, very powerful as a mixer and synthesizer, by Apple. It is a recording studio with piano, organ, guitar and drums to be played by touching the screen. You can also connect your iPhone to a real guitar to record chords. The app is full of almost professional effects and tools.
Best apps to play musical instruments virtually
1)
Xylophone
for iPhone and iPad e
Xylophone
for Android they play the xylophone which is fun also and especially for children.
2)
The apps for playing the piano and learning
(in another article)
3)
REAL DRUM
for iPhone and iPad e
Drum Studio
for Android to play drums using your fingers.
4)
Guitar FREE
,
Steel guitar
e
Real Guitar
per iPhone e iPad,
Real Guitar per Android
e
Virtual guitar
for Android are apps for playing the guitar virtually, tapping the strings and creating chords.
5)
Walk band
just for
Android
is an app for playing piano, drums, drums and guitar, to compose your own music even if you don't know anything about notes and staff.
The application also supports MIDI keyboards connected via USB.
6)
Guitar Player
is an innovative and beautiful app that allows you to virtually play a guitar as if it were real, holding the phone with two hands and plucking virtual strings. This is not an application though, but a website to optimize for Android, iPhone or Windows smartphones.
7)
ARPIO
, describes itself as a new musical instrument to be played only on Android even if you've never played any instrument before, and it's basically a sequencer.
8)
Guitar Tuna Tuner Tuner
, For
Android
and for iPhone is an effective graphical guitar tuner that you just need to look and imitate to tune any stringed musical instrument.
9)
Metronome
for android is a metronome app to synchronize the beat.
10 )
Yousician Guitar, Piano & Bass
(Android - iPhone), the best application to learn to play the piano and guitar, really effective and simple, with lessons for beginners and those who are learning.
11 )
Endless
is an app (for iPhone) to play music easily with friends, in collaboration in real time. It does not require in-depth skills, but basic knowledge of music and its production is required to adjust the settings of instruments, effects and other application options. It has a live chat room to chat with other people who play with us. You can also connect microphones, synthesizers or musical instruments.
Other professional and paid apps for making music on Android and iPhone are:
-
n-Track Studio DAW 9
, per Android e iPhone.
-
Cubasis 2
, per iPhone.
-
Beathawk
, per iPhone.
-
Audiobus: Mixer for music apps
for iPhone.
-
Tunable - Music Practice Tools
per Android e iPhone.
30 Apps for playing and making music on Android, iPhone and iPad