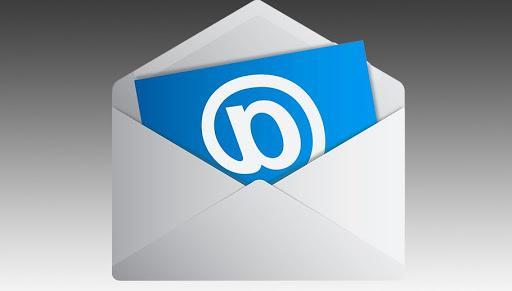 One of the main functions of a smartphone is certainly the reception of Emails and the ability to respond immediately. If you are using an Android phone or tablet, Emails can be read with two different but similar applications. One is Gmail while the other is the Mail app where you can set up other email accounts. The Android Email app can also be downloaded from Google Play, although many modern smartphones do not have a dedicated mail app as Gmail can manage all email accounts.
To manage all your mail accounts in one place in this article we will show you the
best alternatives to the default Mail app in Android
, different depending on the smartphone used (Xiaomi, Samsung etc.). Since everyone can try the default app, let's move on and see
what other apps can you use to read and send Emails on Android
, so you can read all messages from one place.
There are lots of apps to read emails from Android, but we have selected the ones that we believe are best for ease of use, security and notification speed, so you can always choose a valid alternative to the mail app integrated into your Android phone. our possession.
gmail
gmail
is the official Android application to receive and send Emails from Gmail accounts but also from other accounts that may be in our possession.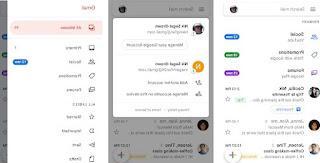 The Gmail app can also be used with other POP / IMAP accounts such as Yahoo, Outlook and others. The application is developed by Google itself and is really great, much better than the stock app of the Post on Android (which it has actually taken over. With a very clean interface, easy to navigate and pleasant to look at, offers everything you can expect, more small features that make it unique. The application has push notifications allows you to manage multiple accounts, has the search function, labels, and the ability to open and send attachments quickly. can see thumbnails of received photos in preview and you can save the preview image or all images in the e-mail by pressing the menu key. There is also finger zoom and drag and drop messages to the side using the finger to delete or archive them.You can then use multiple accounts together, both Gmail and other accounts.
TypeApp Email
As a good alternative to Gmail
we can use
TypeApp Email
, downloadable from the store and available for free.
TypeApp Email allows you to configure any account, choosing between different email providers. It has a reminder function that binds to received mails and an option for the night so that you do not receive alerts for mail received during the hours of rest. The interface is very colorful and full of stuff, which can be a bit confusing for some. There is no option to prevent images from loading. TypeApp Email supports Gmail, Yahoo Mail, Outlook, Office 365, iCloud and AOL, both IMAP and POP3 accounts. Advanced features include per-account notification settings, Quiet Hours, groups to send bulk emails to the same recipients over and over and more.
Microsoft Outlook
Among the most popular e-mail clients in the workplace we certainly find
Microsoft Outlook
, also available for free.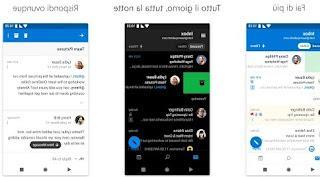 Microsoft Outlook is the e-mail application that allows you to read e-mails from any e-mail address, not just accounts linked to Microsoft (Hotmail, Outlook and Exchange). The app is really fast and smooth, easy to use and very good. Key features include push notifications, synchronization with mobile calendar and address book, synchronization of predefined folders, Groups for conversations, filters for unread and tagged messages, Ability to send, receive and view photos and other attachments , easy search functionality.
Samsung Email
Another very valid app for reading emails from any email account we have is
Samsung Email
, available free for any device (
even not Samsung
).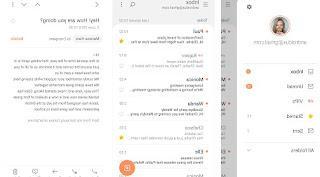 Samsung Email is one of the best free email apps for Android. This app comes with truly spectacular graphics (in full Samsung style), is really simple to use and configure and has all the features expected from a modern email client, including Exchange ActiveSync (Outlook) account management per account. corporate email, advanced encryption for security and privacy, customized notifications for each account or for each user, scheduled synchronization and advanced spam management.
Blue mail
If we are looking for a modern app
, which is not related to big names, to read the emails of any email account we can use
Blue mail
.
Blue Mail features a simple design that helps keep track of emails without losing one. It supports all popular email providers, uses color coding for message organization, has multiple app themes, Android Wear support, and Home screen widgets. There are also a variety of clever features like blocking notifications at certain times (per account). There aren't many more customizable email apps than this one, and it's free too.
Other best email apps for Android
The ones we have shown you above are the best apps for reading mail on Android, but not only the only ones we can install and try. If for any reason we were not happy with the apps indicated, we invite you to try the apps in the following list:
K-9 Mail is a popular email client for Android, but has not been updated since 20189. However, it is a very good open source app for receiving mail from multiple accounts simultaneously. Graphically it is a bit spartan and old, despite this it is full of very advanced features, few will be appreciated by the most demanding users. Setting up accounts is really easy (many are automatically detected). There are a lot of customizable settings and you can choose the way you see the messages. Even though the inbox shows each email individually (it doesn't group them into conversations), you can easily switch from one email to the next, in the conversation, with a single keystroke. K-9 Mail is a completely free application and is the most used alternative in the world.
Yahoo! Mail is the official application for Yahoo Mail accounts, still used by many people around the world. In reality, the application is not exactly the maximum of simplicity and lightness (which is unpleasant if you use a low-end smartphone) even if graphically it is very nice to see. For those who have tried it in the past with little satisfaction it is important to note that the updates have greatly improved this application. This application would only be used if the user only has an e-mail account with Yahoo mail. If, on the other hand, you have two accounts to check and if you don't have a Yahoo Email box, then you can do without them.
MyMail one of the latest email applications for Android that allows you to manage messages from multiple accounts, including Gmail, Yahoo Mail, iCloud, Outlook, Hotmail and other services that support IMAP / POP3. MyMail is also one of the few well-optimized email applications to work well on both mobile phones and tablets. The basic features are simple and you can send and receive emails with push notifications and previews. Swiping right from the left edge brings up a sidebar to manage the different mailboxes. By tapping the + button you can add additional email accounts. Overall, this is a very modern and functional email client with many more features than the default Android client.
Newton Mail is a new app for Android to use as an Email client to receive and send emails. Newton Mail is compatible with Gmail, Yahoo Mail, Outlook, iCloud and other email providers, and it works perfectly with services like Google Apps, Microsoft Exchange, Office 365 and any IMAP based email account. Newton Mail has a really well done quick search function that allows you to quickly find the right mails at the right time. It automatically indexes all email messages. The application also has a good interface, inspired by Windows 8, rather simple but nice to look at. Newton Mail allows you to manage emails from different accounts in one place with the 'Unified Inbox'. Push notifications are fully supported and you can mark your favorite messages with stars. The application is available for free on Google Play but also has a paid version with extra benefits, such as security lock and offline access.
GMX Mail is a powerful Android Email application that supports multiple IMAP accounts and the Exchange protocol. The app comes with ActiveSync and calendar support, with clever features to group emails and mute uninteresting conversations.
Nine is an e-mail application for those who use Exchange, with advanced features to take full control of the mailbox (free for trial only).
Aqua Mail is an app that supports different email services, including the main three: Gmail, Yahoo! and Hotmail. With Aqua Mail you can set up any email account that supports IMAP, POP3 and SMTP. If you use several different Email accounts and want to synchronize everything under one app, Aqua Mail is a great choice. Creating accounts is very simple and the Inbox aggregates all unread messages received in multiple email addresses into a single mailbox. The application also has its own widget and many customization options. The downside to Aqua Mail is that the free version is limited to 2 maximum accounts. If you use 3 different email addresses you need to buy the Pro version.
MailDroid is a minimal, simple email application, without too many options on the screen, but with different features and excellent performance due to its light weight. MailDroid is an app that can manage multiple mail accounts even if it doesn't unify them under a single folder. On the other hand, it merges emails into conversations, making them much easier to read if there are long chains of messages and replies. You can configure a signature for sent messages, it supports split screen on tablets and you can even create quick replies. The big flaw is that the free version has some advertising that can be removed by buying the pro version.
Spark Email is the Android version of one of the most popular mail app on iPhone. In addition to supporting quick gestures, Spark for Android has a smart inbox, scheduling and snoozing notifications, adding multiple signatures, managing multiple accounts together, and tons of other customization options.
We can also install one or more clients, also based on the number of e-mail accounts we want to manage, or try them all and finally choose which one to keep.
Conclusions
On Android we can install a large variety of email clients (even higher than the number of clients on PC!), But personally the best advice we can give you is to run everything in Gmail (see
how to Import and manage other Email accounts in Gmail with multiple mailboxes
), especially if you use awkward and blocked services such as Libero or Alice Mail (see the guide for
read Email Alice, Libero and others on mobile phones, Android or iPhone
).
If we are looking for a client to manage PEC accounts (Certified Electronic Mail) we can also read our guides
App for accessing PEC certified mail from iPhone and Android
e
Add other accounts on Gmail (Android)
.
Best Email Client for Android