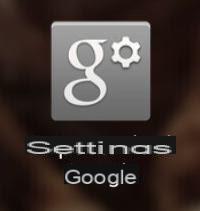 Scrolling through the list of Settings, on any Android smartphone, you will find below
Google settings
or just Google (on older phones it was Google Settings as an app in the application list).
This is the general configuration of the Google Play Services background services which acts as a general dashboard for all the Google Apps connected to the Google account. Through this application it is possible to control some settings of Google services from a single easily accessible location. Let us then examine the
10 functions of the "Google Settings" application
to learn what to do with it, what can be changed and why. Some of the functions described do not necessarily appear on all mobile phones.
NOTE: The Google settings, on modern Android smartphones, are no longer accessible via an app, but are found scattered in different sections of the Settings or within the Google app (by opening the Google app and then going to More> Settings ).
1)
Ads
From this option you can get more information about the advertising that Google shows us when we search on the internet. Google gives each one an ID that can be reset. The only thing that can be done is to disable interest-based ads to display generic advertising and not based on what we do and search online.
2)
Backup
Who has Google Photos installed can manage its most important function, that of self-backup of photos taken with the smartphone. Auto Backup of photos to Google Photos can only be performed in Wi-Fi or only when the mobile phone is connected to the charger.
In these settings you can also activate the
contact backup
on Google Drive, which can be synced to your Google account so that if you switch phones, they can always be recovered.
3)
Automatic compilation
There are two options here, one to auto-fill the confirmation codes received via SMS when accessing an app that requires double verification; the other for the automatic filling of forms, so you can enter information such as Name, Email, address and credit card number automatically and without writing it.
4)
Configure and Reset
Here you can activate the automatic configuration of another smartphone by simply holding it close to the current one. In addition, you can also configure the work profile, which is useful in company smartphones. Also from this section it is possible to restore the phonebook, if the numbers have been deleted, from a previous backup.
5)
Parental control
If you install Google's Family Link app, you can control activities on your phone if your child is using it.
6)
Devices and sharing
Here you can manage functions such as sharing nearby, connecting with a chromebook, and the Google Cast options, to activate or deactivate the broadcasts on Chromecast.
7)
Google App Settings
This is the most important section of the Google settings, which allows you to manage Connected Apps, activate or deactivate the Google voice assistant, choose how to do searches, if you also use your voice, if you want to include the search on your phone. Here are the settings that are also accessible from the Google app, then the settings of other apps such as Google Fit, Google Pay and Play Games, the platform that puts players in competition and communication. You can then configure the availability to be invited to play in the multiplayer games installed on the Android phone.
9)
Find my device
This is the most important function of this application, still little known by many users. In practice it is the anti-theft of the cell phone, to trace or reset the Android phone when it is lost or stolen. In another article all the guide and instructions on how to use
Find my Android to find my mobile
10 )
Mobile data and messages
If you have installed the Google Drive or Google Photos app, here you can choose from here to allow the transfer of files only when the phone is connected to the internet via Wifi and not when connected with a data connection.
As mentioned above, by opening the Google app, going to More and then to Settings, you can customize many other options for data sharing, privacy and the activation of particular functions such as Google Assistant or Google Discover.
Guide to "Google Settings" on Android phones