Did you accidentally delete a photo you received on WhatsApp? Are you desperate because you don't know how to recover it? Well, very trivially I would ask you if you contacted the person who sent you the photo and asked them to send it back to you, but if you are here now and you are reading this tutorial, it seems obvious to me that this is not feasible.
At this point we have to resort to alternative solutions; solutions which, fortunately, are there and are also very reliable. What am I referring to? I'll explain it to you right now. To recover WhatsApp photos, you can use some apps to restore deleted data, or you can use WhatsApp's backup feature, which allows you to restore chats to an earlier date.
In both cases, you need a bit of luck and, most importantly, timeliness: If the photo you want to recover has been deleted too long, you will neither restore it using WhatsApp data recovery applications nor find it in WhatsApp backups (which will be after the date you deleted the image). For more information, please read on below. I keep my fingers crossed that it all works out!
Deleted photo recovery applications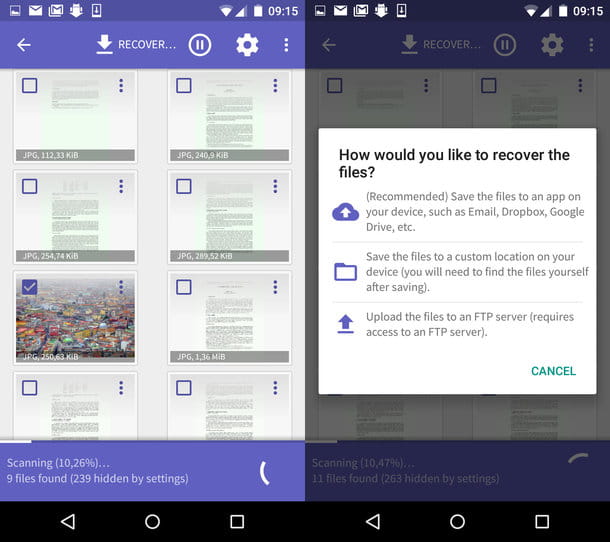 If you want to recover WhatsApp photos without messing up all your chats - so without completely restoring the application - install data recovery software and find out if the photos you're interested in are still in a "corner" of your smartphone's memory.
If you use an Android phone and you have unlocked it through root you can use DiskDigger, an excellent free application that allows you to recover JPG and PNG files deleted from the mobile phone memory. To unlock support for other types of files you can buy the Pro version of the application at the price of 3.37 euros.
To test DiskDigger's capabilities right away, download the application from the Google Play Store, launch it and grant it root permissions by pressing the Grant button that appears in the middle of the screen. Then wait a few seconds for your smartphone's memory to be analyzed, press the No, thank you button to decline the invitation to purchase the Pro version of DiskDigger and select the unit related to your phone's memory (/data).
On the screen that opens, place a checkmark next to the JPG and PNG entries, tap the OK button and wait for the images that the application was able to recover. When you see photos of your interest appear and thumbnails (hopefully they will actually appear!), put a check mark next to them and press the Recover button in the top right corner.
Then press the folder icon to save them to a folder on your smartphone or press the cloud icon to save them to a cloud storage service (e.g., Dropbox or Google Drive) or email them.
If DiskDigger fails to meet your expectations, try installing Undeleter, another data recovery application on Android. As well as DiskDigger, Undeleter also needs root to work and is available in two versions: a free one that recovers photos and a paid one (2.75 Euros) that also recovers videos and other file types.
If you are using an iPhone, you can try to recover WhatsApp photos with EaseUS MobiSaver Free, a software for Windows and Mac OS X that lets you recover deleted data from iOS devices. The program can be used at no cost but it has one rather important limitation: it allows you to save only one photo at a time (which, however, should not be a problem if you do not need to restore a large amount of pictures).
For more information about EaseUS MobiSaver Free and how it works, read my tutorial on how to recover deleted photos from your mobile phone where I've been working on this application (and the aforementioned DiskDigger and Undeleter for Android).
Restore WhatsApp Backups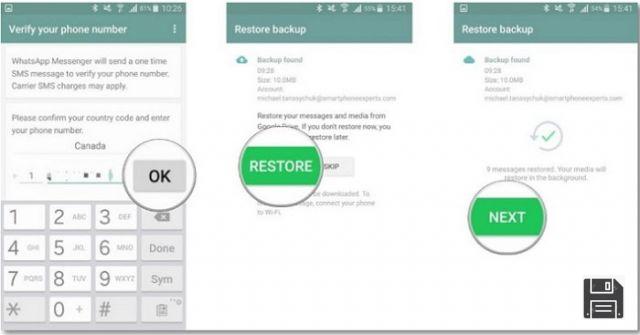 If the data recovery apps could not solve the problem, I'm sorry but the only solution left is to recover WhatsApp photos by restoring a previous backup of the app.
For this to work, you must hope that the last backup saved by WhatsApp on the Internet (on Google Drive if you use an Android terminal or iCloud if you use an iPhone) is before the date you deleted the photos you want to restore, otherwise you won't be able to do anything, or almost nothing.
To check the date of the last backup made by WhatsApp, launch the application, go to the Settings menu (which on Android and Windows Phone can be found by pressing the button (...) while on iPhone is located at the bottom right of the main screen of the app) and move to Chats and calls > Chat backup: the date of the backup is the one you find next to the item Last backup.
If the backup date is earlier than the date you deleted the photos, restore WhatsApp by following the instructions below.
Delete WhatsApp from your smartphone;
Download the application again;
Launch WhatsApp and follow the initial application setup process;
After checking the number, when asked if you want to restore chats from previous backups, accept;
Choose the name and photo you want to use on WhatsApp and you're done.
Mission accomplished! Now you should have a restored WhatsApp with all your old conversations - and especially old photos - in place. As you can easily guess, all messages received after the backup date will not be restored and will be lost.
Emergency Solutions
If WhatsApp backup is later than the date you deleted the photos you want to recover, you can try one of these emergency solutions.
If you are using an Android smartphone, you can restore an old backup created by WhatsApp to your device's memory. You'll find the whole process explained in my article on how to recover WhatsApp Android conversations. Before you do this, disable the association between WhatsApp and Google Drive from this web page (this way the app will not attempt to restore data from Google Drive instead of local backups).
If you're using an iPhone, you can restore a backup of your phone from iTunes (from before you deleted the photos you want to recover) by following the instructions in my iPhone Backup tutorial.
The success of the procedure is 100% guaranteed on Android, but not on iPhone: you have to try and cross your fingers!