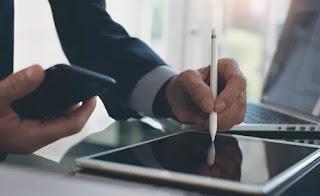 Only now fewer and fewer people who still use pen and paper to take notes and notes! With a smartphone and a new generation tablet you can take notes and notes quickly, writing, using your voice, using a touch stylus or even taking a photo. Every phone already has a built-in tool for taking notes, but if you are using an iPhone, an iPad or an Android smartphone / tablet there are some essential applications that allow you to mark notes or things to remember and keep each note automatically synchronized so that you can. find again on all used devices: mobile phone, tablet or computer.
In this article we therefore discover the
best apps to take notes on your phone, to organize things to remember, to have reminders of appointments or events
, with the possibility of synchronizing them even between several different devices.
Google Keep
1)
Google Keep
is the first app that we recommend to try, available for free for Android and for iPhone / iPad.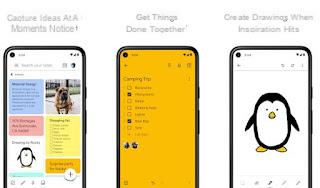 This app is easy to use, free and well integrated with other Google services. We can also use Keep via the web and as an extension or app for Google Chrome, without forgetting that the notes are also visible from Google Drive and Gmail. The notes can be, in addition to written notes and voice notes and lists, also photos with the particular functionality of being able
Automatically transcribe text in photos
. To learn more we can read our guide to
Google Keep
.
Microsoft OneNote
2)
Microsoft OneNote
, for Android and for iPhone / iPad, is a great app for taking notes on your phone and PC.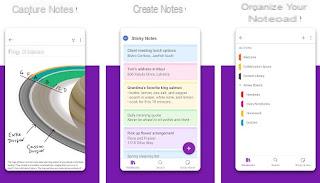 OneNote is a truly feature-packed app, which includes many of the tools in Word, plus those of a note-taking application. OneNote integrates with OneDrive so everything saved on your smartphone becomes visible from other devices as well. Notes can also with OneNote be text notes, photos, document scans (with OCR function) and web pages. Onenote is available for iPhone, iPad, Windows Phone, Android, Windows PC and Mac. To learn more we can read our guide
Download Microsoft OneNote for free for Windows, Mac and smartphones.
Evernote
3)
Evernote
is among the historical apps for taking notes and notes, for free, for Android and for iPhone / iPad.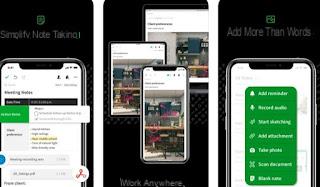 Evernote is one of the most popular apps in all stores, which has been around for several years now. Evernote allows you to add notes and organize using tags or categories. Notes can be text, image, voice, handwritten, screenshot or scanned sheet of paper. All notes are securely synchronized on your free account (which we can create on the spot even using a Google or Apple account) and are therefore available via the web, via browser extensions or dedicated apps for Windows or Mac. notes can also be shared with anyone via email or Facebook.
Any.Do
4)
Any.Do
is another app that we can use to take notes and synchronized notes that can be installed on Android and for iPhone / iPad.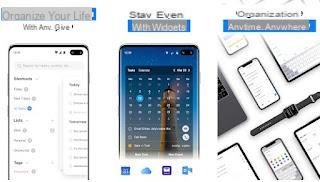 Any.do is one of the best reminder apps, which can also be used to take notes and mark things to remember. You can then set an alarm in the form of notification or sound so you never forget an appointment or an event. As in the others, notes can also be taken by speaking verbally. The application is available on Chrome, iPhone, Android and via the web.
Other best apps to use for notes and notes
The ones we have seen so far are the best apps for synchronized notes, but in the histories of phones and tablets we can also find other very interesting apps, to try for free on all devices:
Notion it is not only a note-writing app, but it also allows you to create to-do lists for collaborative projects, very powerful, to which I have dedicated an article to if.
TickTick for PC, Android and iPhone in 2021 it has become the best app for organizing notes and to-dos in a synchronized way. Free, it can be used to create lists, share tasks with other people, organize tasks in various ways, receive reminders, set up recurring tasks and more. It also offers widgets and includes functions to record voice notes and transcribe them into automatically written text.
BlackNote, for Android is a full black background clipboard app, very convenient for not straining your eyes.
Fiinote, for Android is a fun note-taking app with a grid background along with drawing support.
Colornote, for Android is one of the most downloaded apps in the Play Store, which is used to create text notes, lists and take notes. Its feature is the ability to change the background color of the notes to better organize them. Other features are calendar support and cloud backup support.
Otter Voice Notes for Android and iPhone is the best app to record voice notes and transcribe them into auto-written text.
Microsoft To-Do, evolution of Wunderlist is an excellent application for iPhone and Android that allows you to write to-do lists, reminders with notifications, alarms, the possibility of sharing appointments and many other perfect functions to make your smartphone an intelligent work agenda.
Zoho Notebook, for Android and iPhone, is perhaps the best application for taking notes on the phone and organizing notes, both for the graphical interface and for the completeness of the information.
SimpleNote is the app for those who want a simple writing sheet, basic and without distractions. Notes are synchronized on smartphone (Android or iOS), PC (Windows 10, Windows 7/8, macOS and Linux) and can also be read from the SimpleNote web page. You can organize your notes with tags, you can collaborate with other SimpleNote users by sharing a link of the note. As for the notes themselves, they can only be made of text, without images or voice memos.
Colornote (Android only) is a great way to organize notes on your mobile thanks to colors and create to-do lists sorted by name, date created or modified. You can archive notes, but there is no option to create folders or tags.
Notin it's only for Android and works well for writing quick notes that appear on the notification bar.
SoundNote, for Android and iPhone, an easy web clipboard app where you can create multiple notes, attach media files or documents, and sort them into multicolored folders. If you store a lot of notes, SomNote offers 100MB of free cloud storage for each account.
Samsung Notes is the default app on Samsung phones, great for taking notes and organizing them in collections or on a single page. You can set up to mark important notes or sort notes by title, creation date or modification date. On the Galaxy Note, the app supports S-Pen for handwriting on the mobile phone screen. Voice recordings and photos can also be attached.
Post-it, for Android and iPhone, is an official 3M app that takes notes to pin on the screen (virtually). The app uses graphics that look like real post-its to be immediately visible.
Remember the Milk is a very convenient and simple web service for managing your to-do lists and taking notes and notes. In addition to the webapp, it also offers dedicated apps for Windows, Mac, Android and iOS / iPadOS, so you can manage your note lists even on the move.
We then choose one of the services mentioned and start taking notes digitally, without ever losing any important information for work or study.
Conclusions
Many note-taking apps have been lost or erased over time, forcing users to save notes elsewhere or even lose them. Using the best apps mentioned above we will have the certainty of having the most used and always active (as well as synchronized) apps in our hands, so as to never lose your notes and maintain synchronization between the various devices in our possession.
To learn more we can also read our guides
Record with Android: 7 Voice and sound recorders app
e
List programs and reminders to remember
.
Best apps for taking notes and notes on Android and iPhone