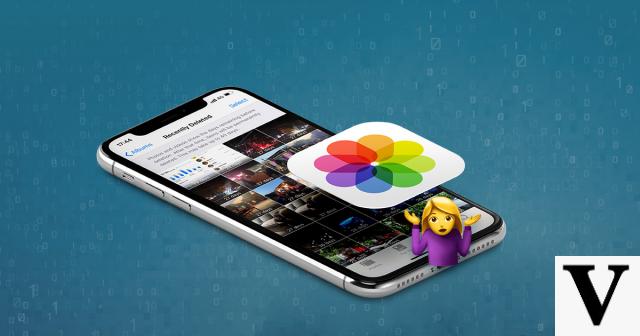 How to recover deleted photos from iPhone using "Recently Deleted" album
Among the most functional innovations of recent times, there is the automatic saving of iOS 8 in a special folder of the photos you just deleted. Similar to the recycle bin we often use on our PCs, it will store images for 40 days, removing them forever when time runs out.
If you have just removed the photos then, or it has not been more than a month and a while, to recover the photos on the iPhone you will have to:
Open the application Gallery
Select the tab album bottom right
By clicking on the item Recent items you can press on Select top right
By doing this you will be able to select the thumbnails of the deleted photo
Click on Recovery and then Recover photo
By doing so, you will see your photos reappear in your phone roll!
Opening the iPhone Photos app, selecting the Albums tab from the menu at the bottom right and "tapping" on the Recent Items icon.
Recovery of photos and videos through "cloud" services having already made the backup
One of the most useful and well-known features of iPhone phones is the guaranteed storage in the iCloud Library. You can keep your photos and videos there, free of charge or against consideration, enjoying the photo synchronization on all Apple devices.
You will also be able to recover photos on iPhone, as deletion from smartphone does not include that as well in the digital archive. As long as you have a Apple ID valido, you can restore your photos or videos at any time. So let's see how to recover deleted photos!
How to recover photos and videos from iCloud once deleted from phone
Among the most precious data that our phone holds are, for sure, photographs and videos. When, accidentally, it happens to delete some of our favorite images, to have an excellent chance of being able to recover them we must act promptly.
If we have activated the service on our device "ICloud Photo Library", then it will be possible recover our multimedia data from any device, within 40 days from cancellation with the following procedure:
To open "Photo Gallery"
Touch the item "Albums"
Tap the album "Recently eliminated"
Select the files of our interest and tap "Reset"
How to recover media data that has been deleted from iCloud
We will have to carry out an alternative procedure to recover the lost data if these have been also deleted from iCloud memory.
To be able to restore this file you must:
Going up "File"
To touch "Browse"
Go on the item "Recently eliminated", where the photos uploaded to iCloud Drive
Go on the item "To select"
Once you have identified the files we want to save, tap "Recover"
Through Google Drive
It is clear that not all used are the services made available by iCloud, using third-party clouds for reasons of convenience or greater storage space. By connecting to Google Drive with your account, choosing the item Google Photos on the left, you will see the icon basket.
Inside you will find the photos deleted from the iPhone and you just have to select them and then click on restore to have them back on your device.
Restore photos and videos via Dropbox
If you periodically make backups to Dropbox, you will be able to recover deleted photos from iPhone both using the application and directly from the official website. By opening the app, you will immediately see the images just deleted from the roll.
By connecting to the official website instead, you will need to access yours account and select the folder named Gallery. By pressing the trash can icon on the top right, you will see your deleted files (photos or videos). Select the ones you want back and click on Restore to get them back on your phone.
The best app to recover photos and videos on iPhone: Google Photos
Unfortunately, unlike Android, the iOS operating system is compatible with very few non-Apple apps. The most used and extremely effective is Google Photos, free or with paid plans of your choice, and without the need for root. It too exploits the system of digital archiving in which he guards each backup that you did.
By opening the app, either from your phone or from any other iOS device, you will need to click hamburger icon on the top left. Pressing on the item Trash can you will find all deleted videos and photos and just select them and then press on up right arrow to make them reappear in the Google Photos roll.
The best software to recover photos and videos: EaseUS
One of the most unpleasant drawbacks to face when owning a mobile device is the loss of photos and videos. This can happen for a variety of reasons, such as accidental deletion of data, system shutdown, virus attack, locked device, and more. So, how to restore multimedia data to which we care so much?
EaseUS MobiSaver is free software which allows any iOS device to recover all data that has been lost in just 3 steps:
First you need to connect the iPhone to Windows PC and select the item "Recover iOS device"
Proceed by clicking the option "Scan". In this way, EaseUS MobiSaver will start an automatic scan of the iOS device for start searching for lost data. All files found and scanned will be listed on the left side of the screen.
After scanning, you will be offered a preview of all deleted files that can be recovered. These data will be displayed according to the category to which they belong, and that will be enough click on "Recover" to restore them
If you've never done a
backup
on the computer, the chances of recovery are drastically reduced, becoming almost zero.
To learn more and learn more, study our tutorials on how to recover files on windows pc e how to recover data on Mac.
FAQ
The images we jealously guard on our phone are among the most important data we would never want to lose. But is it always possible to be able to safeguard them? Here are the most frequently asked questions that iPhone owners ask themselves about it:
If I delete photos from iPhone, do they stay on iCloud?
Yes. Very often, to free some space from the iPhone memory, you choose to delete videos and images. This data, however, is not permanently lost, but is saved on iCloud, an online memory that allows you to keep a copy of all photos and videos deleted from your phone.
Are there any apps to recover photos and videos on iPhone?
Multimedia data that has been mistakenly deleted from our phone can be recovered via the management of internal applications on iOS devices, or through specific programs.
If you act in a timely manner, you can recover lost images with the help of the following Apps: Google Photos, which you can download directly to your phone, Dr Fone and EaseUS MobiSaver, the use of which takes place by connecting the smartphone to the PC via cable.
Where do iPhone deleted pictures go?
The photos and videos that are deleted from the phone's Gallery are moved to the named Album "Recently Eliminated", a kind of Trash that accepts such data for 30 days before deleting them permanently.
You can restore deleted pictures via: "Recently Deleted"> "Select"> "Recover".
How can I recover photos from iPhone, iPad and iTouch?
Are available different methods to recover data that has been deleted from our iOS devices, the most common are:
Go to the folder "Recently deleted" and restore the data it contains
Use iCloud Photo Library
Back up via iCloud
Back up via iTunes
Use iPhone Backup Extractor
What is the best program to recover deleted photos from iPhone
Fortunately, it is almost always possible to recover images that have been accidentally deleted or that seem irretrievably lost due to a malfunction of our phone. This is possible thanks to special programs that have been developed for data recovery. The best around are:
Dr Fone Toolkit, which supports recovery of any type of file
iMyFone Recovery, software capable of accessing the internal memory of the iOS device
Fonelab, powerful data recovery program, available in both iOS and Android versions
iMobie PhoneRescue, capable of recovering deleted data from iPhone and iPad