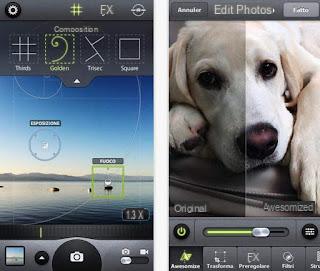 Even if the iPhone already has a great application for taking pictures, it is not certain that they cannot be realized
Get better shots by downloading other iPhone photography apps
which can be differentiated by the type of effects, by the type of integrated instruments or simply by offering a different interface with buttons placed in another way. And it is thanks to the fact that every iPhone version is fitted with an excellent and always better camera that for application developers it becomes possible to give much more, both for the more technical who want to customize the shooting settings, and for those who want have fun with photos and add effects and filters live, ie in real time.
In this list we see then
the best apps for taking pictures on iPhone
, possibly free or that cost only a few Euros, that are not too complicated to use and, above all, that it is worth installing to replace the default camera app (which in itself is really good).
1)
VSCO Cam
it is considered the best app for taking pictures from an iPhone, for free, with better controls than the default app and above all capable of automatically offering better photo quality. VSCO is not particularly technical, it allows you to use filters quickly and has a very minimal interface, without too many buttons and with essential menus.
2)
Photoshop camera
by Adobe is an app with multiple camera filters and effects like Instagram or Snapchat, designed for generation for selfie enthusiasts and for posting photos to social media. Simple to use and free, Photoshop Camera is definitely one of the best applications for taking photos from iPhone and iPad, even if not designed for photography enthusiasts.
3)
Camera + 2
is an excellent app for taking brighter photos from the iPhone, with a set of tools worthy of that of professional cameras and a customizable control interface. The app also includes photo editing tools, filters and effects, exposure adjustment, autofocus, timer, digital zoom, multiple shooting modes with the iPhone's 3D touch, and much more. The only flaw of this application that does not really disappoint anyone, is that it is not free, but costs around 3 Euros.
4)
Candy Camera
, free app among the best ever to optimize selfie photos with the front camera of the smartphone using filters that make us more beautiful.
5)
Camera360
is the number 4 in the world of apps for photographing with iPhone, ideal for taking panoramic photos, but also excellent on normal photos, with an interface full of effects and customization options. The HDR function works very well and also the facial recognition of the framed people, the scene models to make the photos more fun and the option to create photo collages. Camera360 is definitely a complete application for those who want to take photos and edit them quickly, free of charge.
6)
Prisma for iPhone turns photos into paintings
and we talked about it in another article.
7)
Photoscan is the Google app for scanning old photos
, one of the best for taking photos of paper photos in order to digitize them.
8)
TADAA HD Pro Camera
is a great application exclusively for iPhone, much appreciated and popular, which allows you to apply filters to photos making them more beautiful and more original, in a way similar to Instagram, without the need to be online on a social network. Edits to photos can be done before the shot, using the preview filters, and even after the shot, by changing things like brightness, size and colors.
9)
Rookie cam
(free in limited version) is another great choice for taking photos with the iPhone, especially if you want an editor that makes it easy to process the photos taken, with many editing and enhancement tools.
10 )
Slow Shutter Cam
is one of the best apps for shooting in the evening or in low light, which optimizes night shots and allows you to adjust the shutter speed and focus settings in a better and easier way than the iPhone camera app. This app is not free, but it costs 2 Euros.
11 )
Halide Camera
is an absolute best camera app, a great choice for photographers looking for more control over the camera and to control all settings manually, as well as Halide's ability to change the white balance or ISO to fine-tune each photo.
12 )
Dark 2
is a minimal app, a favorite of photographers who want a more professional feature set. There's support for RAW captures, basic features like grid overlay, flash control, manual filter controls, and presets to make post-production that much easier.
13 )
Moment - Pro Camera
it is a more expensive app, from 7 Euros, which however can be recommended to those who want the most from the iPhone camera, squeezing every potential and trying to make the Apple smartphone a professional camera. The options of this application are so many and it is therefore not suitable for those who want quick shots, but only for those who are more experienced and want to better configure the image.
14 )
Spotlights
is a dual lens iPhone app like the iPHone XR, which includes traditional tools including manual and depth control, adjustable bokeh, portraits and more, plus 3D imaging to edit photos.
15 )
Microsoft Pix
, free
per iPhone
, which allows you to take pictures instead of the standard camera, trying to make the best shots possible. The operation of Microsoft Pix is ​​to take 10 shots in rapid sequence for each photo and to automatically choose the best three based on parameters such as sharpness and exposure, and also by detecting if people smile and have their eyes open. Unnecessary photos are deleted and only the one or those found to be the best are displayed. The shots are then automatically enhanced by applying contrast, balance and enhancement adjustments.
16 )
Meitu Makeup to do the make-up test
, one of the best apps to try makeup styles from the camera.
Best Camera App for iPhone