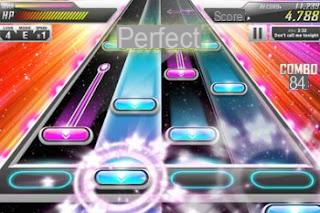 With smartphones you can play with music, perhaps wearing headphones, to play virtually, hear your favorite songs while having fun, recreate famous songs or moving along with a nice rhythm.
In this article we see some of the
best music games for android smartphones and tablets, iPads and iPhones
, possibly free, where you need to keep the volume high.
1)
Cytus
is a beautiful music game for iPhone and Android where you have to follow the rhythm with 3 types of movements: play the note at the right time, tap and wait until the time runs out, swipe your finger when there is a series of notes in sequence.
In the game, which has very accurate graphics, in addition to numerous rhythmic and various musical pieces, there is also a story told by animations that give the game a purpose.
2)
Beat stomper
for iPhone and Android is a very fast and frenetic arcade game to the rhythm of music, to be played with headphones.
3)
Beat racer
, for iPhone and Android is another beautiful music game, this time in the car racing genre. The game levels change according to the music and you can play by listening to your favorite songs saved in the memory of your Android phone or iPhone. If played in the dark and with headphones it makes you feel almost in a disco and becomes one of the most "flashanti" games ever, for its speed and sparkling colors.
4) Also included in this list
Karaoke app for singing and recording on Android and iPhone
5)
SongPop is the music game where you can guess the titles of the songs
, available for iPhone and Android, for free.
6)
BEAT MP3
for Android and for iPhone and is a music app where you play by pressing the right strings in time, listening to modern pop and disco songs, with many of the great hits of recent years.
7)
Tiles Hop: EDM Rush!
, for Android and for iPhone is a similar game, very fast and with beautiful graphics, where you can bounce a ball going to the rhythm of the music.
8)
Magic Tiles 3
for Android and iPhone is one of the most popular free games in their respective stores, the number one music game (which takes up from the old Piano tiles). It is a puzzle game where you have to touch, in time to the music, only the black tiles to form a piano melody; if you touch a white tile, the game is lost.
9)
Tap Studio 3
only for iPhone and iPad is a free game for music lovers where you can play the pop songs of the moment using very intuitive graphic music schemes.
10 )
Walk Band per Android
instead it is a musical band simulator where you can play different instruments: Piano, guitar, bass and drums.
11 )
Looper!
, for Android and for iPhone is a beautiful music game where you have to keep time and draw stars to create the right rhythm. This is one of the best games of 2018, a must try.
12 )
Rhythm Hive
, for Android and for iPhone is a real time multiplayer rhythm game, very original, with lots of songs to listen to and rhythms to follow.
13 )
Dancing Road
, free for Android and iPhone, is a b in the music game where you have to run a ball on a road trying to catch other balls of the same color. Very fast, with colorful graphics that capture and beautiful accompanying lively music.
14 )
Guitar Hero
, the game where you play the guitar in the most famous rock songs following the notes on the screen, does not officially exist for Android and iPhone but there are many equally fun clones:
-
Rock Life
per Android e iPhone
-
Aero Guitar Free per iPhone
-
Music Hero
per Android.
-
Beat Mp3 per Android
Best music games for Android and iPhone