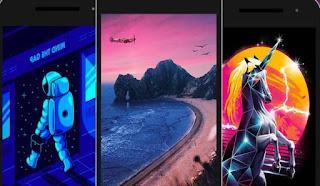 Although there are many applications to change the backgrounds of the main screen of an Android mobile or tablet, we can try some apps on our smartphones that can give us a different wallpaper every day, so that we can benefit from a smartphone that is beautiful to see every day. passes.
If we don't know which app to use for the purpose, in this guide we have collected all the apps that allow you to
set automatic wallpaper on android
, choosing the frequency time, the theme of the backgrounds we want to see and the quality of the photos themselves.
The apps that we are going to point out are free, as are the wallpapers that we can use on the phone: in case we find something really beautiful we can also save it locally to use it as a fixed wallpaper.
M
The best app to be able to change the wallpaper automatically on Android is Muzei, available for free.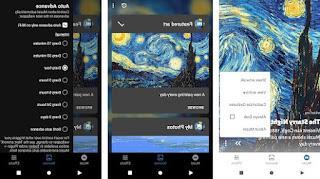 With
M
lo
wallpaper of our phone changes every day
or at set times with a new image of a certain type or category Without installing any other plugins, the images are famous paintings like Munch's Scream or other paintings.
If you don't like paintings,
we can change the theme of the wallpapers
by installing a different plugin.
The best plugins for Muzei, for
choose and change type of wallpapers
, I'm:
Bing wallpapers with landscape images that change every day
WolPepper, app full of very beautiful wallpapers
Muzei Music shows the covers of music albums
Muzplash, a collection of photos taken in different parts of the world
Muzei Earth View, with a large collection of satellite images
National Geographic for Muzei, the plugin with the most beautiful photos of National Geographic
Some of these apps provide additional options to Muzei such as choosing different categories within the plugin.
M
and the
best wallpaper application for android
, exceptional, free and unique, which can only be installed on tablets and smartphones with any version of Android still supported.
Tapet
If we are looking for a valid alternative to Muzei we can try the Tapet app, available for free for Android.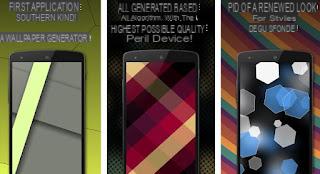 This app is different from the others because it generates unique wallpapers for each device on which it is installed. By exploiting the app algorithm we will be able to generate new wallpapers with geometric figures and with very beautiful colors, to be used on our device.
The app can also generate wallpapers at regular intervals of an hour or every day, so as to always have new geometric backgrounds and with unique abstract figures every time we pick up the smartphone or tablet: there won't be around the world another device with our same background.
Auto Change Wallpaper
Another app that can change wallpaper automatically on Android is Auto Change Wallpaper, also available for free.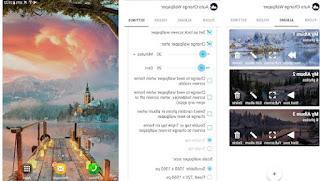 This app allows you to change wallpaper automatically, using the gallery of our images on the device. The images can be grouped in various folders and for each of them we can choose the time that must pass before the change.
If we look for new photos we can download them with any browser or we can use the internal search engine, based on the Flickr site.
To download other interesting wallpapers we invite you to also read our guides
Change and download wallpapers on Android phones and tablets
e
Where to download wallpapers for Android and iPhone for free
.

Causal
Another interesting app for automatic wallpapers on Android is Casualis, available for free.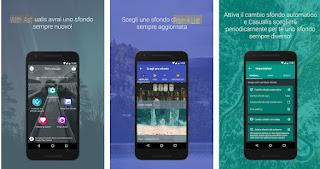 The app is undoubtedly the most similar to Muzei, since it allows you to choose new wallpapers in high definition and on different themes in a completely automatic way. Once installed, just enter the settings and choose the update frequency and whether to update the wallpapers via Wi-Fi or cellular network (we recommend always updating, since the wallpapers do not consume much on the data offer).
At each change of wallpaper we will also be notified with a notification, so we can immediately check which new wallpaper awaits us!
PaperSplash
If we are looking for a very beautiful wallpaper app with 4K resolution, we invite you to try PaperSplash, which is also available for free on all Android devices.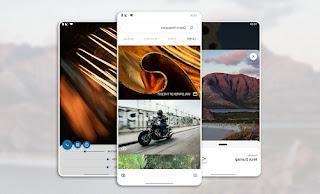 Thanks to its minimal interface we will be able to quickly navigate between the wallpapers of the day, the most rated wallpapers of the day or the week and choose which category to set for the automatic wallpaper, so as to get one of these wallpapers on our Android device, perfectly adapted to the resolution and to the aspect ratio of the device (no deformities or completely misaligned backgrounds).
Bing Wallpaper
The latest application to see background images that change daily on your Android smartphone screen is Bing Wallpaper, which rotates Bing's beautiful high-resolution wallpapers. This very valid, simple and official Microsoft application is not available for the city and can only be downloaded as an app from the APKMirror site for manual installation.
Keep in mind, however, that if you install the
launcher Microsoft per Android
, among the many functions that you get there is also the one to change the background image of the phone so that every day there is a new one, taking them from the Bing site.
Conclusions
The automatic wallpaper apps allow you to customize your Android smartphone or tablet without any particular effort, since
the search for new photos, to be used as wallpapers, is done automatically by the algorithms and search engines integrated in the apps
.
Among the apps we have also reported the one that allows you to automatically change the background by choosing from your photos and personal images, in addition to the wallpapers that may have already been downloaded from the Internet (better to create a separate folder where you can put only wallpapers, so as to speed up the process of addition).
If we want to get animated wallpapers for our device, we can continue reading in our guide
Best animated wallpapers for Android
.
Is our Android smartphone not personalized enough yet? Then you should read our guides right away
Add date and time on the android phone screen
e
Customize Android home screen and apps
.
Wallpapers that change every day on Android