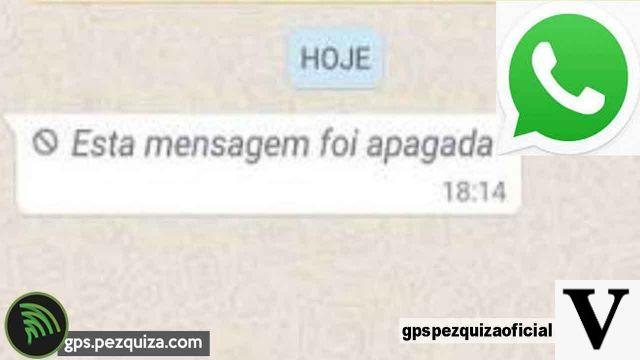 How to read messages deleted by the sender on WhatsApp: the best apps!
So let's see how it is possible to remedy some chats or messages deleted by mistake, or even how to recover deleted messages from sender your WhatsApp.
Whats Removed +: recover lost messages
Whats Removed+ is an app that allows the monitoring notifications and folders in case of changes or fillet deleted, so as not to risk losing any messages on Whatsapp.
Curious to know how it works, right?
Then, once the Whats Removed + app is installed, you can select all the apps and cartelle which are meant to monitor. It is important not to violate the conditions of use.
If the app detects a cambing in notifications or some message deletion has occurred, there will come one notifies to inform us about what happened.
Whats Removed+ save your phone notifications, then checking what happens in the folders. It is an app capable of recognizing changes aimed at deleting messages or notifications and ensuring that the user is able to recover the contents despite having been deleted or modified.
Very easy to install on both Android and iPhone through the appropriate stores (Google Play Store or Apple Store) the Whats Removed + app boasts several functions:
Scan folders to search for deleted files.
A window showing all deleted messages.
Save the chronology of notifications chosen by you.
It detects changes in notifications and informs you.
A section for each app with the notification history.
Search system based on notification groups.
Deals with algorithms for a simpler and more precise installation.
Don't miss out on dismissed notifications with Notification History
Another app available for Iphone and Android aimed at recover notifications, dialogues, SMS, toast is Notification History. It was created for to catch notifications and messages that appear on devices, and to save them in other browsers, being able to recover them even if they have been decommissioned.
An interesting function is to select filters to avoid receiving unwanted notifications, so as not to be saved and appear in lists or search results.
It is also possible for notifications received to be scheduled and viewed later by clicking longer on a list, or by selecting a clock icon that appears in the notification details.
In addition to dealing with notifications, this app allows you to view the images received on Whatsapp even if they have been deleted. To view the images just allow the archive permission. It is also possible to see the details of the photos by clicking on the items indicated as "photos".
In the WhatsApp menu it is possible to deactivate and activate the function of the app on monitoring messages. The Pro version allows the use of multiple functions such as backUp and data recovery.
Extra: recover messages from blocked WhatsApp contact
See past history with Notification History Log
Recover notifications deleted by mistake? Notification history log is for you. There couldn't be anything simpler. Once the app is downloaded to your mobile, the Notification History Log begins generating access and is You can see the notification history every time.
The crazy thing is that once installed, this app allows you to manage, sort, and view all notifications received in the past. Main qualities:
Advanced history. This allows you to read deleted messages and past notifications with detailed information.
It's possible choose the theme, light or dark.
Home screen widget, the ability to add widgets to the home screen.
Backup and recovery notifications.
Notification history Android Default.
Clear the entire notification historyand from the settings or individually by selecting the desired apps.
Nova Launcher Prime
Nova launcher prime instead takes care of personalizing your home screen. One of its particular functions is that of delete the app icons installed on your phone without uninstalling them.
This app however there it also gives you the ability to read deleted Whatsapp messages with just a few steps:
Clicking on Widgets - Activities- Settings and Notifications.
Once clicked in Notifications, all that remains is to access the notification log system.
You will now see on the home screen the notifications that will come from users who delete the messages and you will be able to read them.
Can I recover deleted WhatsApp messages on iPhone?
A foolproof method to recover deleted messages is definitely to carry out a backup of Whatsapp chats.
However, by making a backup, it will not be possible to read the messages that have been deleted by the sender, but it is possible to recover chats that have gone Persian.
It is also possible to recover deleted chats using iTunes making use of the iCloud where everything will be saved even though the contents have been deleted.
How to recover deleted WhatsApp messages from sender without app
Surely to see on the screen of a Whatsapp chat the notification of a "Message deleted" it intrigues us.
Luckily there are apps, including the ones I listed above that allow us to satisfy our curiosity and see what the sender wrote before they deleted the message.
Without these certain apps, the alternative, however, to read deleted Whatsapp messages is to backup.
Choose in the WhatsApp settings how often you want the Backup to be carried out on your mobile phone.
Suspicious apps or sites
But beware of all those apps and sites that ask for personal information; remember to recover data, you will not need to provide yours.
Do not push the button Go ahead and accept as if there were no tomorrow. We know it can be very boring to read all of them terms and conditionsi of an App, but always accept to share all of your data may be dear to you. Avoid unpleasant surprises not sharing everything, and if necessary avoiding downloading applications that require you most information of those you are willing to give.
Before downloading a new application to your phone, check the reviews: this is a very powerful tool, since knowing the opinions of other users you can get an idea if it is an application valid or menus.