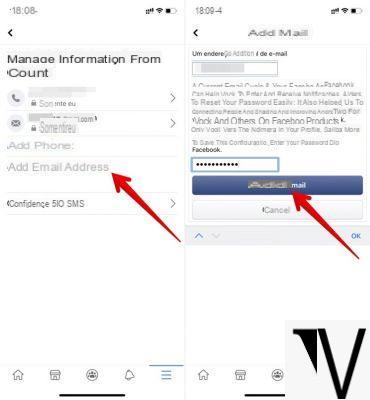 I don't remember the Facebook email: here's how to find it!
Fortunately, Mark Zuckemberg's platform is very friendly, and will help you in every way so that you can re-enter your profile even if you have forgotten your login details. The methods to do this are the ones that we are going to list in this article.
Find hidden Facebook emails thanks to your friends:
This method requires outside help to find the email address linked to your Facebook account, you will need your own amico of the platform. Here are the steps to follow
Ask your friend about log into your Facebook.
Look for the your profile with name and surname.
Click on Information on the top row.
On the left there will be the option Contact and background information.
If you are lucky you will find an email address here.
Beware of two things though:
The first is that the information may not be there if you have not left this public data. In the last paragraph of this article you will find out how to find a hidden Facebook email that has not been made public by the user.
The second is that the email address in the information may not be the one used to register on the platform. Attempting doesn't hurt though, so if you see an address, try logging in even if you're not sure if it's the one you used for the platform.
For you too: how to recover an accidentally deleted post on Facebook
The easiest way to recover Facebook account email
If the method explained above did not prove useful to you, do not be discouraged, this that we are going to explain is the most effective way. Here are the steps you will need to follow:
Going up https://www.facebook.com/
At the top right under the boxes with your details, click where it says Do you forget how to log into your account?
Where you are asked to enter your email or phone number you can enter the name of the Facebook profile you want to access.
Click on search.
A list of accounts will appear, find yours and click on It's my account located to the right of the profiles in the list.
There are two options: If your account does not appear click on I'm not on the list, then you will have to type the name of your Facebook friend, to trace your account.
Instead, if you have found your profile, an email will appear with some asterisks so that, if it is your address, you can recognize it and remember it and go back to the Facebook email.
Extra: recover deleted friends from Facebook
How to find out a user's hidden Facebook email?
Now that we have explained how to find your email address, you may be intrigued and would like to find the email addresses of other contacts. Do you think it is impossible, if your contacts have decided that this information should not be public? Don't be discouraged so soon, as there is a method to find hidden Facebook emails.
Whatever your reason for wanting to retrieve another user's hidden email address, use common sense. Here are the steps to follow:
Create an email address with com
At the top left you will find a drawing of one address book with contacts, click on it
As this is a new profile, the address book will be empty, but you have the option to import contacts Facebook (even those blocked)
Click on Import contacts
Voila! All your Facebook contacts will import into the address book and you will be able to see their email addresses.
We are sure that this step by step guide was much easier for you than you expected! No procedure has more than 5 steps and they are all very easy to perform, also suitable for those who hate information technology. The trick of finding the hidden email with your friends, and amaze them with the new knowledge acquired.