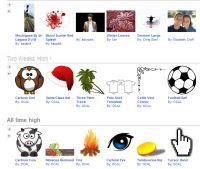 Le
clip art
are those designs used to embellish and make documents and presentations more pleasing and legible.
It is
drawn pictures
and never photographs, which they provide
illustrations to accompany any document
written on the computer. Clip art is widely used on programs such as Word or Powerpoint that have a rich illustration sections to be used freely for writing documents.
They are also used on flyers and websites, perhaps to create a personal logo or to graphically illustrate what you write.
In 2016, the Office Clip Art was revamped
thanks to the addon to be installed on the PC provided by
sito Pickit
which, in collaboration with Microsoft, provides numerous new drawings and graphic material to be used to create quality and color documents or presentations.
In addition to these, they exist
many other clip art, downloadable from the internet
, with which to decorate Word sheets or Powerpoint presentations also, for example, to create greeting cards for Christmas or postcards for gifts.
As with many other things, however, looking for clip art on the internet, you end up on sites with poor drawings, ugly and paid images. It is worth noting then
the best sites to find and download free and freely usable clip art
.
1)
Clker.com
is the best site to find free clip art.
Not only is there a wide choice of designs but, each image can also be retouched and edited with an online editor with which colors and other basic settings can be changed. Clip art can be downloaded in PNG (low, medium, hi), SVG, or even ODG format. Another great feature of Clker is the ability to transform any image into a vector design that is with a graphic style ideal for a logo or an internet icon, with bright colors and well-defined edges. Just upload an image from your computer to convert it and make it vector.
2)
Dreams Time
is the site where you can download free and paid clipart images.
3)
Classroom Clipart
contains over 100.000 royalty free clipart images, photographs, illustrations and images.
4)
1001freedownloads
is made up of 52 categories of free clipart images.
5)
Open Clipart
provides high quality royalty free clipart images divided into categories: New, World News, Famous People, Most Loved, Popular and more. For each of the clipart listed, there is the name, number of downloads, and comments. The site is not exactly the best but you can search for clip art by looking at the most downloaded or by browsing the categories that are in the middle right.
6)
FreePik.com
is a clip art search engine not only with vector images, but also with photos. The FreePik images are very beautiful graphically, colorful, sometimes inspired by cartoons but, in any case, very nice.
7)
HassleFreeClipArt.com
presents a collection of standard designs suitable for all uses. Thanks to the search engine you can put different filters and find the type of clip art you need. Clip art is also divided into categories which can be browsed from the left navigation menu. Many images of HassleFreeClipArt.com are clothing illustrations, with many designs of women's dresses.
8)
WPClipart
is a standard clip art directory, hosting tens of thousands of free images. There are several directories or you can do a text search to find the type of drawings you need. All clip art can be downloaded as PNG images.
9)
Clipart ETC
is a site of
black and white illustrations
very beautiful, such as those found in postcards with vintage images. Most of these illustrations are scans from (old) books.
In general there is for all tastes and for all uses. Images and clip art are very useful for decorating documents and presentations, for creating brochures and postcards and also for getting ideas in creating logos.
Best Sites to Download Free Clip Art, Drawn Images and Illustrations