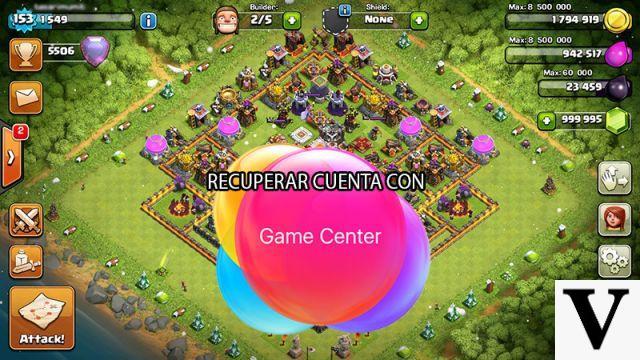 How to recover Clash of Clans accounts on Android
If you've always used a device Android, whether it's your mobile phone or your tablet, to play Clash of Clans and you want to resume playing it, on a new device or on the same, without starting over here we show you how to recover your Clash of Clans village in a few simple steps!
If you've changed your device or reset it, first install Clash of Clans again and after:
Open the Play Store and in the search bar.
Write Clash of Clans, click and then select Install.
In doing so, the game should automatically retrieve your data, recognizing the Play Store account that is being used!
Clash of Clans account recovery on Android via Google Play Games
If before deleting the App or resetting the device you have associate the game with Google Play, well you can recover your data by logging in with the same account. That's how:
Start Clash of Clans and at the top left click on theicon with gear.
In the window that opens, next to Access to Google Play click on Disconnected.
Now select the Google account you have always played with, click on Allow and then Charge to restore all your data.
If the Google account on your device is not the same as the one you used on Clash of Clans, don't worry! It will be enough add another account and then use that to recover your game data. You will need to:
Open the Android Settings of your device and click on Users and accounts.
Then on Add account and finally on Google.
At this point access with the Google account you want to use and follow the steps above to reconnect to your data.
How to recover Clash of Clans profile on Android via SuperCell ID
If you have saved your game data via SuperCell ID, retrieving your progress is very easy!
Start Clash of Clans and click onicon with l'ingranaggio at the top left of the screen.
Next to SuperCell ID click on Disconnected and then click on Log in.
Inserisci e-mail address associated with the SuperCell ID and then the code sei code which will be emailed to you to retrieve your Clash of Clans profile.
I will recover Clash of Clans account on your iOS
Vuoi giocare a Clash of Clans on iPhone or iPad and restore your saved data and your village, you can easily do it in two ways and below we explain how. Follow all the steps carefully and you will solve your problem in no time!
The first thing to do to recover your Clash of Clans data is to install the App:
Open theApple Store iOS by clicking onStylized A icon.
In the search bar write Clash of Clans.
Click on button with speech bubble and allow the download via the Face ID, Touch ID or password you normally use.
Retrieve your CoC account via the Game Center
If you have configured and activated Cash of Clans on the Game Center your data has been automatically saved. This is why, usually by reinstalling the App, a recovery message.
If you haven't seen any messages, don't worry, it's probably because you're using a different account which does not match the one you associated Clash of Clans with. Let's see together how to fix the problem and restore your progress.
If you remember theApple ID previous go to Settings of iOS and select Game Center.
Here click on Use different Apple ID for Game Center and click on You are not account@iCloud.com.
Log in with the correct Apple ID to restore all your data.
How to recover Clash of Clans on iOS via SuperCell ID
If you have instead saved progress in your village via SuperCell ID the procedure is much simpler and faster.
starts Clash of Clans and click onicon with gear wheel that you find at the top left.
Click on Disconnected that you find near SuperCell ID e poi remi su
Just enter the associated e-mail address and the code sei code just received on email to retrieve your progress.
Lost village recovery on Clash of Clans
If you've lost your village and can't recover it because it wasn't connected to Google Play (for Android) or Game Center (for iOS), you may be able to recover it by following these steps. There procedure for Android and iOS devices it is the same:
Open Clash of Clans and click on Settings then connect to your Google account to reconnect to your village.
Click on Support and then Report a problem, then click on Other.
If you can't recover your village this way you can send an email directly to clashofclans.android@supercell.net (for Android) or clashofclans.feedback@supercell.net (for iPhone). We recommend that you enter all information related to your village: name of your village, name of the clan the village is a part of, date of the last time you played this village (approximately).
Clash of Clans account: let's clarify any doubts!
You've always played Clash of Clans on mobile and now you would like to continue playing Clash of Clans on your new tablet, but you don't know how to transfer data on the new device? You have decided to start a new game with a new account and you don't know how to do it? You are in the right place, here we will answer all your questions!
How can I save Clash of Clans?
To save your progress on Clash of Clans it will be enough for you connect them to Google Play, Game Center or a SuperCell ID. From the settings click on Disconnect next to the method you want to use, enter your e-mail address and follow the instructions.
In this way, when you log in, you will restart from the point where you stopped the previous time and you can also recover your data from another device or in case of uninstalling the App.
How to transfer a Clash of Clans village to another device?
If you want to play Clash of Clans on another device, so be it of the same or different type, so switching from Android to Android - from iOS to iOS - from Android to iOS or vice versa, makes no difference.
Make sure the game is installed on both devicesif not, install it via the Play Store or the Apple Store.
in Settings of the game click on Connect device on both operating systems and follow the instructions.
How do I change the Clash of Clans account on Android?
To switch accounts on Android devices you simply need to disconnect the one you are using and connect the new one. Go to Settings of the game and under Google Play or SuperCell ID click on Connected and then Logout to disconnect. To connect the new account click again on Settings and under the method you use click on Disconnected, Then Log in and follow the steps.
How to switch Clash of Clans accounts on iOS
To switch accounts on iOS devices, you need to disconnect the Game Center connection: go to Settings In the game menu, click on Game Center and then on OFF. You will now be able to connect with a SuperCell ID account by clicking on this option in the menu. Or, you can enter a new Apple ID by clicking on Game Center, ON and then Aren't you [name]?, filling in the necessary fields.