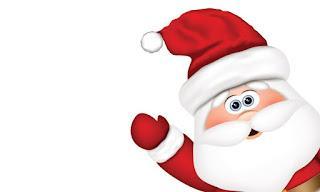 With Christmas just around the corner, we can start preparing each of our devices for the event, setting themed backgrounds, changing the ringtone and, why not, playing some video games inspired by Christmas and its classic characters (Santa Claus, elves, etc. ).
If we don't know which games to install, we have prepared a small collection of the best in this guide
Christmas themed games app
downloadable for free for Android devices and for those who own an Apple (iPhone or iPad). In this way, we will be able to spend the most boring moments of the holiday season by playing fun titles, suitable for children of all ages.
We just have to wish you a Merry Christmas and happy holidays!
Types of Christmas themed games available
Christmas is a particularly heartfelt holiday for children, because Santa Claus arrives bringing gifts to everyone!
Santa Claus thus becomes the undisputed protagonist of the Christmas-themed games available on all platforms.
As a genre instead we find:
- Simulativi:
it might seem strange but there are games available in which we can record a personalized voice or video message to have it repeated by Santa Claus "in flesh and blood", so that the children will be amazed to hear their favorite speak with a lot of name, surname and date of birth (so you can be sure the message is addressed to them).
-
Fake calls and messages
: The simplest apps simply allow you to emulate a fake call from Santa Claus or the reception of messages in which Santa Claus notifies of his arrival and of the gifts he has prepared for the little ones.
- Strategic:
some games
require you to manage the village that Santa has at the North Pole, so that he can generate enough gifts for all the children in the world (Farmville style). This type of games are obviously reserved for slightly older children, as they require skill and attention.
-
Joking
: shave Santa Claus!
Other types of games are designed to entertain children with some tricks such as removing the beard of Santa Claus or his collaborators with a razor. Obviously nothing vulgar or bad, just games that can make a child smile.
-
educational
: These games allow young children to learn numbers, shapes and colors using Christmas characters as a basis, so that children can learn while having fun even under the Christmas holidays.
After having seen together the types of Christmas themed games that can be found in the vast world of apps, below we will find what we believe to be the best Christmas themed games apps for Android and iOS.
1)
Talking Santa Claus (Android and iOS)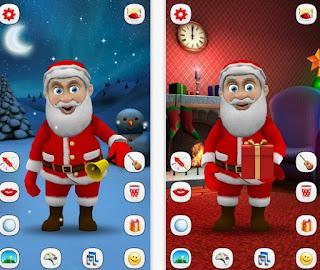 There is nothing better than playing with a Santa Claus who talks and interacts with the user based on the part of the screen pressed. It will thus be possible to entertain the youngest children with the figure of Santa Claus throwing snowballs, offering a gift or singing and dancing!
The app is very simple and within everyone's reach, and it is possible to change the background with which to interact (ranging from snow in the mountains to a fireplace in a house).
We can download the app for free from here ->
Talking Santa Claus
(Android) e
Talking Santa Claus
(IOS).
2)
Portable North Pole (Android and iOS)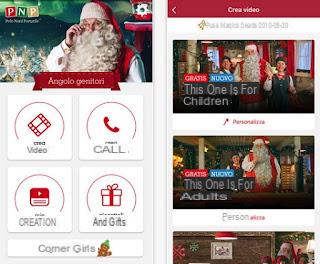 With this app it will be possible to impress children of any age by creating personalized videos, fake calls and anything else starring Santa Claus, who will dictate the greeting messages for you!
If you are looking for a way to impress children with a message coming directly from Santa, this app is for you!
It also has a built-in recorder, so you can save the child's reaction to a video file as soon as he sees Santa Claus appear on the screen, greeting him.
The app can be downloaded for free from here ->
Portable North Pole
(Android) e
Portable North Pole
(IOS).
3)
Santa's Factory (Android and iOS)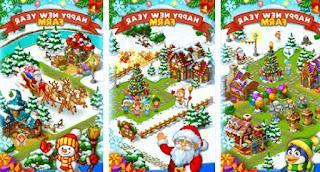 With this strategy game we will have to manage the village of Santa Claus, trying to produce as many gifts as possible and beautifying the territory held by Santa Claus in the North Pole. We will be able to build new houses and play factories, help Santa Claus with gifts for the children, grow hay every day for the reindeer, receive letters from all the children of the world and finally send the sleigh loaded with gifts for the usual ride of the Christmas' Eve.
For the completed missions we will receive sweets and biscuits as a reward, to be used to build new structures or to beautify the landscape.
You can download this game for free from here ->
Santa Claus factory
(Android) e
Santa Claus factory
(IOS)
4)
Christmas games for children (Android and iOS)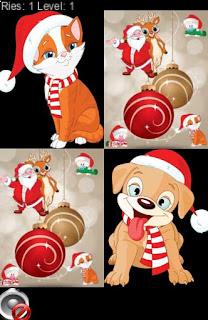 If we are looking for something more educational with a Christmas theme we can download this fun and educational game. Thanks to its levels we will help to develop the motor skills, imagination and creativity of the child thanks to the help of shapes, image recognition and the correct pronunciation of the displayed number.
We can download this game for android devices only from here ->
Christmas games for children
The corresponding game (but with different developer and levels) can be found on iOS with another name here ->
Free Christmas games for boys and girls
(IOS)
5)
Christmas Cookie
(Android and iPhone) is a Cancy Crush-like game, where you match Christmas cookies by lining them up to match.
There are over 700 levels, special events and various challenges to stay busy throughout the holiday season.
6)
Happy New Year Farm: Christmas
(Android and iPhone) allows you to visit Santa on his farm in the North Pole and build snowmen, give gifts and bake cookies. Mechanically, this is a city building game, where you tap to build and collect things.
7)
Winter solitaire
(Android) is a Christmas themed card solitaire, with Santa cheering us on.
8)
Delicious - Emily's Christmas Carol
(Android and iPhone) is a cooking game with Emily who manages her customers by fulfilling their orders, serving them on time to collect more tips.
9)
Christmas Games: Toy Party
(Android and iPhone) is a perfect app for kids, with various simple and fun games to pass the time.
10 )
Santa Shave (Android e iOS)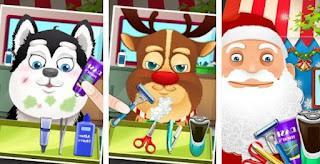 The ultimate game to try to get kids to laugh out loud is Santa Shave - A Crazy Beard!
In this game, all we have to do is cut the beard of Santa Claus and many of his other helpers as accurately as possible, using barber tools. We will have to be careful where to cut and prevent the Santa Claus from running away from fear and pain!
To download this fun free game, all we have to do is take us to the links indicated here ->
Santa Shave - A Crazy Beard
! (Android) e
Santa Shave - A Crazy Beard!
(IOS).
Funniest free Christmas games on Android and iPhone