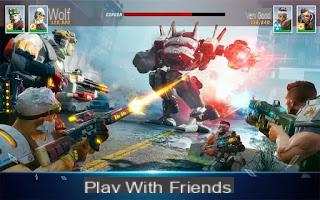 Playing mobile is fun as a pastime, but it can also become challenging and competitive when it comes to challenges against other players. By now most of the games on the Google and Apple stores can be played together with other people in multiplayer challenges and they range from real-time matches all together, fighting the bad guys together or with team or one-on-one competitions or even skill competitions. with ranking. There are now many video games in which it is possible to challenge friends or strangers from all over the world to see who is better.
Among the many games
on Android
e
your iphone
that support multiplayer mode, let's try to make a list of them here
40 best multiplayer or multiplayer games for mobile
, which are free to play and without purchases in apps that affect the games, to compete online,
against other players around the world
.
1)
PUBG Mobile
is the game of the year 2018 together with Fortnite, a shooter with 100 players together and a first-person 3D view. It is undoubtedly one of the best multiplayer Android games online, a battle game in which 100 players descend on an island to collect weapons and fight to become the last survivor. The game has solo, duo and team modes so you can team up with friends and fight with them for victory.
2)
Fortnite
, for Android (you can install Fortnite only on some Android smartphones), it can be considered the most played game of the last 2 years, available on PC and Smartphone, multiplayer shooter par excellence. This is also a really fun Battle Royale game to play online against other players, other than PUBG, with cartoonish graphics. Plus, it has a build mechanism that no other online multiplayer game offers.
3)
Clash Royale
is another very successful online multiplayer game, based on cards, where you fight against other players in PvP battles.
4)
Last Day on Earth: Survival
(Android and iPhone) is a free MMORPG with zombie shooter action. Set in 2027, after an unknown plague virus infection wiped out most of the world's population, the survivors can only struggle to stay alive and survive for as long as possible.
5)
Among US, the investigation game where to find the imposter
, has become the most played multiplayer game of 2020, with participation between players who must discover the killer.
6)
Hearthstone
(Android and iPhone) is practically the undisputed champion of CCG (Collectible Card Games) on any platform, a superb multiplayer game that invites you to engage in a constant stream of turn-based tactical battles against real opponents.
7)
Vainglory
(Android and iPhone) is perhaps the best of the MOBA genre on mobile, not easy to play, challenging in online competition against other players.
8)
World of Tanks Blitz
(Android and iPhone), now famous title in the PC and XBox versions of war between tanks, converted very well also in the smartphone version.
9)
Head Ball 2
(Android and iPhone), fun game that is played in one-on-one matches where you have to score by hitting the ball with your head as if it were a barrel match.
10 )
NOVA Legacy
(Android and iPhone) one of the best mobile shooters, it has an online multiplayer that includes character customizations and leaderboards.
11 )
Critical Ops
(Android and iPhone) is a first person shooter where you can play as a terrorist or as a police. Multiplayer combat has no in-app purchases that can affect gameplay, where only player skills matter.
12 )
Arena of Valor
(Android and iPhone) is another MOBA game where you choose a hero and team up to challenge other players in five-on-five battles. The game is completely free, with in-app purchases for optional content that does not affect the game.
13 )
Slither.io per Android e iPhone
, the game of the worm that never ceases to amuse the millions of players around the world who have been playing it for several years now.
14 )
Trivia Crack
(Android and iPhone), the game of questions to be answered correctly, among the best games of Quiz and Trivia with questions.
15 )
Paper.io 2 per Android e iPhone
, champion of 2018, with free-for-all challenges in the same match.
16 )
Asphalt 8
for iPhone and Android is the best car game. When it comes to racing games, the first name that comes to mind is Asphalt, now in version 8, with graphics that are increasingly similar to that of a Playstation console, with the best racing cars on the street to be modified to race in the city. in Fast And Furious style. With Asphalt you can play multiplayer with up to eight opponents together.
16 TO)
Asphalt 9
it's similar albeit more arcade, always with thrilling multiplayer races and spectacular graphics.
16 TRIS)
Asphalt Xtreme: Rally Racing
(Android and iPhone), where to drive off-road cars.
17 )
Real Racing 3
(Android and iPhone) is another fast-paced, high-quality graphics car racing game, completely free to play, which you can play in multiplayer mode to see who runs fastest.
18 )
Modern Combat 5
(Android e iPhone)
This is a super competitive free game, with such a high quality and level of graphics and playability, that one cannot fail to mention. It is a first person shooter game that can also be played in multiplayer mode.
19 )
Shadowgun
is another first person shooter game, this time completely free, which offers an exciting multiplayer experience for players. Twelve can be played at a time and the more you play the more new challenges and upgrades you unlock. Shadowgun: Legends can be downloaded for Android and iPhone
20 )
UNKILLED
(Android and iPhone). This is still a shooter, this time with a top view, of a very different genre than the previous two. In this case it is played in collaboration with other players with the common goal of surviving the Zombies.
21 )
Fun Run 3
(Android e iPhone)
If you want to ruin a friendship or to play for something, a Fun Run challenge could be a great idea. Up to four players can be played at a time in this car racing game - karts collide with each other with the aim of smashing their opponents. This game is fun, fast-paced, totally crazy, to compete with friends or with random people from all over the world.
22 )
Ruzzle and similar lyric games
they are always among the most popular in the Android and iOS stores and are a great classic in casual multiplayer challenges.
23 )
8 Ball Pool is the biliarth for iPhone and Android
which can also be played with friends and online.
Alternatively there is also
Pool Break Pro 3D
for Android and iPhone, not free.
24 )
Golf Clash
(Android e iPhone)
One of the best mobile games ever, Golf Clash turns golf into a highly competitive sport, all in real-time multiplayer mode.
25 )
Battle Bay
(Android and iPhone) is a very fun game where you have to drive a gun that shoots against other boats, obviously driven by other players.
26 )
CATS
(Android and iPhone) is the robot game to build and fight in an arena, with continuous and very fast challenges that never end. CATS was named Best Game of the Year 2017.
27 )
Crash of Cars
(Android and iPhone) is one of the most played games of 2017, simple and chaotic, with battles in multiplayer mode between armed cars. The aim is to arm your car, shoot and destroy your opponents.
28 )
Badlands Brawl
(Android and iPhone) is played one on one against a friend or a random player in the world, where you have to destroy the opponent's tower by throwing whatever you have at your disposal, trying to create destructive chain reactions. The game then becomes very fast and frenetic, with a one-on-one battle in real time.
29 )
Hero Hunters
(Android and iPhone) is a multiplayer team shooter where you can collect heroes to use in battle. The game is one of the best of 2018, with truly powerful events and non-stop action.
30 )
Battlelands royale
(Android and iPhone) is a game of the Battle Royale genre, with top view and simple graphics, variant of Fortnite, with 32 players together who battle until there is only one left.
31 )
Roblox
, for Android and iPhone, is a multiplayee game creation platform that allows anyone to create different types of games, which in turn, anyone can play. Although aimed at children, the online service has over 100 million monthly active users.
32 )
Brawl Stars
(Android and iPhone), by the same developers of Clash Royale, is a super fun game, free for all (or 3 against 3), like Fortnite but with a top view and simpler graphics, therefore also faster and very frenetic in the game. action with matches lasting a few minutes where you have to stay alive.
33 )
Run Race 3D
(Android e iPhone) e
Fun Race 3D
(Android and iPhone), are two fairly similar racing games, both multiplayer with many players together, where obviously whoever finishes first wins.
34 )
Mario Kart Tour
, Nintendo's Kart racing game released in 2019 for Android and iPhone.
35 )
Call Of Duty Mobile
, the multiplayer realistic 3D shooter war game, which was named best game of 2019 for both Android and iPhone.
36 )
Rumble Stars Calcio
(Android and iPhone), one-on-one online strategic football game, where the team is lined up to be able to do the right actions and score the goal.
37 )
Tacticool
(Android and iPhone), is a diagonal top view shooter, where you play 5 vs 5, very fun.
38 )
Tennis clash
(Android and iPhone), 3D multiplayer tennis game, the best of its kind.
39 )
Archero
(Android and iPhone) is a kind of battle royale with a top view, very fast and frenetic, where you shoot arrows at opponents trying to survive.
40 )
aquapark.io
(Android and iPhone), is a race on the water slide, with many players together at the same time, where you have to arrive first being careful not to fall.
41 )
Roblox
, for Android and iPhone, has over 100 million monthly active users. Roblox is a collection of free online multiplayer games, which is also a game creation platform, where everyone can try to create their own video game. The number of games you can play is infinite, as is the number of players who can join to play together.
42 )
Standoff
, for Android and iPhone, is one of the best online multiplayer shooter games, with exceptional graphics, different guns and weapons, where you have to shoot in various scenarios and game modes.
43 )
Mortal Kombat X
, Android and iPhone version of one of the most famous games of all time, of one-on-one fight between characters with super powers and violent monsters.
44 )
Brawlhalla
, for Android and iPhone is one of the best games of 2020, fighting between single warriors, with 2D horizontal view, fun graphics and fast action, up to 8 players together in the same framework.
45 )
Bullet echo
, for Android and iPhone is another beautiful multiplayer game, with a top view (similar to Tacticool), where the players, divided into teams, must try to eliminate the opponents by finding the right tactic to assassinate the enemies.
45 Best Multiplayer Games for Android and iPhone