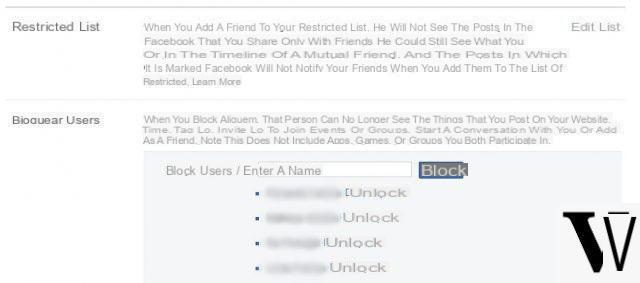 How to see friends deleted from Facebook
More often than not, it happens that you do involuntary activities on your Facebook page. These may be due to the speed with which we swipe our fingers on the smartphone screen or they are the fault of simple distraction. In any case, sometimes, we find ourselves in the position of having to correct mistakes made unintentionally, such as deleting friends from our Facebook contact list.
How can we go about seeing who we have actually eliminated?
Fortunately, this information is readily available on the virtual diary activity log. In fact, you just need to access the "Chronology of friendships" and consult the list of activities performed on our account. Here all the movements made on our profile will be displayed, such as: the friend requests we have sent, and the contacts we have accepted or those we have removed.
Furthermore, as a second option, you can always resort to profile backup, which allows you to download all the information relating to your account and to find the list of friendships that have been deleted in the archive files.
For you too: How to see friend requests rejected on Facebook
How to recover a friend contact deleted from Facebook
The virtual world follows separate rules, and these are accompanied by a rhythm of events that proceed much faster than reality experienced in the physical world.
Therefore, delete and re-enter contacts from the Facebook friends list it is an activity that takes place on the agenda. So, what to do if we want to restore a banned person to our friends?
Both from smartphone and from PC, the procedure to follow is the same:
The user must first be successfully unblocked and then he can be re-entered in the friends list
After that, go to the profile page of that person and press the button "Add to friends"
Only when the request is accepted will the new contact be available again.
Extra: Recover deleted Facebook search history
I blocked someone on Facebook, how can I unblock them?
Restoring a friend after we decided to block him on Facebook is a very simple thing to do.
In fact, block and unblock friendships from your contact list it is an activity that is carried out daily by millions of users and everyone can undertake this process quickly and without problems. Let's see together how to proceed, both from smartphone and from PC:
Via Android and iOS devices
We assume that the contact we want to restore has been blocked, how to unlock it? In this case, proceed as follows:
Log into Facebook
Press the three-bar icon located at the top or bottom right
Proceed with "Settings and Privacy"> "Settings"> "Block"
When you have identified the name of the person you want to unblock, press "Unlock"
Through the computer
Unblocking a contact and putting him back on our friends list is a really quick and easy operation to do. If we are used to connect to the popular social network via computer then you have to follow these steps:
Log into Facebook
Click the "▾" top right
Proceed by clicking "Settings"> "Lock"
Once you have identified the user we want to unblock then click on "Unlock"
Confirm the operation with "Confirmation"
For you: Retrieve and read deleted Facebook posts
How to see who deleted me from Facebook?
How many times has it happened to notice the absence of activity on Facebook by a user we had in our contact list? Or, has it ever happened to notice that the number of friends we had reached on the famous social platform is getting smaller and smaller?
One of the main reasons behind these circumstances is that someone, probably, he unsubscribed us from his Facebook friends list. But who could it have been? How can we know who has banned us from their circle of contacts?
There are different methods to find out who could commit this action behind us, here are some of them:
Check your friends list
One of the most common and fastest ways to find out who deleted us from Facebook is to check out our friends list. Let's say this is a manual solution that can be adopted if we suspect someone in particular. In fact, if we want to use this method, we just need:
Go to your profile and press "Friends"
Going up "Look for your friends" and enter the name of the user in question
If the search ends with "No results for: (name of the user searched for)" then it means that that person has removed us from his friends.
For you: how to recover deleted messages on Messenger
Use browser extensions
Another method to find out who has banned us from the popular social network is to use browser extensions. One of the most used, which can be downloaded for free from Google Chrome, is called "Who deleted me?". With this trick you will be able to view all the contacts who have decided to delete us, and this will be visible thanks to the icon of the little man from the waist up accompanied by the wording "Unfriends" and the red number "-1".
The best apps to see who deleted you from Facebook
Likewise, it is possible use specific applications to find out who, behind us, wanted to cut ties with us:
Android: Unfriend Finder
"Unfriend finder" is a popular application compatible with the main web browsers which, through an e-mail notification, has the purpose of alerting the user when changes occur in their list of friends.
Using this tool couldn't be simpler: once you have downloaded the App, just go to the tab "Former Friends" to find out who deleted us from Facebook. But not only that, you can also view the friendship request waiting to be confirmed.
Unfriend finder is not retroactive, therefore it cannot be used to understand which contacts have already decided to remove us from their lists. The application will notify us of all movements relating to the number of our friends only after it has been installed.
iOS: Who unfriended me?
The "Who unfriended me?" available for download on the App Store, in general, can boast of quite positive reviews.
As a basic rule, this program must also be installed first to let us know who, among our friends, has decided to delete us from their contacts.
Its operation is simple and safe: to find out if someone has removed our name from their Facebook just press the button "Update" to have a list of the movements in this regard.
Who unfriended me? It is an application full of many other functions, this program, in fact, notifies us even when ours friends have changed their names, or when someone decides to deactivate your profile.