Preliminary information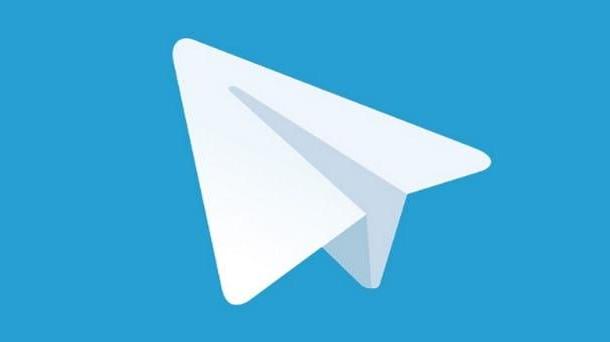 Before explaining to you how to use Telegram without number, I have to give you some preliminary information about it. You must in fact know that even if it is not possible to register at Telegram without using the mobile number, you can still succeed in the intent you have proposed, using a number other than the one you have.
In this regard, some of the solutions you can consider are, for example, those to sign up for Telegram with an old number or buy a new SIM to use for registration. However, don't worry: I'll tell you about these and other similar solutions in the next chapters of this tutorial.
Furthermore, always with regard to the topic in question, you must know that you can chat with other users without knowing their mobile number, as Telegram, after registration, allows you to indicate a username, which can be communicated to others, for adding to contacts.
If, therefore, you were wondering how to use Telegram without a number in order to add a contact to the address book without knowing the number, know that you can succeed without any problem. But now to the song the chatter and let's get to the heart of the guide.
How to use Telegram without a phone number
You would like to start using Telegram but you don't want to register with your mobile number? In this case, follow the instructions I am about to give you, to find the solution that best suits your needs.

Activation with old SIM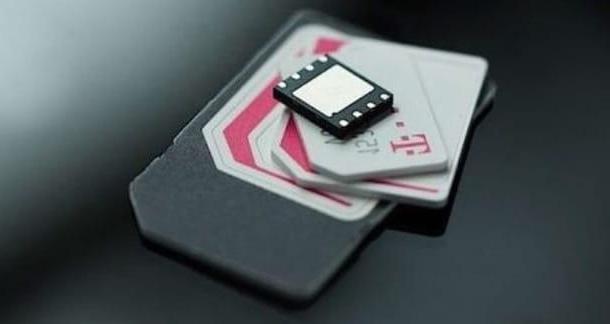 The first solution you can put in place to sign up for Telegram without providing your mobile number is also the simplest one: using a different number, such as one old SIM.
If you have changed your mobile number in the past, you might see if you can still find your old SIM somewhere, so you can use the phone number to register at Telegram.
However, I remind you that, even if the SIM card in question may be without phone credit, it is important that it is still active (usually the SIMs deactivate after a period that exceeds 11 months, in case of failure to recharge): otherwise you can use it, as there is no network coverage, you will not be sent the confirmation code via SMS needed to register with Telegram.

Activation with temporary number

Another useful solution is to use a temporary number, through which you can receive the confirmation code for registration a Telegram.
The temporary number is a free solution provided by some online services that make available, without having to register or enter personal data, several telephone numbers of various nationalities. The goal is to allow users to dispose of it in a "disposable" way, for the receipt of SMS or for the activation of services that require confirmation via a mobile number.
Having clarified this, you must also know that, at the time of writing this guide, it is unfortunately very difficult to find a working temporary telephone number: the remaining online services that offer this possibility are few and, since mobile numbers are public , it is also very difficult to be able to use them, as following the numerous requests they could also have been blocked.
However, if you still want to give it a try, you can do a Google search, typing terms like "Temporary number" o "Fake phone number for verification", in order to identify a service that offers a number to be used for the Telegram registration procedure, which I will talk about in the dedicated chapter.
If you still want to deepen this topic, my advice is to read all the tips I have provided you in this guide of mine. Although the topic deals with another messaging service (WhatsApp), the indications present can also be applied for registration to Telegram.

Activation with dedicated SIM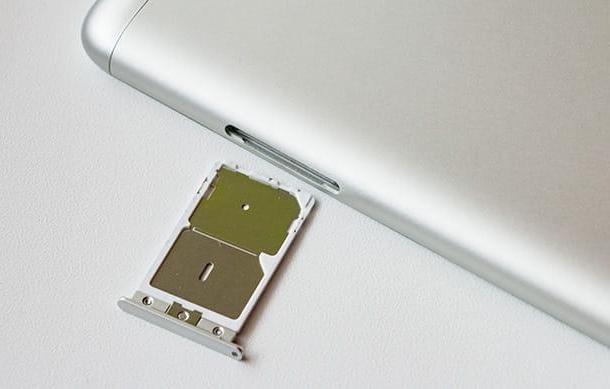 As an alternative to the solutions indicated so far, you can consider activating a new SIM and using the new mobile number when registering with Telegram.
You must, in fact, know that nowadays, given the presence of various virtual operators, such as for example Illiad, ho.mobile e Kena, activating a new SIM is no longer so expensive and, often, you are also offered tariff plans with unlimited minutes and SMS, as well as a substantial number of GB to use for surfing the Internet.
For more information on this, I suggest you read my article dedicated to the best rechargeable rate, in which I compared the plans and prices of telephone operators, including virtual operators.

How to subscribe to Telegram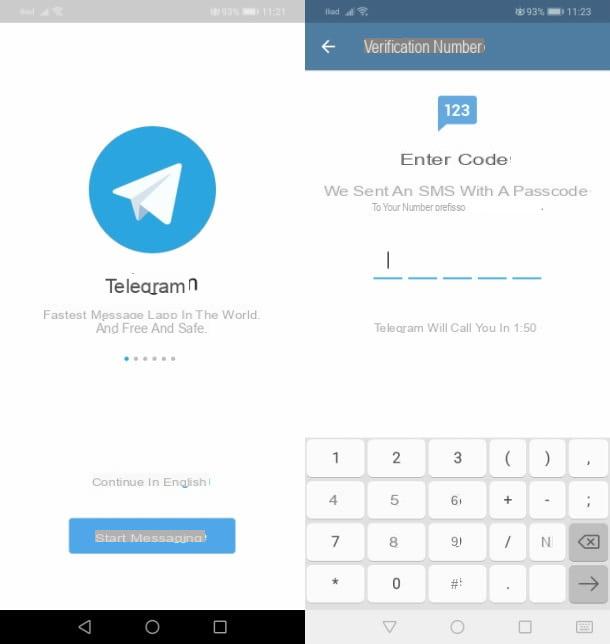 Now let's move on to the practical part of this tutorial and see, step by step, how to register a Telegram via smartphone and tablet, using the app for Android and iOS / iPadOS that you have downloaded on your device.
Having said that, to start, start the app in question, by pressing on the icon you find on the home screen and / or in the drawer of your device. Then press the button Start texting and selects the nationality and the relative prefix of the mobile number you obtained through the information provided above, through the appropriate text fields that are shown to you.
Then type yours telephone number in the text field below and press onarrow icon. Now, wait for the confirmation code to be sent to you via SMS, which you must subsequently type in the text field that is shown to you.
Once this is done, customize your profile, indicating yours name and optionally yours too last name and selecting a profile picture (thecamera icon). Finally, to confirm the registration, click onarrow icon.
Now that you have registered an account, you can start using the service on your smartphone and / or tablet, starting to chat with a user even without knowing their mobile number.
To do this, click onpencil icon and then tap on that of the magnifying glass, in order to type, in the text field that is shown to you, the username of the person you want to text with.
I remind you, however, that Telegram can also be used on a computer, via the desktop client for Windows e MacOS, but also from the Web, through the appropriate Web.
If you want to know more about how Telegram works and how to access this service on your PC, check out my guides on how Telegram works and how to use Telegram on PC.
How to use Telegram without number