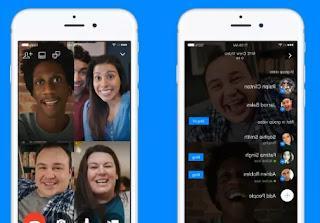 As already written, it is possible to start the
video chat on Facebook
using the camera key that appears when you start a chat or Messenger conversation.
In the function that allows you to make video calls on Facebook Messenger from mobile it is also possible to organize
group videochat
, up to 50 people visible on the screen at a time and up to 50 people connected at the same time. When more than six people are added to the video chat, it becomes a video conference where only one person is shown on video to all participants. To create a group video conference you must first create a group in the chat and then tap the video icon at the top right of the screen. Others can accept, in turn, by tapping the camera icon.
Group video calls on Faceobook can also be started using the function of
virtual rooms Messenger Rooms
, which can remain online and open indefinitely.
On Facebook it is also possible to go live liv
and be seen by all friends who will be able to comment on our video broadcast in real time.
To do this, you must this time use the regular Facebook app on Android or iPhone, press the key to write something and choose, among the various options, to
broadcast live
. The Facebook live can be described with a title and can be made visible only to friends or even to everyone or everyone except someone we don't want to see. During the live video it is possible to see who is watching us and then add special effects to decorate the video or to draw on it using the pencil button.
Finally, it is also possible to organize the
Facebook Party
.
Always using the app on Android or iPhone, press to write a new status and choose the function this time
Video Party
.
In this case there is no videochat, but the possibility of seeing the same video selected by us together with other people.
Facebook Group Videochat, Live Live and Video Party