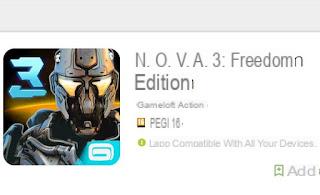 Most of the free games for Android that you can download on the Google Play store have a flaw: they have the inscription: "Offers in-app purchases", which means that inside it is possible to get upgrades, objects, advancements only by paying with money true. This defect can be negligible for some games, where however you can go on without problems, or it can be very limiting and discouraging, with only a few free levels or which even forces us to be careful with every touch you do because it can be paid .
In this article we try to find the
best 10 completely free games for android, without
, at least for now, the words "
Offers in-app purchases
"and I am therefore
100% free
, without tricks and without deceptions.
1)
Chess, dice and card games
by AI Factory Limited, a developer who makes games either 100% free or that cost a few Euros but then have no in-app purchases.
2)
Bombing Bastards touch
is a free (ad-supported) puzzle adventure game similar to the old Bomberman games, where the protagonist uses bombs to kill baddies so you can move on to the next level. It's not a very big game, there are 30 mazes in total with tons of items and power-ups to collect and five final boss fights.
3)
Fighting Tiger - Liberal
is a fighting and action game where you have to save the girl by beating the enemies with all the moves you can learn and also with the weapons that you collect. It is an old game, now completely free.
4)
GameStart Pixel Battle
was launched as a promotional game for the festival it takes its name from and it's not bad at all. The game is a side scrolling platformer shooter with various levels, different characters and weapons, with retro graphics, very fun and fast.
5)
It's a Space Thing
is an arcade-style shooter released in 2016 where you play by shooting from the bottom of the screen to the top. The controls are simple, but the gameplay is rather intense, the graphics are very retro, and with five bosses to face. Not least, you can also play against another person in multiplayer.
6)
The Lego games
, for the most part, they are completely free to play and without any in-app purchases. Some of the best are those from the LEGO Nexo Knights series, LEGO Ninjago, and many from the LEGO Star Wars series. Each game has its own mechanics, with most of them being action and adventure, combat or shooter games. This one from Lego is really a great surprise to discover, especially because all these are games suitable even for younger children.
7)
Mekorama
It is a 100% free game, where the word Offers in-app purchases appears in the store card, but only because within the game it is possible to make completely optional donations to its author. Mekorama is a minimal game, puzzle game, where you have to solve 50 levels where you have to find your way out. The game, with 3D graphics, allows you to rotate the scenario to find the best solution. It is very relaxing and with a download of a few Mega it is also excellent for low-end or older smartphones.
8)
NOVA Legacy
is the non plus ultra of free games without in-app purchases, the most popular, the most appreciated and the most downloaded. It is a high-level 3D shooter with a mission-driven story of saving the Earth from a race of hostile aliens. There is also a multiplayer mode where you can play with up to 12 players in total in various match modes.
NOVA 3 is still today one of the best FPS shooter games for Android and iPhone ever.
9)
Remixed pixel dungeon
is based on the Pixel Dungeon open source RPG game with lots to do and lots to explore. The game is free with no in app purchases, the writing on the card only indicates that it is possible to make voluntary donations to the developer.
10 )
Cube Escape
is a series of Rusty Lake puzzle games that are all completely free and 100% free where you have to find clues, put the puzzles together and figure out exactly what is going on and how to escape. There are currently eight games in the series all free, and even if the graphics are rather poor, the puzzles are certainly addicting.
11 )
Stickman dismounting
is a small simulation game in which the goal is to completely destroy a stickman (a little man drawn with sticks). In each level you have to try to creatively destroy the stickman to earn more points. Its peculiarity is in its physics and in the way you can see and appreciate how much damage is being done to the poor little man. The game is simple and not raw, but in some ways also a bit violent.
12 )
Ingress, the augmented reality game
which can be considered the predecessor of Pokemon GO, it is completely free to play.
13 )
Cytoid: A Community Music Game
is a music game (without purchases and advertising) where you just have to touch the screen when circles appear and slide your finger along the path shown. Whatever you do, music is played and a fun techno soundtrack accompanies the game.
14 )
Merchant
is a medieval RPG for fans, free and free from any in-app payment.
15 )
Freedoom
is the remake of the original FPS Doom shooter, free to play and with no in app purchases.
16 )
Shapik The Quest
, an exploration game with a beautiful story, puzzles and all for free.
18 )
ULTRAFLOW
is a minimalist puzzle game with super simple graphics, but quite challenging gameplay itself. If you liked it, you might as well play
ULTRAFLOW 2
.
19 )
Neon Shadow
is a pretty decent shooter game and completely free with no in app purchases.
20 )
DATA WING
is a truly amazing game where you have to race to the finish in various objective-based missions. The guidance system is reminiscent of Tron and just tap left or right to make the shuttle run in the chosen direction.
21 )
PewPew
is a multidirectional shooter action game with very minimal graphics. Simple and free, you can play without being bothered by advertisements or purchases.
22 )
Underhand
is a particular collectible card game where you have to become the leader of a sect and manage resources effectively. In the meantime, you need to respond to the event cards in order to expand the cult.
23 )
Wicked Liar
is a game where you have to build an underground dungeon in the way you want, then removing monsters and traps with the aim of sending invaders to the nearby city to destroy it. The heroes will react and attack the dungeon, which the monsters will have to defend as in tower defense games.
24 )
Battleheart
is a very nice RPG, with cartoon graphics, gameplay is easy enough even for kids, fun and addicting. There are several characters to choose from and the developer is quite active in updating and adding content.
25 )
Dragon's Blade
is a role-playing game set in medieval times, turn-based, with different categories of warriors, spells, spells, monsters, hundreds of hidden objects.
26 )
BuniBon
is a puzzle game with many levels, where a bouncing pig has to collect all the orbs, avoid or jump over obstacles, collect orbs and complete the levels.
Starrows
is a game with no ads or in app purchases where you can build a base and hire mercenaries to protect it.
28 )
Datawing
is an addicting fast-paced racing game set in a neon world, with very simple, yet super fast graphics.
29 )
ranDungeon
is an action game set in a dungeon with pixelated graphics, characters and objects to choose from,
30 )
Lonely
, to play solitaire of different cards without advertising or packs to buy.
31 )
GameStart Pixel Battle
is an 8-bit retro pixel battle game that will be reminiscent of the good old days of Mario. There are a number of characters to choose from and levels to overcome.
30 Free games with no "in-app purchases" or advertisements for Android