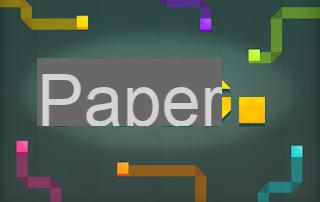 One of the funniest and most engaging game series are what we could call
.Io games where you play all together on PC and Smartphone
. These games I have in common the fact that
we all play together
, even in 100 players in real time
at the same time and in the same framework
, with different objectives and rules depending on the game.
For example we have talked in the past about two of the most successful io games: Agar.io where there are bubbles that eat each other and Slitherio where you have to eat the other snakes and become the biggest.
Now it's the turn of
Paperio
, precisely
Paper.io 2
, a game with many traits common to Agario and Sliterio, very ingenious, original, fun and competitive like few others.
The logic of Paper.io 2
, whose name comes from the fact that it seems to play on a sheet of paper to color, is that of some historical games of the early 80s such as
Qix or Xonix
, where it was necessary to color the screen avoiding being touched by a moving element.
Similarly, therefore, the purpose is to
color as much screen space as possible
but being careful not to get eliminated.
As in any other IO game, in fact, we are in the same picture with other people whose purpose is to throw us out.
The rules of the game are particular, but few, clear and well explained from the initial tutorial.
You must then move a square on the screen that to conquer space must go towards the outer space and then close a rectangle going back to its own space.
If trying to conquer new space, an enemy collides with the row before it is closed, we are eliminated.
If we color the space of another with our color, we can steal it from him, always being careful not to be surprised helpless outside our space.
The best strategy is to draw small squares and conquer space slowly, without ever going out too far.
As you conquer the space, you earn points and rise in the rankings with the aim of becoming number one.
At the end of each game, money is then earned for customizations and bonuses.
Paper.io 2 can be played for free online and offline
, both on an Android smartphone or tablet and on iPhone and iPad and also on the PC from the Paper.io 2 website.
The game is very addictive and brings together players from all over the world who can connect from home, work, office, even just for 5 minute games, trying to conquer the leaderboard and all the space on the screen.
Paper.io 2 on Android, iPhone and website