In less than an hour you are planning an important conversation on MSN (now Windows Live Messenger) but on the most beautiful one you realized you forgot your password to access the service? I know, now you're in complete panic but you have to be calm because there is more than one solution to solve the problem.
Take a deep breath and find out how to recover your MSN password through the tips I'm about to give you. You can try to retrieve your password from your Windows Live Messenger memory or reset your account password from the Windows Live website, all free and doable in a matter of minutes. Try it now, what are you waiting for?
The first attempt you can make to find out how to recover the MSN password is to scan the Windows Live Messenger memory and see if the program keeps the keyword you are looking for in its database. To achieve this goal, Messenger Password Decryptor, a free program that can recover passwords from Windows Live Messenger, GTalk, MSN, Trillian, Pidgin, Digsby and other instant messaging programs, comes to your aid.
If you want to try it, connect to its website and download it to your PC by clicking the green Download button three times in a row. When the download is complete open the archive you just downloaded (MessengerPasswordDecryptor.zip) by double-clicking on it and start the Setup_MessengerPasswordDecryptor.exe program to start the Messenger Password Decryptor installation process.
In the window that opens, click Run first and then click Yes and Next. Then accept the terms of use of the software, put a checkmark next to the item I accept the terms of the License Agreement, and click on Next twice in a row and then on Install, Reject (to avoid installing promotional software), Next and Finish to finish the installation process and start Messenger Password Decryptor.
At this point, all you have to do is click on the Start recovery button to start searching for the passwords saved in Windows Live Messenger and, if the program can find the account for which you lost the access key, click on Show Password (bottom left) to see the password in clear text. Easier than that?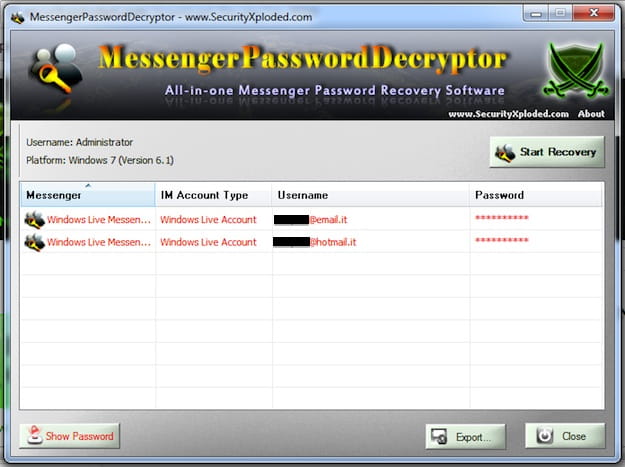 If the first method to recover MSN password fails, you can try to solve the situation by resetting your account password and setting a new access key. Then connect to the Windows Live website and, on the page that opens, click on the account access problems? item located on the right.
Then check the box next to Forgot Password and click on Reset Password to start the password reset process. Now type your Windows Live ID in the text field, type CAPTCHA confirmation code and click Next.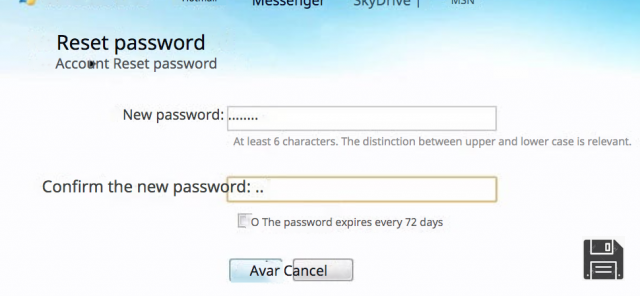 Now, make sure that there is a checkmark next to Send me an email message with a link to reset your password and click Next to get an email message with the link to reset your MSN password.
Then go to your inbox, open the message you received from Windows Live and click on the confirmation link contained in it. On the page that opens, type the new password you want to use for your account in the New Password and Confirm New Password fields and click the Next button to complete the operation.