From ForDataRecovery, we want to give you information on how to recover archived emails from Gmail. If you have unintentionally archived any Email or Message from this famous Search Engine, either from Computer, iPad or from Android, here we leave you the steps so you can unarchive and/or view the mail.
Have you received a new email message in Gmail and, when trying to read it, you have archived it by mistake? Have you archived several messages in Gmail, now you would like to retrieve them because you need some information from them, but you don't know how to do it? If that's the case, you don't have to worry, because I have all the answers you are looking for.
In today's guide, I will show you how to recover archived Gmail emails in a few simple steps. First, I'll explain how Gmail archiving works and how to easily find messages hosted on the service. Next, I'll explain how to retrieve a message from the web version of Gmail and its Android and iOS app.
Sorry, can't wait to start reading the tips I've prepared for you? If so, let's not waste any more time and start now. You just have to sit comfortably and dedicate a few minutes of your free time to me, so you can learn all the information you need and achieve your goal. It only remains for me to wish you a good reading and, above all, good luck!
Getting started...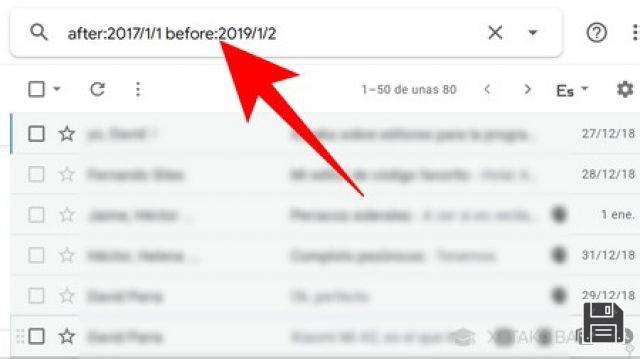 Before dealing with the topic of how to recover emails stored in Gmail, it seems appropriate to clarify the functioning of the Archive of the famous Google email service. In fact, you should know that the Gmail archive (as well as that of other email services) is intended to store all the emails that you do not want to see in theinbox, but that, at the same time, you do not want to delete.
Actually, you can also archive messages in other folders, such as those included insent messages , but extracting them from the archive will move them to theInbox folder.
Searching for messages stored in Gmail is done through a special search engine included in the service, which I will tell you about in the next chapters. However, in this regard, I want to suggest some operators that you can use to optimize your searches.
First, you can use operators from:, to:, cc: and bcc: to identify the sender or recipient of a message. These operators accept both the name displayed by the user and his or her e-mail address. So, for example, you will have to type the string from: For Data Recovery to locate all messages coming from the user For Data Recovery.
Another useful operator is the subject: operator, which allows you to search only in the subject line of e-mails. As far as the information in the message body is concerned, the has: operator might be useful. It should always be accompanied by a subject, such as those listed below.
has:attachment requires that only messages with an attachment are displayed;
has:drive requires that only messages with a Google Drive attachment are displayed;
has:document requires that only messages with a Google Documents attachment are displayed;
has:spreadsheet requires that only messages with a Google Sheets attachment are displayed;
has:presentation requires that only messages with a Google Presentations attachment are displayed;
has:youtube requires that only messages with a YouTube video be displayed.
As for attachments, you may also be interested in the filename: operator, which allows you to search for all emails containing a particular extension (e.g., filename:txt) or a specific file (e.g., filename:nomefile.txt).
Taking into account attachments, a message may have a certain size in bytes. In this regard, one can use the size: operator, which displays all messages exceeding a specific size in bytes, or the so-called small: or larger: operators that search for messages smaller or larger than a specific size, respectively. For example, size:5242880 shows all emails that exceed 5MB.
Finally, I also recommend the"before and after" operators, which allow you to filter messages according to a specific time interval. Note that the date format is US yyyyy/mm/dd, i.e. first the year, then the month and finally the day. You can type, for example, after: 2019/06/01 to filter all messages received after 01/06/2019.
Retrieve emails stored in Gmail from your PC
Where Gmail Archived Emails are Archived/Stored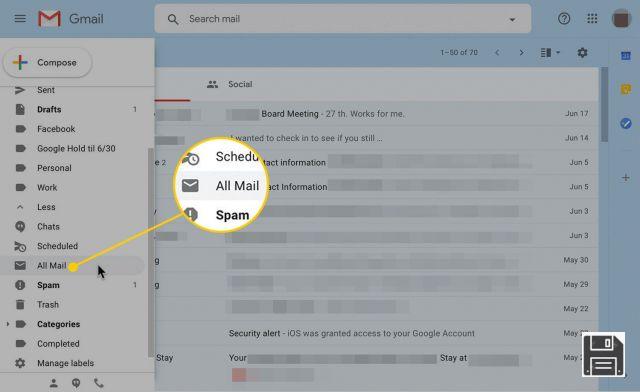 Recovering emails stored in Gmail is not a difficult operation. If you act like a computer, using the web version of Gmail, you can retrieve your emails using the procedures I will show you below.
First, open the browser you usually use to browse the Internet and access mail.google.com. After that, log in with your Gmail account, following the procedure shown on the screen. If you have any doubts about the login procedure, I suggest you read my guide on how to log in to a Gmail account.
On the main Gmail screen, use the search bar at the top, called Search in Mail, to type some of the terms in your message, which can help you find the emails you are looking for. To make things easier for you, you can use the operators I told you about in the previous chapter.
Alternatively, via the left sidebar, click on Other > All Messages to access the list of emails in your email account, including archived emails.
How to Unarchive an Email in Gmail
When you have found the email you want to recover and then move it to the Inbox folder, right-click on it and select Move to Inbox from the context menu. Alternatively, open the Inbox, click on it and then press the Move to Inbox icon in the top bar.
If you followed the procedures I outlined to the letter, your message will be available in yourInbox folder. That was easy, wasn't it?
Retrieving emails stored in Gmail from smartphones and tablets
How to View Archived Emails in Gmail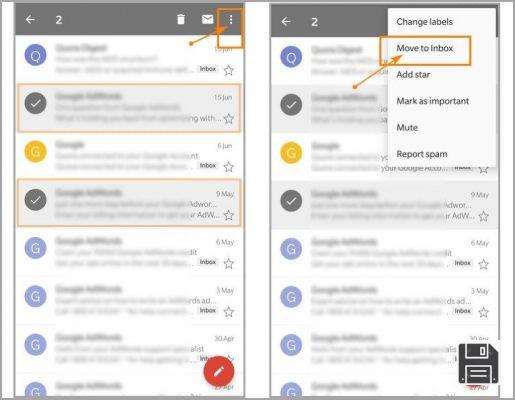 If you manage your Gmail inbox via the Android or iOS app, you can retrieve an archived email in a very simple way, similar to the one already described in the previous chapter of the tutorial.
First, launch the Gmail app (whose envelope-shaped icon is located on the home screen) and, if you are not already logged in, add your Gmail account by logging in with your credentials. If you have any doubts about how to follow the on-screen procedure, you can refer to this dedicated guide.
Now, on the main screen of the Gmail application, use the search bar at the top, Search in Mail, to type terms that can help you find what you are looking for. For example, you can enter some words you remember from the body of the message, or you can use the operators I mentioned in a previous chapter.
You can also find it directly in the All Messages folder, which you can access by clicking the ☰ icon and selecting All Messages.
Once you've located the archived email you want to retrieve, tap on it and click the three-dot icon in the upper right. On Android, select the one called Move to In box from the displayed items, and on iOS, select the one called Move to Inbox.
Alternatively, you can move an archived email directly from the message list by holding your finger on the email and tapping the three-dot icon at the top. In the box you see, select Move to Inbox, Android, or Move to Inbox, iOS, and you're done.
Frequently asked questions and answers
On the computer, go to Gmail.
On the left, click More.
Click on All.

How to unarchive Gmail emails on Android or iPhone Log in to the Gmail application from your mobile.
A pop-up window will appear where you will see the option "Move to inbox".
Click here and you are done.
So you will know how to view archived e-mails in Gmail.
13 May two thousand twenty
Open Gmail on a computer.
Find the archived message.
Check the box next to your message.
At the top, click Move to Inbox.

Compilation of frequently asked questions that our users have sent us and that our experts have answered.