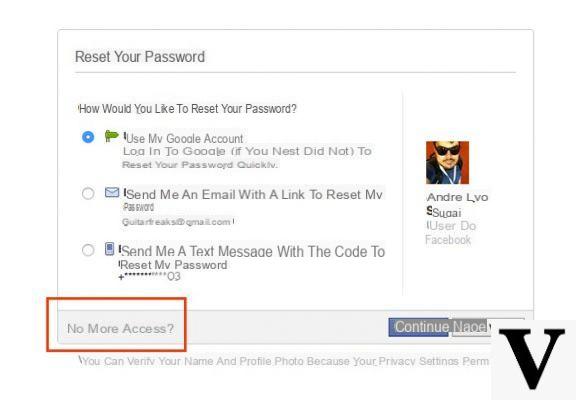 How to recover your Facebook password using your PC and your email
Have you tried to log into your account and immediately thought: "I don't remember the Facebook password"? Quiet, it happens to everyone! The fastest and most immediate way to recover your credentials is using the functionality present on the Facebook page using your PC.
Then open your browser, go to the main page of the site and you will notice that under the password to be entered there is also the item: "Forgot password?". At this point there are two alternatives:
Enter your email credentials: This method allows you to receive the reset code in your inbox. Just click on the link received, and then enter a new text string to replace the forgotten one.
Add your phone number: it is the possibility of recovering the Facebook password via SMS, in fact you will have to enter your phone number. This is certainly the most immediate method, since by doing so you will receive the Facebook SMS password reset code but only if you have already used your number to enter your profile. Once you have entered the digits you will have to press on Search and confirm the operation by pressing on Continues. Then enter the code received and then proceed to change your password!
Now that you know how to recover Facebook accounts from PC, we just have to look at the alternatives for mobile devices too!
I can't remember my Facebook password: how to recover passwords on Android and iOS
Would you like to recover Facebook passwords using your Android or iOS mobile phone? Is simple! The path to follow is different based on the operating system used, but here are the steps to follow for the Facebook mobile password recovery:
Facebook password recovery on Android and iPhone
Open the Facebook application on your device and click on "Forgot password?" Which is located below the boxes where to enter the login data.
Select your account from the list that is shown to you or alternatively press on the item I'm not on the list and enter your name, surname and email address.
If, on the other hand, you have associated the phone number with your profile, you can use it to receive the code to recover your Facebook password without changing it.
And on iOS? The path to follow in this case is almost identical, with the difference that below the list of suggested profiles, there is already the space in which to enter your email for recovery.
If you find your email already in the list, in both cases just click on Continue then enter the security code you received. Conclude the process by pressing once more on Continue and also choose whether to disconnect your profile from other devices to which it is connected.
How can I see my Facebook password directly on the app?
Actually you can't, but if you are already logged in with your account from the browser, for example from Chrome, once you have saved your password you can simply review it. That's how:
Open Chrome and press the keys at the same time ALT e F I awarded her Settings.
Scroll until you find the option Automatic compilation and click on Password.
Here you will find a complete list of all Saved passwords and you can even search for Facebook by entering the keyword in the right bar.
Passwords may be protected by the password you use on your PC (your fingerprint for some models), so press eye icon and enter it to be able to see your access code.
I forgot my Facebook password: the most common problems when you want to recover it
Have you already tried to recover your Facebook password but ran into some difficulties? Here you will find the most suitable solutions! Let's see what they are the answers to the most frequently asked questions of other users.
Facebook does not send me the code to reset my password: what to do?
If you have already entered your password but cannot find the email with the code, the first thing to do is check it spam folder to make sure it's not over in Junk Mail. If this is not the case and you have already tried several times to enter your email address or phone number, it could also be that you have entered an unassociated mobile number.
Retry entering your details after updated the browser or restarted the application. Finally, we recommend that you contact the Facebook help center, the only one who can truly verify your identity.
Someone changed my Facebook password
Facebook is one of the most used social apps in the world and therefore it is not surprising that it is also subject to many attacks by hackers. If someone was able to log into your account and changed your password, the solution is as follows:
Go to the main page and follow the instructions that appear after clicking on the item I forgot the password.
Enter the mail or phone number and wait for the recovery code to arrive.
Click on it and create one new password.
At the end of the procedure you can even choose to remove access to other connected devices, thus preventing those who stole your data from browsing with your profile. We also recommend setting up gods Trusted contacts, or family or friends who can receive the code for you, in case you lose your email or change your phone number. The last resort is always the Facebook assistance theme!
I'm having trouble logging into Facebook when using my mobile number
If you signed up for Facebook using your phone number and now you can no longer log into your profile, the reasons could be 2:
You got the number wrong, you have forgotten a few digits or the country code.
You have also entered special characters like the + or you added too many zeros at the beginning.
If these methods don't solve the problem, follow the directions above to perform Facebook password recovery via SMS or email.
I have reached the maximum number of attempts and cannot reset my password
The only solution in this case is I will attend 24 ore before trying to reset Facebook password again. To protect the security of your profile, Facebook has added a maximum limit of attempts, just to prevent cyber attacks by malicious people. If you can't wait, you can always contact the service center.
I haven't received the email to reset my password
We recommend that you check the box containing all junk mail or try the process again. Some users admit to having entered a different email and noticing it only after exceeding the maximum number of attempts allowed. To learn more, we recommend that you read our guide on how to see Facebook emails.
I can't reset my Facebook password
Changing a forgotten Facebook password is not always as intuitive as it is believed. In fact, you may encounter some obstacles, which can be solved with the following solutions:
Uses an alternative to recover the password: if you have attempted recovery with the email, enter your phone number and vice versa.
If you have forgotten the access data to the email account used for Facebook, try to contact your service provider, he will surely be able to help you.
Pay particular pay attention to the telephone number entered, special characters, and the amount of zeros used.
Finally, we remind you that there is a maximum number of attempts and that if you are blocked, you will have to wait at least 24 hours before trying again.
Is it possible to recover the Facebook password without changing it?
Of course yes! To reset your Facebook password without changing it, the ways to try are essentially 3:
Facebook password recovery through friends
The site allows you to set up reliable contacts to use as an alternative when you cannot receive your access code. If you have already selected people, just enter their credentials to recover the password.
How to recover Facebook password from mobile device
One of the good things about mobile devices is that passwords you have used are often automatically saved. On Android there is the so-called Smart Lock, linked to your Google account, which shows you the password by clicking on the option in the settings (Smart Lock for passwords).
Even the devices iOS save the data directly on the iCloud and in fact the path to follow is the following: Settings - Passwords - App and site passwords. To be able to view them you will need to unlock with the code, fingerprint or facial recognition. Older models always keep this information in Settings but below the wording Safari - Passwords - General.
Recovery from your browser
As we have already mentioned, the browser automatically saves the passwords you enter while surfing the net. Having already explained the path to follow on Google Chrome, here's what to do to find the Facebook password on other browsers:
Internet Explorer: If you have forgotten your Facebook password, know that Microsoft Edge can help you. To view all the saved pages, follow the path: Control panel - Web credential management - Facebook. To see it you will have to press on Show and enter the password you usually use on your computer.
Mozilla Firefox: also in this case the procedure is quite simple and in fact just press on the 3 lines at the top right, press on Option, Privacy and security, Saved logins and Logins and passwords, where finally locate Facebook. Click on Show password and enter the device password to recover it.
Opera: you will have to click on them at the top left, choose the item Settings - Advanced on - Confidentiality & Security - Passwords - Passwords and forms. It will be right here that you will find the Facebook password under the item Saved passwords. Press the eye icon and enter your password to view it.
Safary: if you use the Mac, know that you will find your Facebook password in the preferences and under the Password item.
How do I make my Facebook password more secure?
Are you afraid that someone might steal your data and want to take all possible precautions to prevent this from happening? Follow the tips below to make your profile security impenetrable.
Choose a password that is easy to remember but difficult for attackers to guess. Avoid the usual clichés like 12345, password, qwerty, your first name, last name and even your date of birth.
Always set different passwords, not only to protect your profile, but also the security of access data to other sites.
Opt for one long password consisting of special characters, uppercase and even numbers. Even more, it is advisable not to focus on words that are in the dictionary as they could be easily discovered.
Use a password generator and stores the resulting text string. There are even those who use phrases without spaces and long enough to be difficult to guess as an access code.
Use a method multiple identification, such as recognition by phone call or SMS, so as to prevent access to those who do not have a mobile device.
Keep secret your password, don't text or email it to anyone, not even people you trust.
Choose one difficult security question to guess, with a complex answer.
Install a good antivirus and make sure it's always up to date.
Only by using these methods will you be 100% sure that your data will be safe. Be careful though! To make sure you don't forget it, write down the password you just created on a piece of paper and keep it in a safe place!
Other articles on Facebook:
See deleted Facebook profile
How to return administrator of a Facebook page
Recover permanently deleted Messenger chats
How to recover a deleted post on Facebook
Recover deleted friendship from Facebook
How to recover received and canceled friend request
How to recover Facebook history