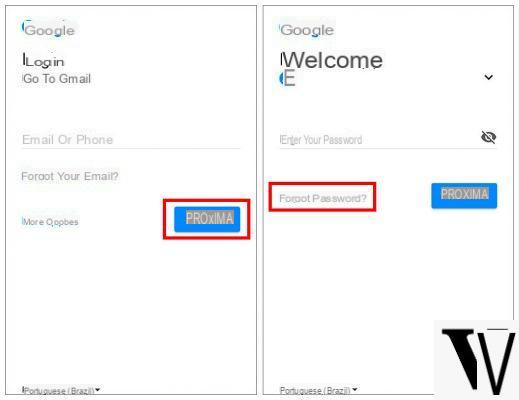 How to recover your Google Gmail account via the standard recovery procedure: Forgot password?
Gmail gives you the ability to recover your forgotten Gmail password in a few simple guided steps. Choose the one that's right for you and recover your Gmail password and account in an instant with a text message or email. Here is what you need to do:
First, open the Gmail login page and click Forgot password?
Enter yours email address associated with your Google Account or yours cellphone number.
Now you have it available three methods for the recovery of the forgotten password of your Gmail e-mail: by e-mail, by mobile phone, by secret question or by the last password. Here are the steps to follow for each:
Recovery email
Enter the recovery email address (whose password you remember).
You will receive an email with a link, so click on it.
Create a new password and then click on Confirm and save.
Phone Number
Please enter your phone number.
You will receive a text message with a verification code to be inserted in the space provided.
Create a new password and then click on Confirm and save.
Secret question or last password you remember
Reply to Secret Question that you set when opening your Google Account or enter thelast password that you remember using for this account.
Click on next and wait for a page to open where you can create a new password.
Create a new password and click on Confirm and save.
How to recover Gmail password without changing it: the passwords saved in your browser
If every time you use a new password the Browser asks you "do you want to save this password?"You usually press on"save", Then you can easily find your saved Gmail password and recover your account without having to change your password!
The browsers that allow you to do this are Chrome, Firefox, Opera and even IE. Let's see in detail what are the steps to follow to recover gmail password without changing it!
How to recover Gmail password if you use Google Chrome
Have you always used Chrome to browse and save passwords for various sites? Fortunately, the procedure to follow to recover the forgotten gmail password is simple. Here's what you need to do:
Open your browser and click on the icon (⋮) at the top right of your Google Chrome tab.
Click on Settings, Scroll down and click on the option Password in the menu.
A panel will open at the top right of the magnifying glass icon. Here all you have to do is write: "Gmail" or "Google".
Scroll down to see your saved passwords and to view the passwords click on the eye icon and enter the Password or PIN of your computer.
And here is gmail password reset!
The procedure to follow on Firefox
Firefox also saves all your passwords, allowing you to recover them in a few simple steps. Here are which ones:
In the browser, click on the button with the 3 lines at the top right in any Firefox tab.
Click on Credentials and passwords and in the menu that opens next to the magnifying glass write "Google" or "Gmail".
The results obtained will open in the sidebar and just click on the eye icon to view the saved passwords.
What to do if you use Internet Explorer
Few people know that it is possible to recover gmail password directly from Internet Explorer. That's how:
Click on the button Home at the bottom left of the screen and write "Control Panel"In the menu that opens next to the magnifying glass.
Click on "Control Panel" and type "password" in the search bar.
Click on Manage credenziali and in the window will open on the right, click on Web credentials.
Search for Gmail or Google and click on the password you don't remember.
To view it, just press the button Show.
Gmail account password recovery with Opera
Are you using Opera and still haven't been able to find the procedure that will help you find the lost gmail password text? Here it is:
Click on the button options in the upper left corner and click on Privacy and security.
Press on Manage saved passwords and scroll down until you find your forgotten Gmail password.
Click on Show and inserted the access password a Windows to view saved passwords.
I forgot my Google Account email address - what do I do?
If you have forgot e-mail address linked to your Google Account e you can no longer log in to your inbox don't worry. Follow these simple guided steps for quick and easy recovery of Gmail credentials.
Go to the appropriate Google page to find your username and once the screen opens you have two options to proceed:
With the recovery email address:
Enter the recovery email address and then open the inbox.
In a few seconds you should have the email sent by Google with the verification code as the first in the list.
With recovery phone number:
Enter your phone number along with the name and last name linked to the account.
Choose to receive the code through a text message or a automatic phone call.
To conclude the process, all you have to do is enter the verification code received and wait for the page with your Google Account to open. Enter your new password and log into your account!
Gmail password recovery impossible - I don't have a phone and no other options work
If you have lost your Gmail password and cannot access an alternate address or your own cellular, if you have forgotten the answer to the Secret Question and Google Account recovery is impossible at the moment, you can resort to the last option: leave an email address to which you will be contacted at a later time.
Tips for recovering your account
To give you extra help, here are the extra tips we have prepared for you. To make sure you recover your forgotten password, here's what else you can do:
Use the device, browser and internet line that use more often.
Make sure you enter your password, email address, phone number correctly and respond to more than a security question.
If you can't remember the last password you used, try the one that seems most likely to you.
Try different variations of the answer to the secret question (eg Luigi, Gigi, luigi).
Never save or share your passwords outside the Google page (e.g. in emails or social media). This could put you at risk of a hacker attack.
Try to solve your problem using Google Support
If no other method has worked, there is still one last method you can try: by contacting customer service or using Google's help. Their team of experts will be able to tell you which solutions to apply in your specific case!
Check the security settings associated with your Gmail account
After changing your password by creating a new one, Google will ask you to check your settings safety associated with your Gmail account and Google in general. We strongly recommend that you follow it step by step and equip your account with a better one protection.
Enter a recovery phone number and recovery email address.
Tax a secret question with an answer that only you know and that you are sure you will not forget.
Uses Special characters, numbers and even phrases that you will surely remember.
Configure others Access mode (via phone or App) that will facilitate you in case of a possible password reset.
Never share your password and don't be fooled by any suspicious emails or messages.
How to recover a Gmail account: let's clarify any doubts!
If you have already followed the methods we have indicated, but you still have some questions or doubts, we are here to solve them! In the following lines you will find a section with the frequently asked questions on password and Gmail account recovery. Let's read them together!
Is it possible to recover the Gmail password with the SMS?
Yes, you can recover Gmail password via sms. In the recovery phase enter the your phone number and within seconds you will receive a sms with verification code. Enter it on the Gmail page to create a new password and quickly access the blocked account.
Is it possible to recover Gmail password without mobile?
Si, you can recover your Gmail password without using your mobile, by relying on arecovery email. In the recovery phase, enter your recovery e-mail address and log in directly from your computer to open the message sent by Google and view the code. Enter it on the Gmail page and create a new password that allows you to view your emails.
How can I change the Gmail recovery email?
The process is really simple! Here's what you need to do:
Log in to your Account Gmail and click on the small gear in the upper right.
Click on Settings then on Account and Import.
In the Change account settings section, click Change your password recovery options.
Verify identity and then access back to the Account.
You will know that the process has finished because a page will open where you can delete or modify the recovery email!
Is there an app that helps you find out Gmail passwords?
For security reasons, Google does not offer any type of service or direct assistance for accessing your account or password, so we strongly recommend that you do not disclose never your passwords or verification codes off the Google page. Pay attention to Apps, messages, emails o suspicious calls.
Is it possible to recover the deleted Google account?
Yes, you can recover a deleted Google Account by following the Google support link for Account Recovery. You will need to verify your identity and then follow the step-by-step directions to recover the data! To learn more, carefully read our guide on How to Recover Deleted Google Account!