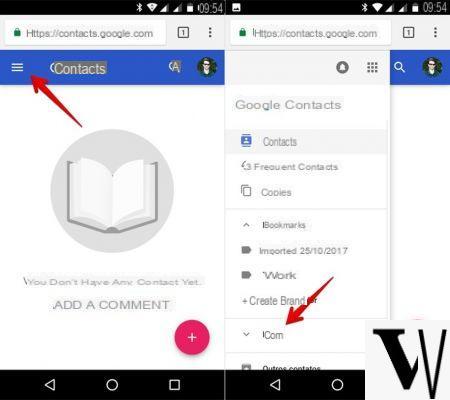 How to recover your contacts through Google
If you have deleted one or more contacts by mistake, or after having deleted them you have realized that in reality you still need them, do not worry it is possible to recover them. If you have deleted the contacts from the Google Gmail address book from less than 30 days you can move them from the Trash and restore them.
Let's see how, through simple steps, you can retrieve the phone numbers of your address book from Google:
Open the Browser and go to your Google Contacts page and scroll down the menu on the left and click on
Now all you have to do is select the boxes of contacts to be recovered or One contact, multiple contacts or even All contacts (click at the top on Selection actions and then All).
Click on the top left Recover and ends the operation.
If you are using a Android device, visit the complete guide on how to recover deleted contacts on an Android device.
But be careful! Contacts that have been deleted from "Other contacts" will not appear in the Recycle Bin, but you can still restore them by undoing all the latest changes made in the last 30 days.
How to restore Google contacts via Backup
What if you've lost your contacts before, or have you just recovered them and are afraid you might lose them again? Are you a cautious person and simply want to prevent loss? Know that there is a simple solution: you can save a copy of the phone numbers of your address book via Google!
Don't know how to do it? Here are some quick and clear steps for import, export o back up of your contacts through Google.
How to export contacts from Gmail manually
If you want to make a copy and secure your Gmail contacts on your device or external hard drive you need to export them. This operation can be done manually, but don't worry, in reality the whole operation is more simple and fast than it may seem. Let's see together how to export and save your contacts in a few steps.
First, log into your Google Contacts page via your computer.
Now select the contacts you want to export, just as we have already explained to you. A single contact, More contacts o All contacts by clicking at the top on Selection actions and then All.
In the menu on the right click on Export, then select Selected contacts o All contacts.
Choose the format in which to export the contacts: we recommend you CSV or
Proceed to the end of the procedure and keep your contacts in a safe place: a folder on your computer, hard drive or Google Drive.
How to backup contacts via Google Takeout
If you want to save a copy of the contacts in your address book on Google you can back up your contacts via Google Takeout, it sounds complex but it is not, follow these simple steps and secure the phone numbers in your address book!
To get started, go to the Google Takeout page on your computer.
A page will open with all the available services, deselect leaving all boxes active only that of
After that you will be asked to choose the format to export contacts to (it is advisable to use the CSV o vCard).
Click on NEXT and proceed to create a archive.
After creating the archive you will receive a email on your Gmail account with link, click it to download. If you have lost your Gmail password and want to recover it, we recommend that you read our guide carefully: how to recover gmail password.
The archive will be downloaded in .zip, click on it and take it out in a folder on your device to access the file containing your address book contacts.
Guide to import your contacts from Google
Once you have backed up your phone numbers to recover through Google you must import it from the Backup file, let's see together how to do it quickly and easily. Please note:: before proceeding make sure your contacts are saved in CSV o vCard, of not having passed the limit of 25.000 contacts and if you want to import more than 3000 contacts split them into multiple files.
How to import contacts from a file
Access Google Contacts from a Browser and from the menu on the left click on Import.
Click on Select file and choose the fillet on your device, then click again on It matters.
How to import contacts from a Gmail account
Open the Google Contacts page on your computer and log in to the account you want to import contacts from.
Scroll the menu on the left and click on Import, Then Select file.
After choosing the fillet click on It matters.
Gmail Contacts: the app for syncing, importing and restoring Google contacts
Do you want to keep your Google contacts organized and up to date? You are afraid of losing your phone numbers and would like to have a safe method to be able to recover them quickly and easily? Download the Google Contacts application and solve all your problems! You can use it on PCs, smartphones and tablets.
The Google Contacts app allows you to add o eliminate contacts in an easy and fast way and to view them, on any device, based on the account used so as not to mix affections and work, also in your Google account you can to backup of your contacts safely and quickly without too many worries.
Here's how to sync Google Gmail contacts:
Open the application Settings on your device, go to Google and click on Account Services.
Select Synchronization of Google Contacts to choose the option It also syncs your device contacts.
Finally, select Automatic backup and synchronization of device contacts.
Why have all my contacts been deleted from the Google account?
As we have seen in the article on how to recover deleted emails from Gmail, if suddenly all your contacts have disappeared, the reason can be traced to three main causes:
The account was violated.
An application or a program It does not work properly.
If the messages have disappeared from a single device then there is a sync or settings problem.
Unable to import contacts - what to do?
Have you tried to import your contacts to Google but the process was not successful? When there are problems importing contacts, the cause can be traced back to three different situations: let's see together why and what you can do to be able to recover your contacts.
You are importing more than 3000 contacts: split them into multiple files in CSV format.
You have exceeded the maximum number of contacts: 25.000. In this case you can try:
If there are contacts in the trash, delete them
Export contacts, back up and delete the contacts already saved
If there are duplicates, merge contacts
Contacts are not formatted correctly - make sure they are in CSV o vCard, download a template here.
If you continue to have difficulties or doubts, don't hesitate to leave us a comment below or open a discussion directly on the Gmail Help Forum!
Google address book: we solve all your doubts!
If you have already tried to apply the methods mentioned above but continue to have doubts or concerns, we recommend that you read carefully the experts' answers to the most frequently asked questions! Let's see them together!
Where are my Google contacts saved?
You can find all your contacts on the Google Contacts page, just log in to view them. Alternatively, you can log in to your Gmail account, at the top right click on theshortcut icon (the one that resembles a chessboard), there you will find thecontacts icon, click on it to view them.
How do I add new Google contacts?
To add new contacts, all you have to do is go to your Google Contacts page and click on the top left Create contact. Select Create contact or Create more contacts and enter the relevant information, then click on Save.
Are Google contacts and Gmail contacts the same thing?
Yes, in practice they are the same thing but it is not possible to directly access Google contacts on Gmail, even if you can view them through theshortcut icon found at the top right of your Gmail account. Or if you are using an Android device open theContacts App, is that of Google. If you want to view your contacts, go to Google Contacts.
What is Google Contacts used for?
Google Contacts is a way to effectively organize information contact details of the people you interact with. In a single contact you can enter name, address, telephone number, e-mail, profession and other additional information.
How many contacts can I have?
You can keep them in Google Contacts up to 25.000 contacts. Additionally, the space capacity for each individual contact has been increased from 32KB to 128 KB.
Is the Google Contacts service free?
Google Contacts is Google's contact organization tool and it is part of Gmail's free mailing service, so yes, it's free.
How can I see my Google contacts in the Gmail app?
Open the Gmail App on your phone and click on the icon with the three horizontal lines, from the menu select Contact Us. It is therefore not found in Gmail, but in the aforementioned App.
Where do I find hidden contacts in Google Contacts?
If you are using an Android device, open the Gmail App and click on the icon with the three horizontal lines. Select Settings and then click on Hidden contacts, to view them click on Show. Otherwise, open the Google Contacts page and select Other contacts.