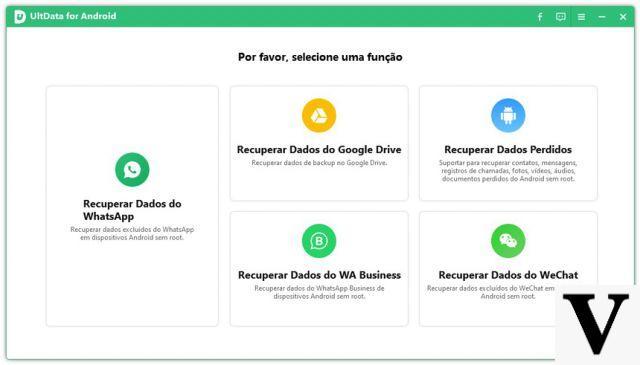 The best apps to recover call log on Android
In addition to these two options to retrieve the call log, there are also applications designed specifically for this purpose. In this paragraph we will analyze them one by one, so that you can decide which one is right for you and which one suits you best.
EaseUS MobiSaver Android
This application to recover data its main advantage is that it is free. Unfortunately there is no Italian version, but if you are familiar with English, French or German, you will be able to recover the data as it is a very intuitive application. With this application you will not only be able to retrieve the call log, but also photos, contacts, video messages etc.
Intuitive, easy, fast and free. Everything you could want from an application, and before restoring the data you have the option to see everything in detail, this allows you, for example to copy the phone number that you had lost and avoid restoring all the other data that actually you had voluntarily deleted.
App Dr. Fone
The points in favor of this application are the well done graphics and the ability to use it in language of your country. Depending on what you want to recover it turns out to be paid for the full version.
Badly reviewed from the users who used it and after making the payment, they not only say that they were unable to recover the data, but that after the installation they ruined the safety of their smartphones. Be careful before downloading it if you don't have Android knowledge!
This application is also capable to recover most of the files and data on your smartphone, from videos, messages, contacts and calls.
Call History: Any Number
When you decide to download this App you should keep in mind that it cannot retrieve the call history that was deleted from the phone prior to its installation.
The user will be able to benefit from the Call History: Any Number functions only after the download has been successful.
This application allows you to keep forever the call history. They are saved in a excel file and categorized according to their type, in order to facilitate access to the user should he need it.
As a method of prevention you can always use the automatic backup, a clever option that allows you to always protect your data.
The function is also interesting "View SMS history" which allows you to consult the details of the messages that have been exchanged with certain contacts.
Call Details and Call History
Application in English with the aim of recovering the call log of your phone number or that of other people. All data can then be shared with friends and family and other contacts.
You will also check to which operator and to which state a phone number belongs, the application can be downloaded for free, even if there are paid products within the application.
Call Log Editor and Backup
An application to create a call log on your mobile completely false and as you wish. Hours, information numbers all selected by you, as you prefer. Easy and intuitive to use.
The icon of this application is the same as that of the phone, so guarantee your privacy, you can use it offline, the information can be restored in case of an online backup, and it has no advertising.
Because you may lose call log on android mobiles
Are you noticing that you have been losing your call log information lately? You actually thought it was you for I err to cancel the calls when in reality you have been attentive and you have noticed that you were not touching the register, but they disappeared without any explanation? Let's try to understand what can be the causes why this is happening.
You may have a virus in the mobile
Your phone is not working as it should, is broken
Your phone yes turns off suddenly losing data
You made a factory reset
Operating system update without backing up
If the reason is one of the first three points, you need to go to one specialist able to fix your smartphone or even proceed with the purchase of a new mobile phone.
If, on the other hand, you lose your call log for the last few reasons, we recommend that you always make a back up in the manufacturer's account before doing any updates or restores on the mobile.
Tips for managing your call log
As a first rule you need to know that the call log will be able to contain a maximum of 1000 latest calls, be these incoming, outgoing or unanswered calls.
How can you best manage your call log to get everything sorted?
Save all numbers, even if you know them by heart: if you receive a call from a number you don't know, save it immediately, so you don't forget.
Try to save contacts with name and surname, this will make it easier to find them
If they call you from the call center for promotions or things you don't care about, block those numbers
Among the many functions that an Android smartphone offers is that of group calls for missed, rejected for duration and also, if you have a mobile phone dual sim, to check the log in a different way.
But the most important thing is to always back up so that thanks to your account you can always retrieve the information without having to go through complicated applications and platforms that require much more time and complications.
We hope this article was useful to you and that you managed to retrieve the information you needed!
Would you be interested in it…
How to recover contacts from an Android phone
How to recover data from a broken cell phone
How to recover deleted SMS Android
How to recover and restore photos and videos on Android
How to reactivate the Play Store?
Recover deleted Android icons