Use the right hashtags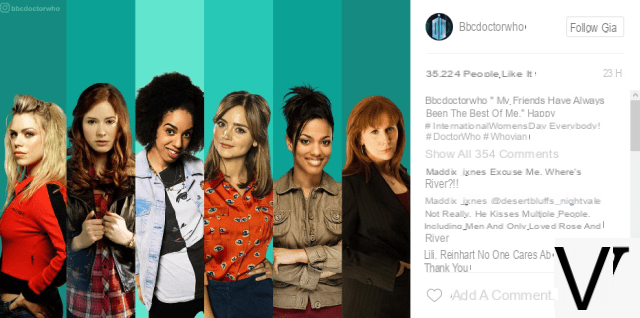 The first tip that you absolutely must keep in mind for have more followers on Instagram is to use the hashtag. These are labels that add tags to our shared images, categorizing them. The purpose of the hashtag is mainly to summarize the subject of the photo, but it is also a metadata that allows you to reach a greater number of audiences, increasing the visibility of the shared content.
Instagram gives you the ability to enter up to 30 hashtags per shared content, and media with hashtags generally get more audience interactions. But be careful, because the hashtags should not be inserted randomly: instead, you have to choose among the most relevant and popular ones. Often times, in fact, Instagram users perform searches starting from the hashtags, to immediately identify what interests them and find new users to follow.
Basically, if, for example, we decide to share one of our selfies, the hashtags we insert in the photo must be related. If this is your first time using hashtags on Instagram and you don't know where to start to understand which hashtags to use, don't worry, I can help you by pointing out some free tools.
To search for the most popular hashtags, you can use websites or applications for smartphones and tablets. Among the most used are the website Top Hashtag, the application for Android and iOS Tag for Likes and also the website All hashtag.
Look at the list of the most popular hashtags through one of these tools that I have recommended to you. If among the most popular hashtags there is someone in line with the content you want to share, use it without problems. The main tip I can give you in using hashtags is also to be as specific as possible. As we said, if for example you post a selfie, you should use specific hashtags like #selfie, #me e #photooftheday. Hashtags must be written in English, there is no need to translate them, they are used in this way all over the world.
Use the filters and invent your own style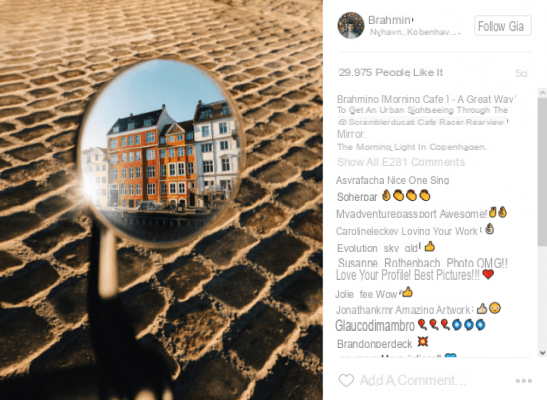 One of the best advice I can give you for have more followers on Instagram it's about the originality factor. If you want to become popular on Instagram you have to get noticed and to do that you must definitely stand out from the crowd.
First of all, however, try to have clear ideas and identify what type of content you want to share and to which audience you want to target. If, for example, you have a hobby or a passion, you might want to think about putting it at the center of your Instagram channel. Once you have found these answers, try to see if there are other users on Instagram who have the same passion as you, study their content and think about how to differentiate yourself. In a nutshell, the suggestion is to understand how to convey your messages, while trying to differentiate yourself. You will absolutely have to give a personal and original touch to your Instagram account.
I know it's not easy to invent your own style from scratch, but originality is definitely the key to success. The trick is to publish content that has your signature, that is, an original and personal touch that always distinguishes them. This way users will become attached to you and your style and will recognize your photos among all the others. Take your time to be as creative as possible and tell a story through your account. You will see that people will get passionate.
One tool you can use to create stunning images are filters. This is because filters were the tool that, of all, made Instagram a popular social network. Instagram filters enhance shared photos and give them a unique and original look. In addition to the most popular hashtags, there is a list of the most loved and used filters, capable of getting more likes on photos. Which are the most popular? According to some studies, the most captivating ones are Earlybird, X-Proll, Hefe, Rise, Valencia, Amaro, Brannan, Lomo-fi, Hudson.
It may seem absurd, but if a photo is really good for you, you can also choose not to use any filter, and then use the hashtag #Nofilter. Instagram users sometimes appreciate the natural beauty of a photo more than a beautiful but visibly retouched or edited photo through an Instagram filter.
Interact with the community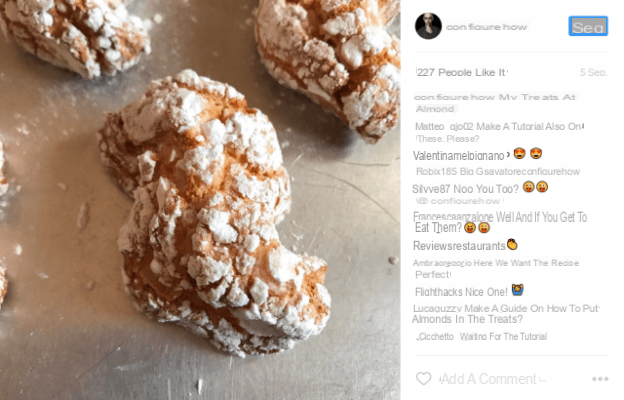 Since Instagram is a social network, another thing you absolutely must do to get noticed and have more followers is interacting with other people. But be careful: interacting does not only mean liking, but also commenting. Once you are familiar with Instagram, you will certainly notice that most people interact with other users through likes and less through comments.
Like is a somewhat anonymous tool, in my opinion, while if you leave a comment on a photo you will see that you will not go unnoticed. My advice therefore is to spend time on the Instagram profiles of other popular users who post content on the same theme with those of your account. Like and comment on their content, you will trivially use their popularity to get you noticed.
For example, you can ask other users for advice or ideas, involving them in your content publishing activity. Try to create relevant discussions, make constructive criticisms and comments, stimulating dialogue. Spam, commenting only to invite users to follow your channel does not lead to anything, you must first make yourself known and appreciated.
Be a friendly and positive person, maybe you will attract the attention of famous people and have more followers because of the personal relationships you have established with other users. By dint of interactions with other users it may be possible to establish a friendship or a mutual interest towards one or more people. If you've bonded with someone more famous because you share a mutual interest in posted content, maybe you could ask them to help you grow. For example, ask him to create a collaboration, in this way you can give each other support and mutual visibility.
Expand your audience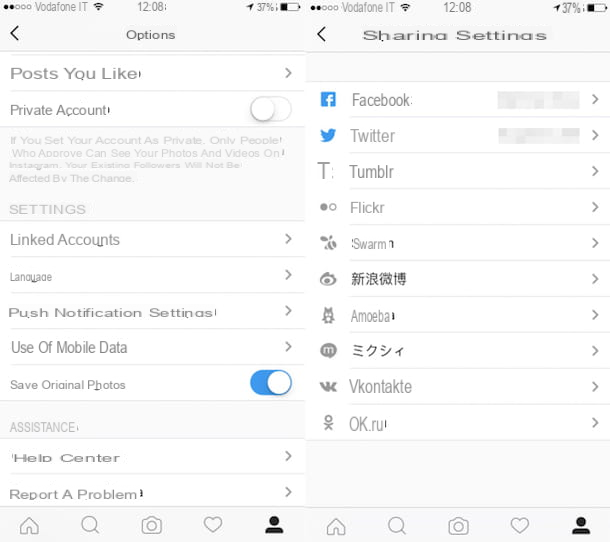 One of the most useful tips I can give you for have more followers on Instagram is to connect your profile to other social networks, Facebook, for example. By connecting your Instagram account with that of Facebook, all the contents you share on the photo social network will be automatically shared on Facebook as well.
To do this, just go to your Instagram profile and press the icon of thegear located at the top right. In the section Settings, play the voice Linked accounts, then select Facebook from the list of social services available.
By linking your accounts and giving permission to publish, Instagram will automatically post your content on Mark Zuckerberg's social network as well. To do this, just select the Facebook button being published: the app will take care of sharing.
Another thing I recommend you do to expand your audience is to apply the tips contained in my guide on how to increase your visibility on Instagram: consult it and you will see that you will not regret it!
Other useful tools for getting more followers on Instagram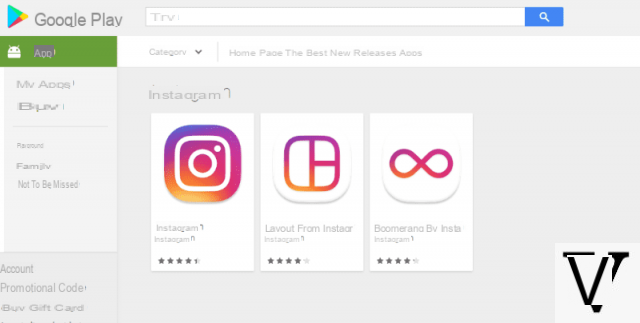 My guide for have more followers on Instagram it's not over yet, I have further advice. Take advantage of all the tools that the photographic social network makes available to you. Also, don't limit yourself to posting photos; also make and share videos.
Among the other Instagram tools you can use to share photos and videos in a fun and captivating way, there are Stories and direct. If you love to show off, you can share your days in real time through the Stories, status updates that will be visible at the top of the screen Home. Instagram stories they are in fact advanced tools through which you can share photos, videos or record a live stream, draw on photos, apply filters and stickers in real time or create very short looped videos. Use the Stories o broadcasting a live video is a great way to arouse curiosity and make yourself known.
Push the button Your Story at the top left to start recording short videos that will tell moments of your day. Recorded and shared videos are only available for 24 hours, then disappear from the social network.
As regards instead the direct, did you know that you can also make a live broadcast in the company of a friend and follower? Sometimes the most shy people are reluctant to make a live video but, through the new Instagram sharing tool, you can split the screen and ask your friend to keep you company during the broadcast. In addition to being a great way to break the ice, it's a great way to engage your followers. To find out more, read my guide in which I explain how to do direct on Instagram.
Other advanced Instagram tools for sharing photos and videos are the official applications layout (Android e iOS), Boomerang (Android and iOS) e Hyperlapse (IOS).
I'll explain them below in detail:
Boomerang: is an app available for iOS and Android that allows you to create mini loop videos to be published on Instagram. A widely used tool that generates many interactions.
layout: another of the official Instagram applications that allows you to make photo collages to publish.
Hyperlapse: the official Instagram app that allows you to make time-lapses. The app uses a technology integrated in iOS devices and is able to cancel the blur.
How to get more followers on Instagram