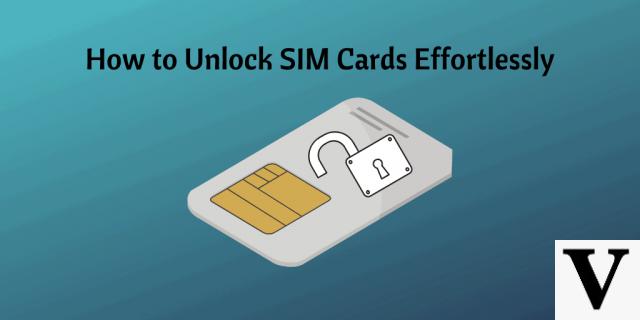 How to recover PUK CoopVoce
It might seem like a challenging undertaking, but retrieve the PUK code of the CoopVoce telephone company is simpler than you can imagine.
There are various methods you can try to get hold of the code scope, all listed below:
Check the packaging of the SIM Card
The first thing to do to make sure you still have the PUK is to check it out purchase packaging phone card.
Each new SIM card is associated with a Personal Unblocking Key, a code consisting of eight digits which for no reason can be changed or replaced.
This is usually found on the plasticized support that accommodates the SIM itself, hidden by the classic silver paint which then has to be scraped off.
If, therefore, you still have the original packaging of the purchased card, then most likely you also have the PUK code.
Download the CoopVoce App
Another road that could be taken to try to retrieve the PUK code is that of the Apps. Just download the appropriate application made available by the telephone company CoopVoce and register as a new customer to access an infinite number of services.
In this specific case, after logging in, you must follow the necessary instructions until you reach the "PUK" item and, finally, click to retrieve the precious eight-digit code.
La App CoopVoce is available to download both for users who own an Android device, and for those who use the iOS operating system:
Log in to the Customer Area
To manage your account independently, without necessarily having to be assisted by an operator, just log in toCoopVoce Customer Area.
Registering for the service is simple, fast and secure. To log in, you must enter your Username and the Password that we have associated with it.
Once you have entered the area dedicated to customers, you will have to follow the specific instructions to complete the operation you want to carry out.
In this specific case, you will need to follow the entry "PUK" and click on it to get the eight-digit code.
Ask for telephone or email assistance
THECoopVoce customer service boasts a very detailed service, to meet the needs of all its users and to be able to answer as many questions as possible.
To obtain all the information regarding CoopVoce offers and promotions, and to receive support of any kind, the virtual mobile telephone operator provides a toll-free number that you can contact at any time, 188.
This telephone line is active every day, 24 hours a day and is free for all those who call both from abroad and from Italy.
We remind you that, to protect the privacy of all its customers, operators cannot provide data relating to the security of Coop SIMs by telephone, such as the PUK code, for example.
Those who, on the other hand, prefer a more direct communicative approach, without having to request the assistance of an operator, can use a email service made available on the Company's web portal.
Finally, for any doubts or to consult the general information made available by CoopVoce, we invite you to read the page dedicated to Frequent questions.
Consult the social pages
CoopVoce is also actively present on SOCIAL MEDIA. All customers who wish to contact the telephone company through its official pages can visit:
Once you have called the operator's attention with a comment or a private message, you have to wait to be contacted to discuss in detail any problem or doubt we are experiencing with our SIM card.
As for the PUK code, customer service will most likely not be able to satisfy our request, at least immediately, but will be able to assist us in the best possible way by advising them on the best way to take.
Request a new SIM card
Get to request a new calling card it is the last solution we have to be able to manage our database and our network again.
But under what circumstances are you forced to make this decision?
We know that there is a risk of disabling the SIM card if, by mistake, you enter the wrong PIN code more than three consecutive times. This mistake can be rectified, and the card can be unlocked if the Personal Unblocking Key can be provided.
It should be known, however, that there is a risk of deactivating the SIM again, and this time permanently, if you type the PUK incorrectly for more than ten consecutive times.
At this point, the only thing left to do is request a new calling card. We would like to remind you that it will be possible to keep the old telephone number, but that we will be given another eight-digit code.
How to find the PUK code:
How to find Vodafone PUK code
I lost the PUK Tim
Retrieve PUK Wind code online
Iliad recovered PUK
Retrieve Fastweb SIM PUK code
Postemobile PUK lost
PUK Coopvoce
PUK code I Mobile