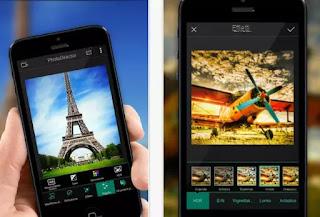 Improving mobile photos can mean two things:
-
Enhance the blurry or grainy photo
, to make it more defined and of better quality.
-
Enhance the photo by adding filters, effects and edits
in order to make a normal shot special and fantastic.
In both cases, there are numerous programs and tools that you can use, including some smartphone applications that make the job of improving photos super easy and even fun, both in the case of normal photos and those that come out bad.
Below, therefore, we are going to list the
10 best apps to enhance photos
su
iPhone e su Samsung Galaxy, Huawei
and any other smartphone other than iPhone, i.e. with an operating system
Android
.
1)
PicsArt Photo Studio
, free for Android and for iPhone is certainly one of the first apps to be installed on a smartphone.
It is a very powerful editor, easy to use, with many automatic tools to improve image quality and add effects such as frames, borders, stickers, text and much more.
The app also includes the camera to be able to apply effects in real time, directly on the shot.
2)
Google Snapseed
, for Android and iPhone, has been one of the best photo editing applications for years, making it easy to apply even the most complex effects.
You can correct bad photos with this application, even those that are blurry or grainy, and then add special enhancement effects such as black and white, such as filters, such as changing hue and brightness.
Unfortunately, it lacks some appeal in the interface graphics and is a little less spectacular than others like PicsArt.
3)
Pixlr
by Autodesk, for Andorid and iPhone, is another of the fantastic apps in the field of photography, which offers tons of photo enhancement tools and tons of effects to add a special and unique touch to each image.
Among the main features in this application we have the tool for creating collages, color balance with automatic correction, selfie enhancement and removal of skin blemishes and red eyes, frames and borders.
4)
Photo Lab
, free for Android and iPhone, is an app with more than a million installations that allows you to create easy photomontages.
Among the special functions of Photo Lab we have those to create photomontages by putting yourself inside a virtual postcard or other fun scenarios, the possibility of creating frames and collages, filters to add and then also the possibility of adding mustaches, hair to the face, to put yourself next to it. a celebrity and to enter a photo by swapping someone's face with ours (faceinhole).
This is one of the best photo montage apps for iPhone and Android.
5)
Adobe Photoshop Express
, freely downloadable on Android and iPhone smartphones, is by the same developers of Photoshop even if it has nothing to do with the famous photo editing program.
The Photoshop Express app, in fact, is very simple to use, does not require any specific skills and can be used to quickly apply filters, effects and enhancement and beautification changes.
Among the best features of this application we have the tools for cropping, straightening and rotating photos, red eye removal, automatic correction of the contrast of a blurred photo, correction of skin, dirt and dust defects, filters, frames, RAW format support .
This is also one of the applications capable of removing people from photos and to change or remove the background in photos.
5.1) In addition to Photoshop Express, Adobe has also released Adobe
Photoshop Lightroom free for Android and iPhone
which is certainly one of the best to improve photos rather than to apply changes, due to the presence of tools aimed at correcting the quality of the images.
6)
VSCO Cam
is a very powerful app for Android and iPhone, which allows you to apply filters and effects at the moment of the shot.
This is definitely one of the best Android camera apps to take photos with your mobile.
7)
Facetune
, for Android and iPhone is one of the best applications to edit selfies taken and create portrait photos as you prefer, correcting skin defects, removing dark circles and dark circles, brightening eyes, whitening teeth, applying makeup effects and even reshaping the face to make him thinner or to improve the smile, raise cheekbones and eyebrows and much more.
This is one of the apps awarded as the best of 2018 by Google.
8)
PhotoDirector
is a very popular app from Cyberlink that you can download for free on Android and iPhone mobiles.
With this application it is possible to improve the hue of colors, adjust the saturation and white balance and apply various types of photographic filters, using simple sliders with real-time preview.
The app also has the camera to see the live effects before shooting.
9)
YouCam Perfect
, is a free application for Android and iPhone specialized in correcting selfie photos, to make yourself more beautiful.
This is one of the best apps to fix face and skin blemishes and blemishes in photos (Android and iPhone).
10 )
Photor
, for Android and iPhone, is a less popular but very powerful app, similar to Snapseed.
This photo editor has as main features that of automatic focus enhancement, for grainy and blurry photos.
Then there are many special effects, basic editing tools such as cropping and rotation, the ability to add borders, frames and writings, the ability to create collages and much more.
11 )
Airbrush
Meitu's Japanese is a photo editing app for Android and iPhone that is specialized for enhancing photos and people in photos.
You can then whiten the teeth, make the eyes brighter, make the skin smooth and perfect, blur the background to give depth, add beauty filters.
Finally, I also remember two other rather well-known apps such as:
- Prism to turn photos into paintings
- Polar Express to improve photo quality
10 Apps to Enhance Photos (Android and iPhone)